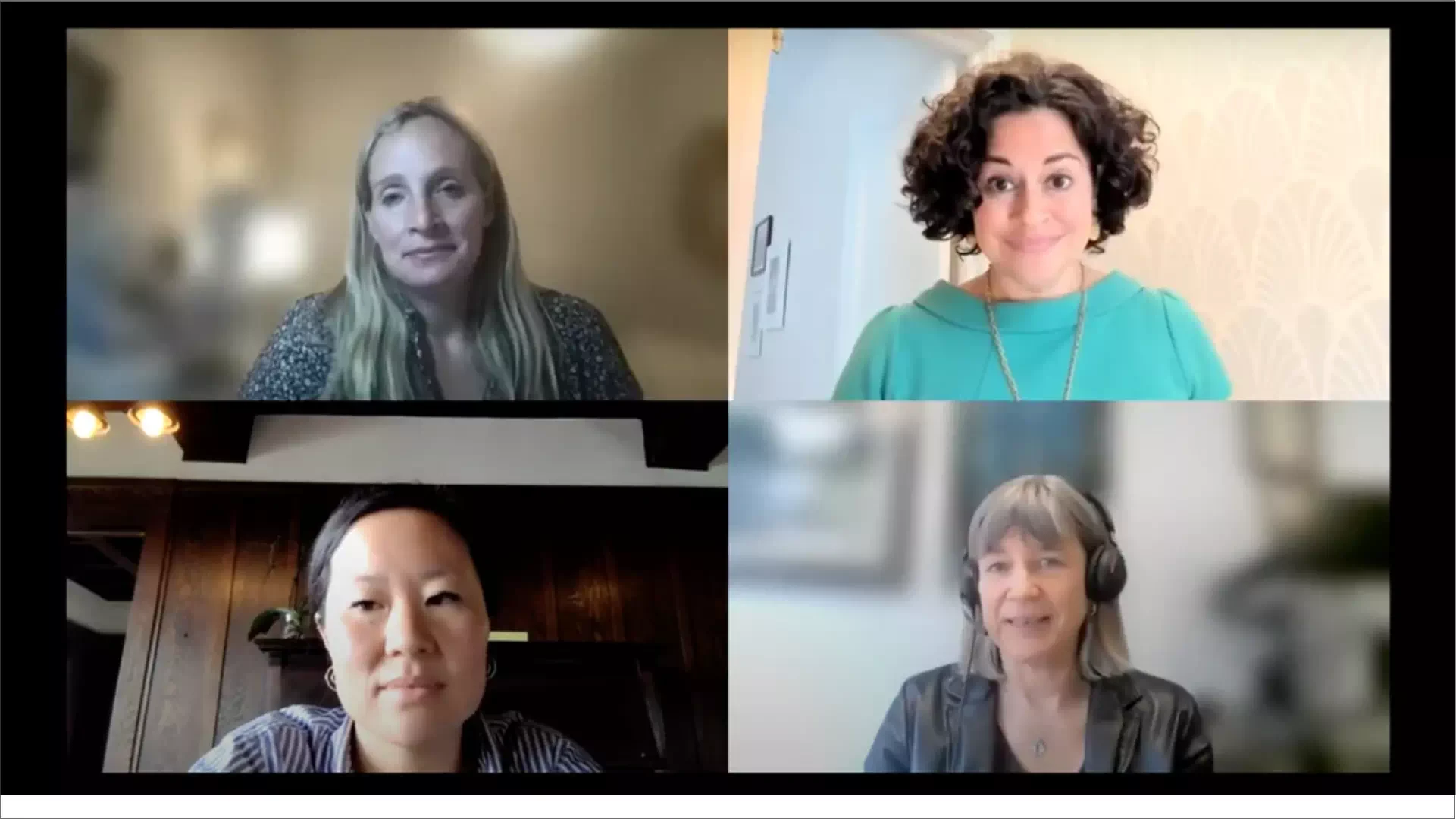 "How Business Leaders Drive Change"
14-Jul-2022
'How Business Leaders Drive Change' panel with (clockwise from top left) Danielle Jezienicki, Jennifer Gootman, Suzanne Vetillart, and Tensie Whelan.
Article by Susan Inglis, Resident Expert at the Sustainable Furnishings Council (SFC)
Circular City Week was FUN – many of us saw colleagues in person! I watched from afar but was delighted to make new friends to meet in person later! AND to get a glimpse of organizers sharing hugs in congratulations as the opening ceremony concluded, delighting in their confidence that it was all off to a good start. I loved hearing from so many different people over the course of the week - well-respected colleagues with whom I have long acquaintance AND new folks I was so pleased to meet.
We at Sustainable Furnishings Council were proud to co-host the Circularity in Furniture series, which was right up our alley in exploring where the inter-related sectors of furniture, design, interiors, and materials are now in their transition to circularity. We appreciate Circular City Week's recognition that our smallish industry has an outsized ability to make a difference in the circular economy. In residential furnishings especially, we have complex and fragmented supply chains, which present challenges.
One advantage of fragmented supply chains, though, is that they are far-reaching. When we bring circularity to the realm of furnishings with systemic improvements in supply chains, we are actually bringing positive impact to communities around the world: less garbage, fewer toxins, more jobs, etc. – that all represents hope for the future!
Circular City Week in 2022 featured for the first-time a series on circularity in furniture.
Our partners in this robust series of events included mebl | Transforming Furniture, American Sustainable Business Network (ASBN), Laurence Carr Inc., Sarah Templin Studio, Danish Cleantech Hub and the many companies whose astute and articulate panelists were featured in the discussions. Here is a recap of some of what I learned:
HOW BUSINESS LEADERS DRIVE CHANGE
As many believe, money makes the world go 'round. So it was fitting to start the series with a roundtable of sustainable business leaders talking frankly about their successes in bringing circularity to their enterprises, and the challenges that still frustrate them. In a session entitled How Business Leaders Drive Change, Tensie Whelan, Director of the NYU Stern Center for Sustainable Business led a conversation with Jennifer Gootman, Vice President for Sustainability, Social & Environmental Impact at Williams-Sonoma; Danielle Jezienicki, Senior Director of Sustainability at Grove Collaborative; and Suzanne Vetillart, CEO of her family business, Boma Jewelry.
We gleaned tips, simple steps and inspiring ideas from them all. As Suzanne described Boma's experience in going through the process of becoming a B Corp, for instance, we learned how it accelerated the journey to zero-waste, and the important role of education as they established their take-back program. Since they can completely recycle the sterling silver material they use, they needed to educate customers on that point, and provide a mechanism for taking back material from broken or disused products. I immediately see how this is applicable to furniture stores with repair departments, which would also create new profit centers by creating systems for take-back.
CEO Suzanne Vetillart of Boma Jewelry speaking at the 'How Business Leaders Drive Change' webinar.
Further on the topic of zero-waste, Danielle shared Grove's strategy of becoming plastic neutral in 2014 - that is, the company now makes sure that for every ounce of plastic they use, an ounce of plastic is collected for re-use. In a world in which less than 10% of our plastic is actually recycled, this is important vigilance. But even more important is Grove's commitment to becoming plastic-free by 2030. Neutral to none is another big step!
Jennifer described how Williams-Sonoma started its circularity journey by simply seeking and choosing more recycled content for its product mix. They have come a long way since, as Pottery Barn – a Williams-Sonoma brand – is now working with RENEWAL WORKSHOP, which proves to be a great way to take responsibility for keeping its own products in useful circulation longer.
PUBLIC POLICY & CIRCULARITY
Advances in public policy are key to accelerating the circular economy. This was the topic of the discussion Public Policy & 'Circularity' - Business Can Move the Needle. I was pleased to moderate the conversation with panelists Gat Caperton, President/CEO of Gat Creek; Jeffrey Hollender, CEO & Co-Founder of ASBN and Co-Founder & former CEO of Seventh Generation; and Stephanie Erwin, Director of Circular Economy Policy at ASBN.
We learned from Stephanie about legislation now in play at the federal, state and municipal levels. Some of these policies are focused on materials, while others are directed at entire products. Hopeful, for instance, is a bill now pending in Congress that would remove the fossil-fuel subsidy that is keeping plastic a cheap material – and as such difficult for many businesses to abandon. It was also hopeful to hear about legislation that would ban the sale of plastics in national parks, places where people are likely to be mindful of the problems this material presents.
A public policy movement more directly related to our furnishings industry is Extended Producer Responsibility (EPR), which seeks to ensure that companies that bring a product to market maintain responsibility for the materials in those products at the end of their original useful life. EPR is now regulated to apply to carpets and mattresses in some states, with initiatives to extend it to furniture in other states. What an opportunity to be proactive! The Mattress Recycling Council spoke to that during CCW, and I was encouraged to hear there is a lot of momentum around EPR, especially in other home products.
Constructing a piece of Room & Board furniture.
Jeffrey talked about the importance of climate disclosure rules under consideration at the Securities and Exchange Commission to ensure that climate risks are revealed to investors. We who concern ourselves with circularity understand that recycling saves energy, and so carbon, which reduces climate risk. A new SEC rule will provide important enlightenment.
Gat noted that consumer education is important for driving change, but improved policy helps consumers wrap their minds around what is better for us all. Sustainable Furnishings Council is pleased to lobby with ASBN, multiplying impact by joining with other business organizations to be a voice that is 250,000 businesses strong. Jeffrey spoke to the difference that businesses small and large can make. Businesses matter to legislators. By being vocal, and signing on to the letters that ASBN circulates, businesses do in fact make a difference.
Policy that brings about systemic change is especially important, Jeffrey noted, as there is so much that needs to be improved. Addressing problems systematically helps solve groups of problems. Working with entire systems, such as the entire system of a complex supply chain, is important. Rules and regulations are designed to encourage compliance, and using them to change how businesses operate is efficient and impactful.
CIRCULARITY and the FUTURE OF FURNITURE DESIGN
Third in the series was a brilliant discussion of design led by Sarah Templin. In Circularity and the Future of Furniture Design, Templin talked with Paula Luu, Senior Project Director at the Center for the Circular Economy at Closed Loop Partners; Emily McGarvey, Director of Sustainability at Room & Board; and Phantila Phataraprasit, Co-Founder and CEO of Sabai. With examples drawn from the furniture industry, it was also exciting to see the applicability of these lessons across sectors – and vice versa.

'Circularity and the Future of Furniture Design' with (clockwise from top left) Sarah Templin, Phantila Phataraprasit, Emily McGarvey, and Paula Luu.
Sabai makes sustainable furniture for the fast furniture consumer. This involves new design decisions in supply chain management, in product development, and in management of the end of a product's life. In the case of a sofa, noted Phantila, this sometimes comes when the consumer simply wants a new look. Emily also spoke to product development and supply chain decisions accelerated by good partnerships. She told the inspiring story of Room & Board's Urban Wood program, which began with making furniture from heart-pine wood salvaged by dismantling Baltimore homes slated for demolition.
Closed Loop Partners makes a point of investing in innovation that advances circularity – from new materials to new kinds of supply chains. Paula noted that what is interesting about design is that it can move so much more quickly than infrastructure. Thoughtful decisions in designing a product are critical for success in downstream decisions, which support the eventual evolution of infrastructure. Designing to influence consumer behavior is a crucial part of creating systemic change.
HOPE, a RENEWABLE and PRECIOUS RESOURCE
Discussions throughout Circular City Week provided real world examples of what is happening not only in the furnishings industry but in many different sectors. Laurence Carr, Founder and CEO, Laurence Carr Inc. and an SFC Ambassador, led a panel discussion that included Tone Søndergaard, Director of Circular City Week & Danish Cleantech Hub, and Trammell Crow, Chairman and Founder of the world's largest Earth Day event, EarthX and also EarthXTV. I also participated as a panelist. Our topic, The Next Frontier: Circularity in Design, provided an excellent reminder that good design can save the world. Examples came from many Sustainable Furnishings Council member companies, each of which has a corporate commitment to sustainability, which they are pursuing with transparency and an eager attitude of continuous improvement.
Christina Cobb of UrbisEco led a very important discussion on the problem of harmful chemicals in furniture and interiors. In The Circularity Challenge of Toxic Chemicals in Furniture & Interiors, Christina and her expert guests – Pete Girard, Founder, Toxnot and Jane Abernethey, Chief Sustainability Officer, Humanscale – discussed solutions that facilitate circular design, cleaner manufacturing, and safe material reuse in a circular economy. As more of us realize how severely the presence of harmful chemicals impacts our health, it is heartening to hear about Toxnot's tools as well as about the robust design policies that Humanscale implements - more hope!
A cozy and sustainable sofa by Sabai.
We finished the week with a mighty combination of resources and inspiration! Most exciting to me were these myriad sessions that explored how to furnish our homes sustainably. These conversations give me HOPE, a renewable and most precious resource.
So I HOPE that you will remain engaged in this discussion! Soon we will publish the CIRCULAR DESIGN GLOSSARY – a collaborative effort of mebl | Transforming Furniture, the Sustainable Furnishings Council and SOMA Studio Milano — which aims to improve understanding of design dimensions of the circular economy, with a particular & practical focus on furniture and furnishings. Sign up for the upcoming webinar and to be notified when the glossary launches!