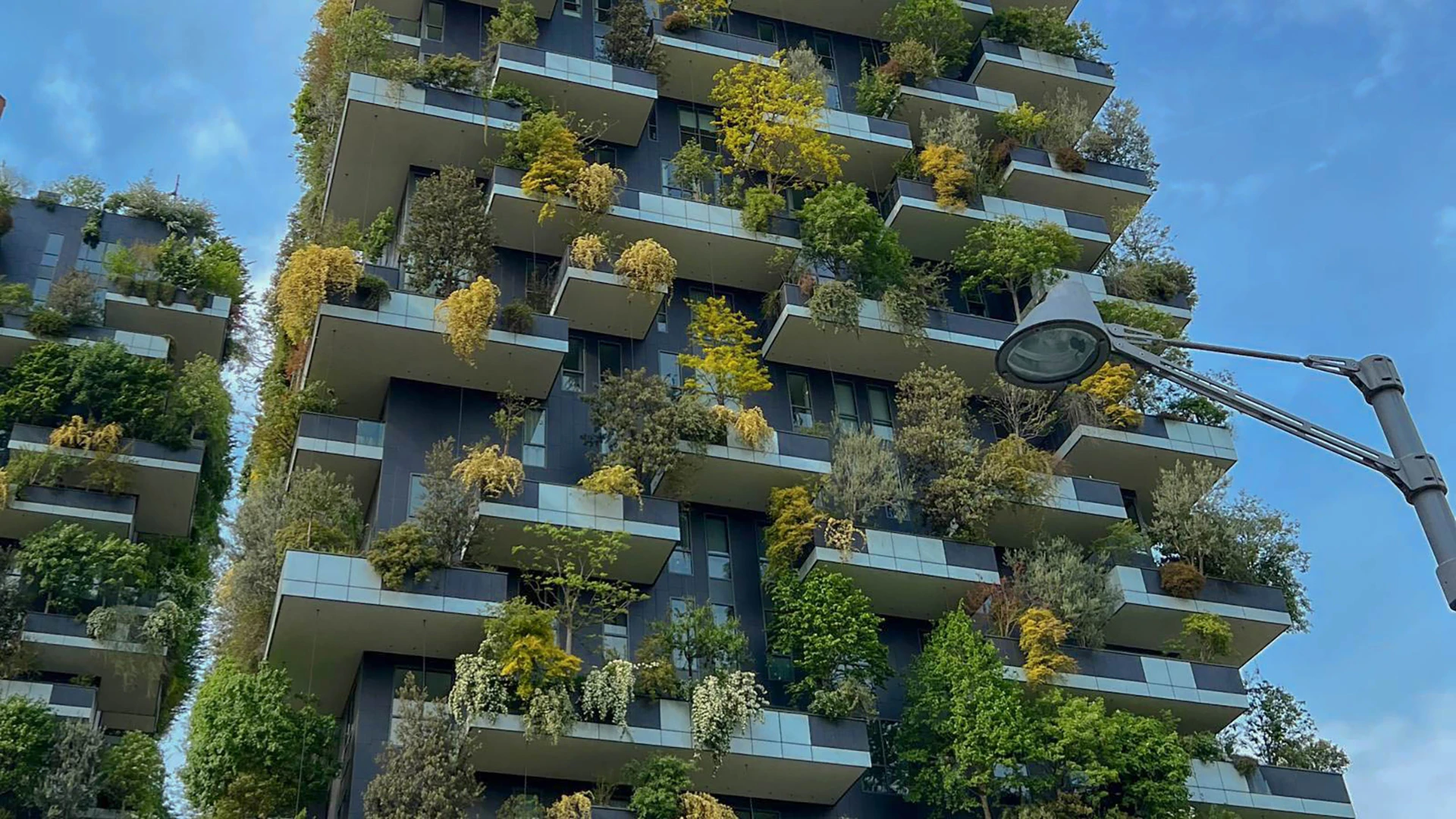 Scouting Milan Design Week: Towards a Furniture Revolution
20-Jun-2023
By Ana Luiza Magalhães
In April, my colleagues Mona, Nina, Felipe and I joined tens of thousands of visitors from around the globe in exploring Milan Design Week 2023.* Our focus? Scouting sustainable furniture – the most interesting, inventive, and beautiful innovations that hold promise in advancing a circular, climate-positive future.


With our radars on high alert, our team walked many kilometers and miles on a four-theme search: Treasuring Waste, Exploring Biomaterials, Repurposing Plastic, and Designing for Flexibility. Here's the best of what we spotted!
1/ TREASURING WASTE
'Waste' is becoming more subjective than ever. Some say waste is not waste until we waste it. Many agree waste is a design flaw. Waste is all that, and more, but it's critical to note that waste is a human-made invention. In nature, there is no such concept. Nature turns everything into a resource, everything into regenerative assets. Shouldn't we do the same?
Check out some of our favorite MDW/23 designs that turn waste into precious reclaimed materials:
Paola Lenti Show
by Paola Lenti
Italian designer Paola Lenti proves how sustainability and aesthetics are not opposites. Showcasing colorful rugs, armchairs, sofas and poufs, Lenti designs with discarded materials such as fabric offcuts and remnants, and fragments of cords and trimmings. She also showcases furniture created from reclaimed wood, such as the wood tabletop, below: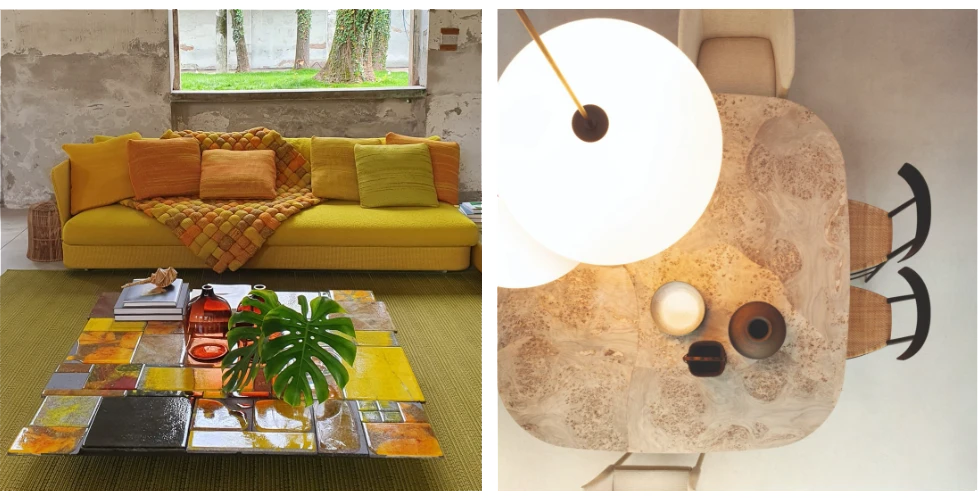 Paola Lenti Show by Paola Lenti
Remembrance Project
by Subin Seol
Korean furniture designer Subin Seol uses handrails from the now-demolished Fawley Power Station in South Hampshire, UK -- to design a dining chair and a coffee table. By embracing the handrails' irregular shape, the pieces retain and celebrate the heritage of the building's brutalist aesthetic.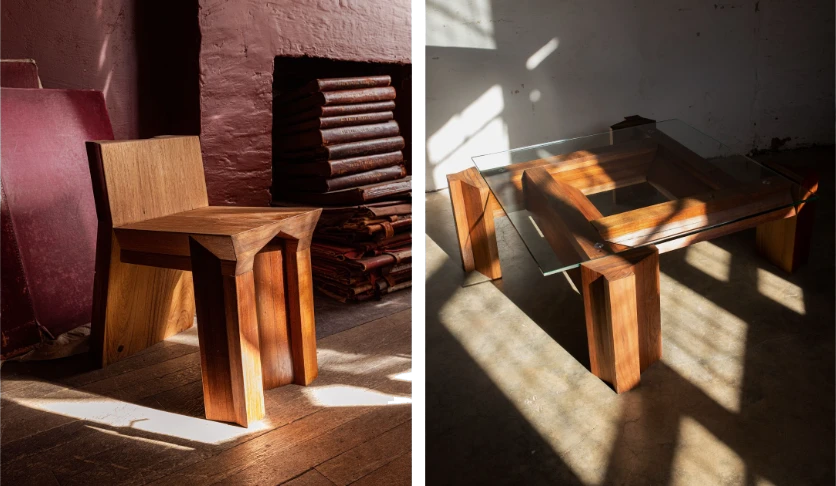 Remembrance Project by Subin Seol
Euphoria Chair
by Gabriel Freitas

Euphoria chair by Brazilian designer Gabriel Freitas features panels produced from recycled polypropylene (PP) that use the Dutch open-source "Precious Plastic" process. The panels are robust, making it a great material for furniture that needs to stand up to intensive use. The steel structure enables ease in switching panels, creating the possibility of many variations of the same chair. The piece is stackable, thus optimizing storage space, and the upholstery fabric is also made from recycled PP.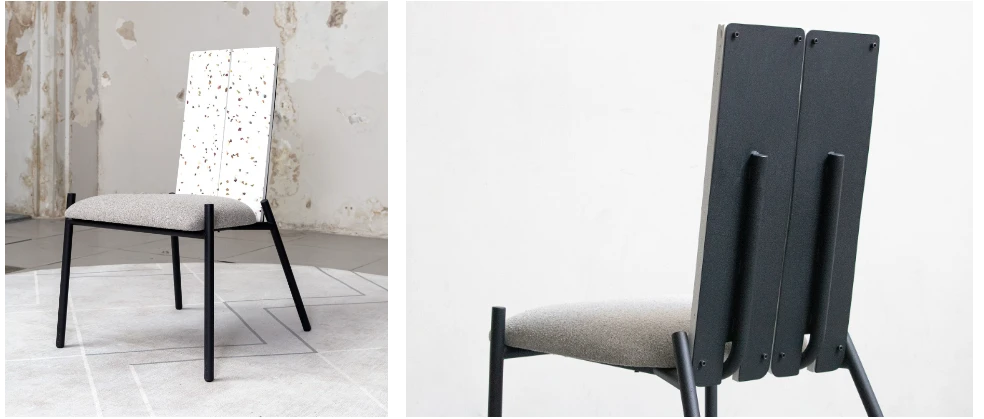 Euphoria Chair by Gabriel Freitas
Tatami Refab Project
by Lab Honoka


Lab Honoka, based in Japan, presented a furniture collection made from a unique material-- biodegradable resin mixed with reclaimed igusa grass – that is extracted from discarded tatami mats. Using ExtraBold's large 3D printer, this collection re-weaves tatami into modern life.
Tatami Refab Project by Lab Honoka
2/ ONWARD TO THE BIOMATERIAL REVOLUTION?
Our ancestors widely used bio-based materials – from plants, animals and other living organisms – to build the world around them. With the advent of the industrial age, these materials were sidelined by synthetics.


Growing awareness of climate change and the importance of heritage are driving material researchers to reconsider biomaterials. They are often more sustainable and regenerative, with some experts claiming that bio-based materials will be the 4th economic revolution.** Onwards towards this revolution? Milan Design Week provides some answers:
Peel Chair
by PROWL Studio


Fed up with "fast furniture," US-based PROWL Studio unveiled the biodegradable and compostable PEEL chair. Developed in concert with M4 Factory, this alternative to plastic stacking chairs is made from different parts of the hemp plant and by-products of industrial hemp – and is even delivered flat-packed in hemp packaging.

Peel Chair by PROWL Studio
Marine Sediments Collection
by Gwilen


Marine sediments naturally accumulate in harbors and require periodic removal for smooth functioning of ports. French company Gwilen transforms marine sediment – which would otherwise be discarded – into an ecological material for design, furniture and architecture.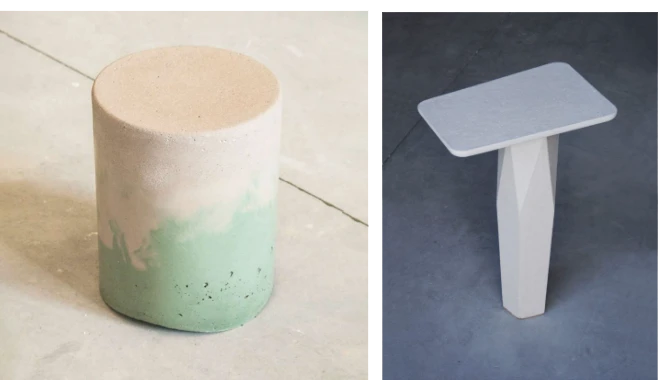 Marine Sediments Collection by Gwilen
Nature Building Project
by Biobased Creations
"What does a bio-based future look like?" asks Dutch studio Biobased Creations. Their Nature Building Project is an interactive installation, shaped like a house, allowing visitors to discover beautiful materials made from beer residues, sewage sludge, mycelium, algae, bacteria, agricultural waste, tree bark and more. All materials are commercially available or coming to market soon and can be used in interior design, architecture, construction or furniture.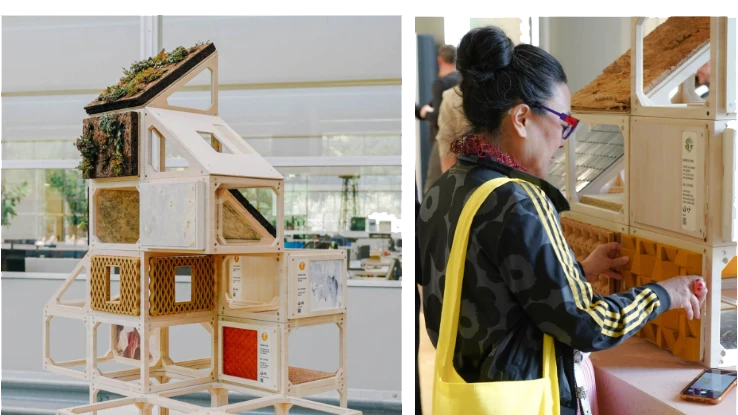 Nature Building Project by Biobased Creations
Mogu Pluma
by Mogu


Mycelium is a natural fire-retardant biomaterial that also offers good insulating and acoustic performance. It is biodegradable, non-toxic and can sequester carbon. Mogu, an Italian company, has developed the first commercial mycelium-based products on the market: sound-absorbing panels. Mogu is also developing resilient flooring products as alternatives to standard PVC, linoleum and multilayer products. We look forward to seeing Mogu apply the great material and design aesthetics of mycelium to affordable furniture!

Mogu Pluma by Mogu
3/ REPURPOSING PLASTIC
During Milan Design Week, we spotted innovative designers making a dent in addressing the plastics crisis by repurposing plastic waste into functional products for furniture & furnishings. They divert plastic from landfills and the ocean, and recover it from the sea. They're also developing new bio-based alternatives to replace fossil-fuel plastics. Here are some of our favorites, often combining design with biology, 3D printing, and circularity:
The Rock Conversational Chair
by Post Industrial Crafts


Post Industrial Crafts, based in France, explores craftsmanship in the digital fabrication age. PIC offers 3D-printed furniture – such as The Rock Conversational Chair - made from 100% locally recycled plastic from (get this!) large robot arms recovered from the automotive industry. All furniture pieces are 100% circular, made on-demand, and repairable and recyclable using digital manufacturing.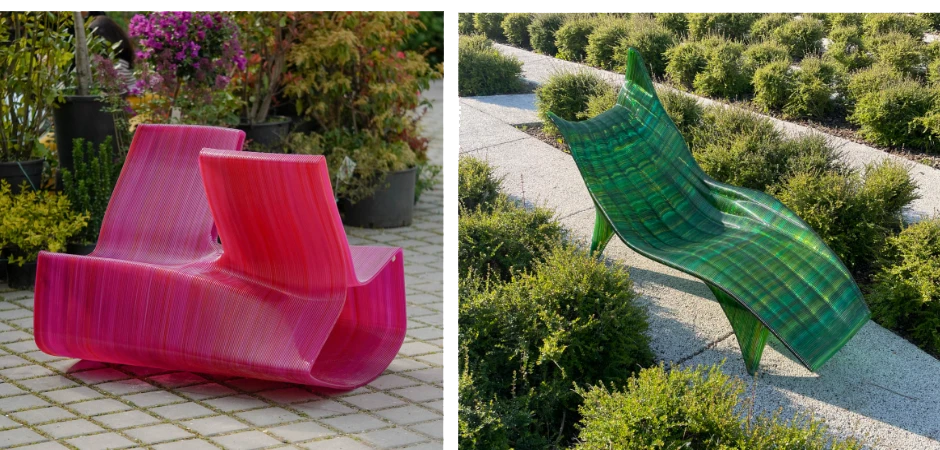 The Rock Conversational Chair and Wood Slab Day Bed by Post Industrial Crafts. Photo by Felipe Pelisson
Nuatan
by Crafting Plastics


Crafting Plastics – a Slovakian circular-material and design research studio – developed Nuatan, a bioplastic material of 100% renewable plant-based resources. It is oil-free and biodegradable, and its properties and processability can compete with standard polymer blends and other oil-based plastics. Using 3D printing technology, this bioplastic application can be used to create reusable, durable products ranging from housewares, to furniture, to consumer electronics parts and more.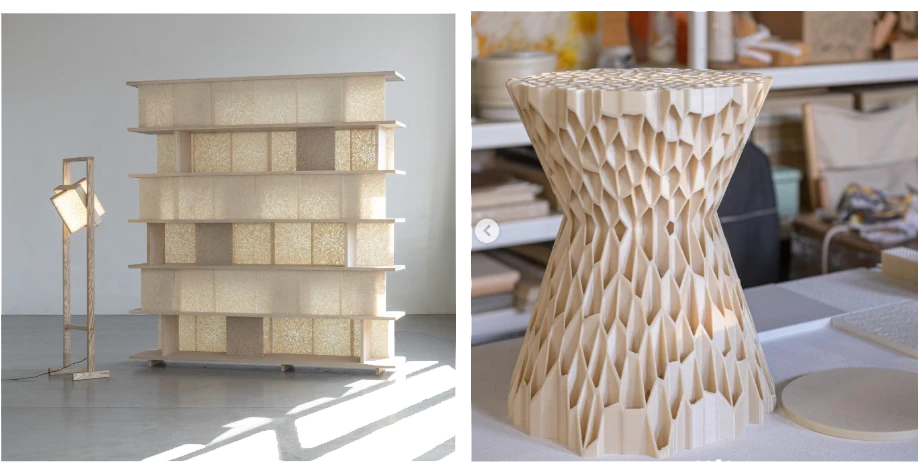 Photo, left: Rotatable floor lamp made from ash wood & Nuatan bioplastic. And the cp! bookshelf made from ash wood and Nuatan bioplastic. Photo, right: Stool/Side table made from 100% bio-based and biodegradable blends.
Polygood Panels
by The Good Plastic Company
The Good Plastic Company offers 100% recycled and recyclable plastic panels to create furniture and interior design elements. Partnering with large European recycling centers, Good Plastic has developed and patented equipment to recycle plastic from post-consumer and post-industrial waste streams –such as single-use cutlery, packaging and household electronics. The tables below, for example, are made of 100% recycled PS (polystyrene) from refrigerators and household electronic goods.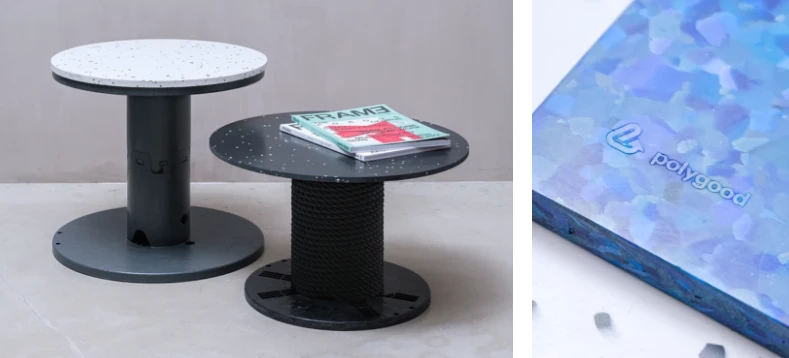 REEL coffee table collection by Tobia Zambotti in collaboration with The Good Plastic Company/ Photo by Patrik Ontkovic @ontkvc
Coastal Breeze Collection
by Philips


Philips showcased The Coastal Breeze collection, a series of lamps made from recycled fishing nets. Designed by Aleksandra Gac, these lamps are 3D printed, produced on demand and easy to disassemble and repair -- as they don't use glues and have few screws. As a result, according to Philips, emissions are reduced by up to 76% in supply and production.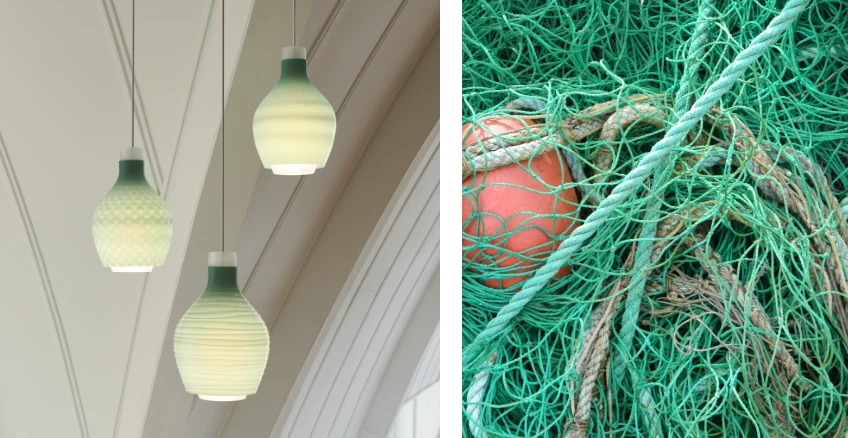 The Coastal Breeze collection by Philips
4/ DESIGNING FOR FLEXIBILITY
In a post-pandemic world, homes and workplaces must be flexible and ready for new ways of living, working and collaborating. Consider modular furniture – with components processed without glues and staples, which can be disassembled into individual parts. These pieces allow for ease of repair, are adaptable to different users, and are likely to have a longer lifespan. We spotted some interesting solutions:
OTO Chair
by One to One Objects
OTO Chair comes to life after nine years of research! Made of 100% recycled ocean plastic, this chair is produced in a single mould, is fully recyclable and doesn't require screws for assembly. It is also flat-packed, providing transport efficiency and reducing costs and CO2 emissions. The chair packaging is made of recycled and recyclable pulp packs.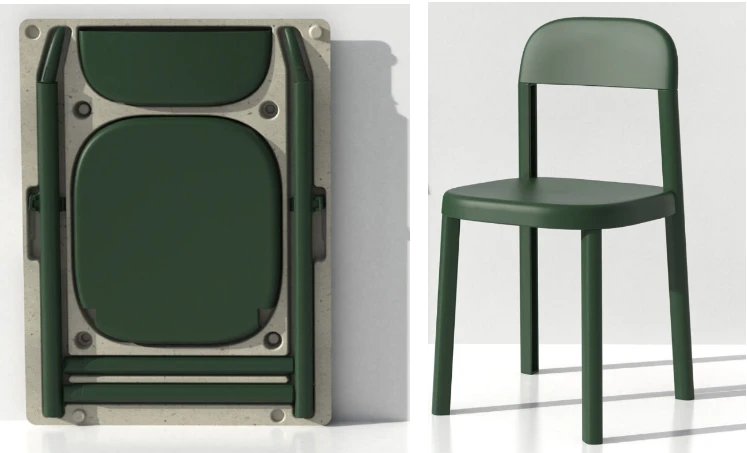 OTO packaging and assembled chair by One to One Objects
Strak Cabinet
By Hidde Tuite


Strak Cabinet uses tension as a construction method, taking inspiration from industrial packaging and principles of the circular economy. Easy to assemble and disassemble, this cabinet is held together solely by lashing straps. The idea is to use the same lashing straps for packaging, reducing the need for cardboard boxes and plastic wrap for shipping.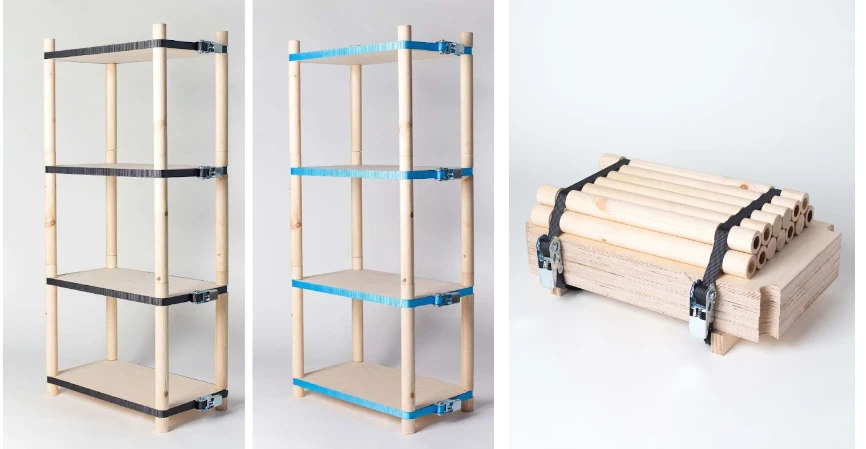 Strack Cabinet by Hidde Tuite / Photo by Jordi de Vetten
Design for Communities
by Giacomo Moor and LiveinSlums


Design for Communities is a furniture collection custom-designed for a primary school dining hall and dorm in Mathare, one of the biggest informal settlements in Nairobi. Urban regeneration is at the heart of this new initiative by designer Giacomo Moor and LiveinSlums, a non-governmental organization (NGO).


All furniture prototypes were designed and built on-site by local designers and students. Students learned lasting building techniques and were paid for their contribution. This collection emphasizes functionality and simplicity, eliminating unnecessary parts and embellishments, and requiring only a chisel, square and pencil to assemble. Composed of sequential joints, the construction system is easily adaptable to other furniture pieces, such as beds, benches and tables.

Design for Communities bed and tables by Giacomo Moor and LiveinSlums
No-Screw-No-Glue Collection
by Atelier Anna Arpa


No-screw-no-glue is a furniture collection, designed exclusively of wood, that doesn't require hardware fittings or glues. Atelier Anna Arpa explores the properties of wood to create modular joints. This studio collaborates with local artisans to give a second life to wood surplus from their craft workshops.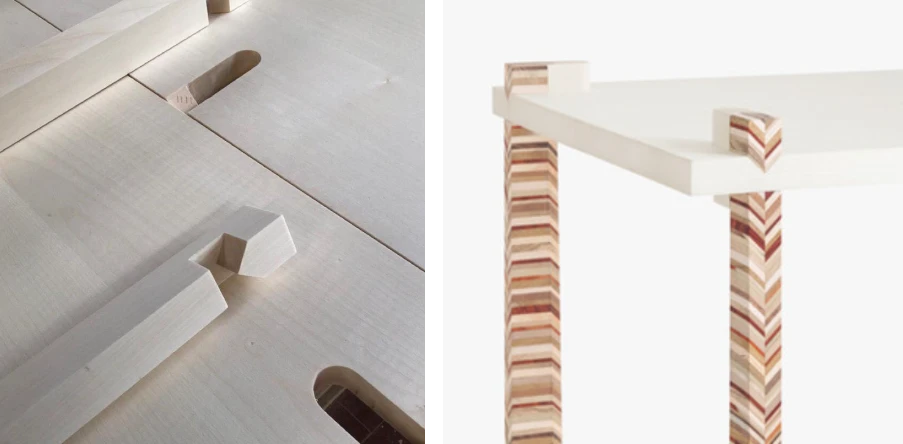 No-Screw-No Glue Table by Atelier Anna Arpa Photo by Francesco Caredda
For further inspiration, we leave you with Materials in Flux, one of the best events we attended during Milan Design Week. Watch it here.
This symposium – curated by Formafantasma, supported by Prada, and presenting the works of architects, entrepreneurs, curators and design students – seeks to actively redefine the relationship between matter and ecosystems.
*Milan Design Week is the world's largest design fair, taking place annually in Milan, Italy. It includes the International Furniture Fair (Salone del Mobile) and the Fuorisalone - exhibitions hosted in Milanese neighborhoods, in sites ranging from abandoned buildings to prestigious historic locations. This year's Milan Design Week attracted over 300,000 visitors.
**"Biomaterials are going from trend to reality. It's going to be the fourth economic revolution." –– Lucas De Man, Biobased Creations Studio founder for Dezeen Magazine