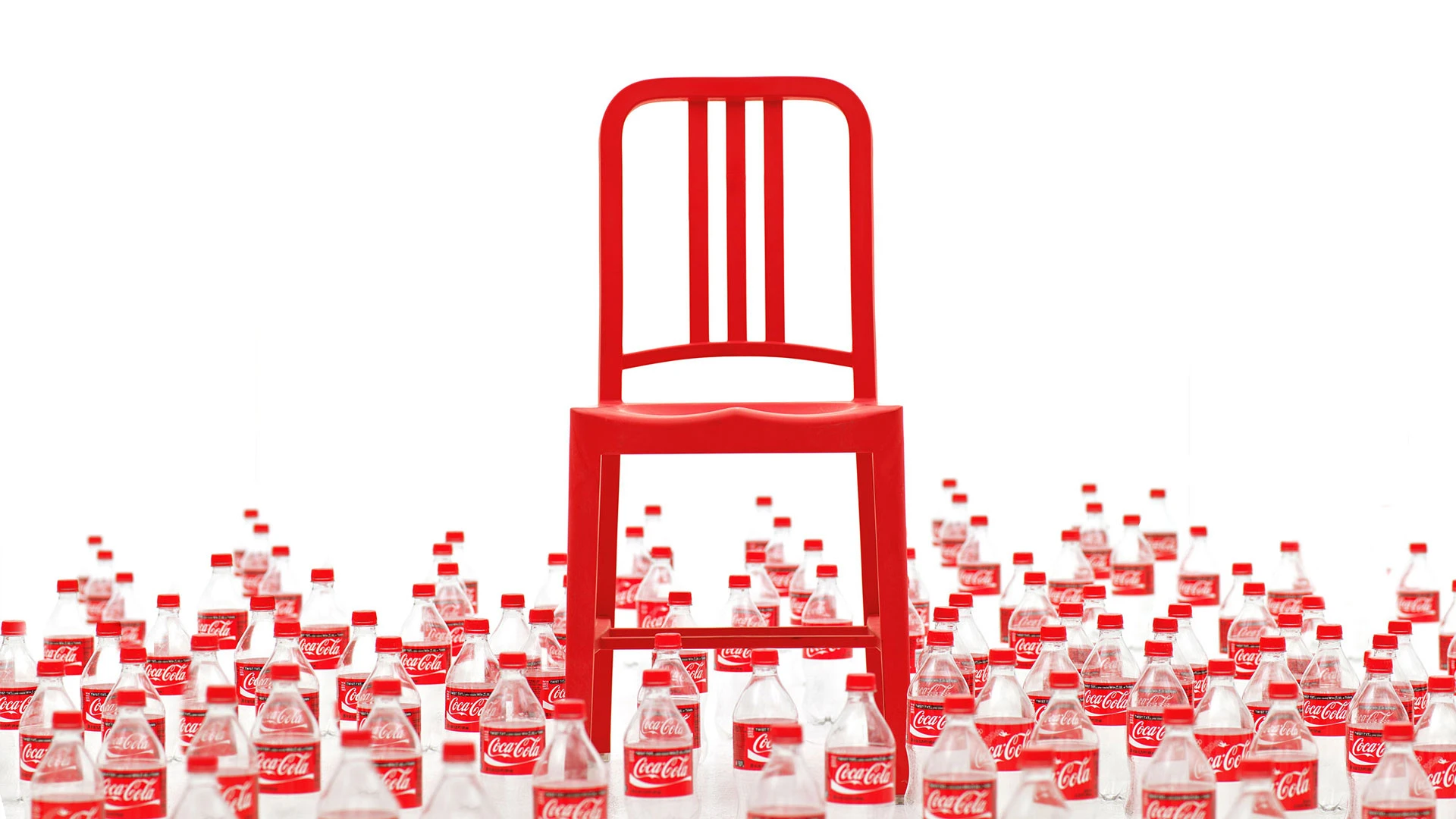 What on earth is 'Industrial Symbiosis'?
01-Nov-2023
Photo credit: Emeco
In nature, there is no such thing as a landfill. Ecosystems thrive through collaboration, without generating waste. Materials flow — one species' waste becomes another's food.
What happens if we apply nature's collaborative approach to our economy? Could this help with climate change mitigation and adaptation?
Some players in the furniture industry have explored nature's collaborative logic through industrial symbiosis — creating an interconnected network that strives to mimic the functioning of ecological systems. Within these systems, energy and materials cycle continually without producing waste.
Industrial symbiosis allows for by-products of one industry or industrial process to become the raw materials for another. In short, unlike material reclamation — which focuses on recycling valuable materials from waste streams — industrial symbiosis focuses on resource sharing among different industries. This improves overall efficiency and reduces overall waste.
Industrial symbiosis reduces industry's environmental footprint and supports implementation of the circular economy principles by: a) keeping materials economically valuable for longer; b) decreasing demand for virgin raw materials; c) reducing greenhouse gas emissions from material extraction, waste transportation and decomposition in landfills; and d) cutting the impact of waste through recovery, reuse, and recycling, and decreased reliance on fossil fuels.
INDUSTRIAL SYMBIOSIS IN THE FURNITURE INDUSTRY
In this article – the fifth in our Furniture in the New Climate Economy series — we want to share some real-life case studies on how furniture brands, designers, and platforms are experimenting with industrial symbiosis to spur innovations that address climate change.

Beverages: From Single-Use to Long-Lasting
Let's go back to 2010! American furniture company Emeco teamed up with Coca-Cola to upcycle consumer waste into a chair. "After four years of engineering, new science, and a lot of hard work," noted Emeco, they created the Navy Chair out of minimally 111 recycled plastic bottles per chair.
Since then, Emeco has been working on improving its technology and materials. Today, the company uses around 150 bottles for each chair. And the plastic in those chairs can now be 100% recycled without losing strength, meaning that Emeco can repeatedly turn old chairs into new chairs.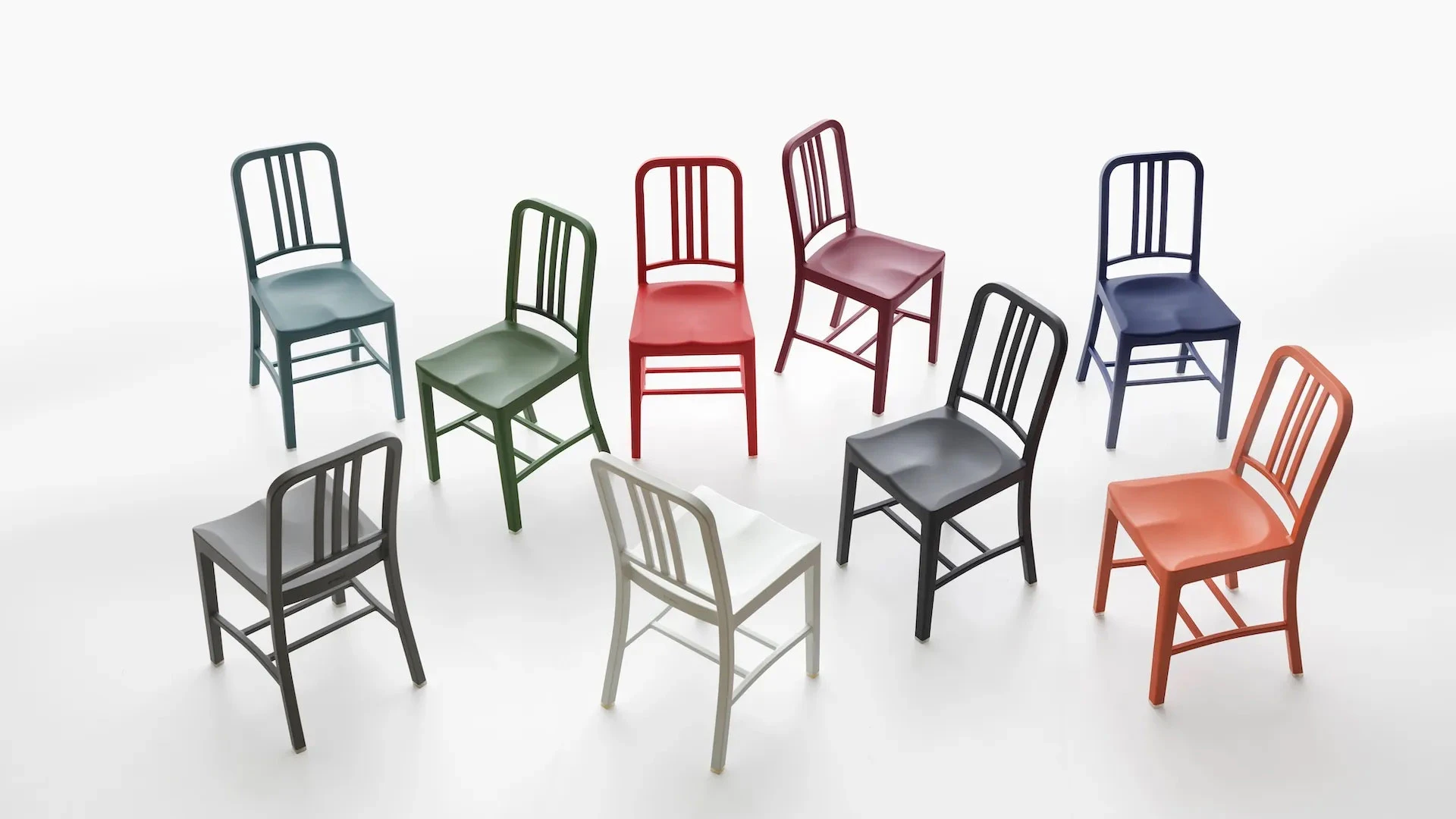 Navy Chair by Emeco in collaboration with Coca-Cola.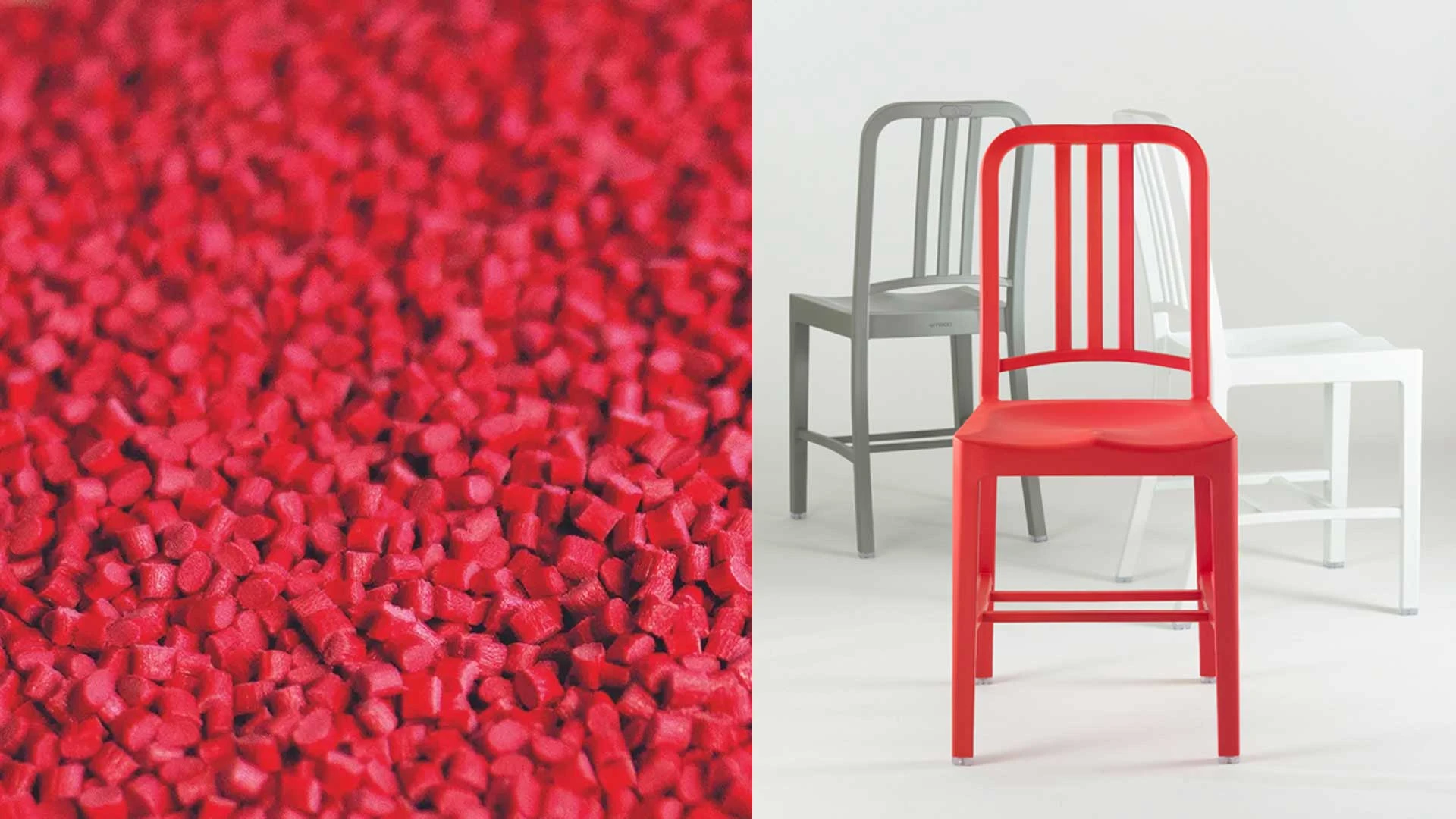 Navy Chair by Emeco in collaboration with Coca-Cola.
In 2021, Danish brand Mater launched the new Ocean OC2 collection, made of recycled plastic beer kegs. Mater collaborated with Carlsberg Brewery and a:gain, which develops, produces, and sells waste-based building elements and interiors at scale.
The OC2 Chair — a reinterpretation of the 1955 outdoor series designed by Danish designers Jorgen & Nanna Ditzel — is made of 960g of waste materials. It is also designed for disassembly, allowing each chair component to be upcycled into new production cycles. "We are constantly looking for similar collaborations where we can use upcycled plastic or other waste streams and send it back as furniture and lighting," explains Mater founder Henrik Marstrand.
The Ocean OC2 collection is part of Carlsberg's Together Towards Zero, through which the Danish brewer commits to cutting plastic waste in its breweries and eliminating all carbon emissions by 2030.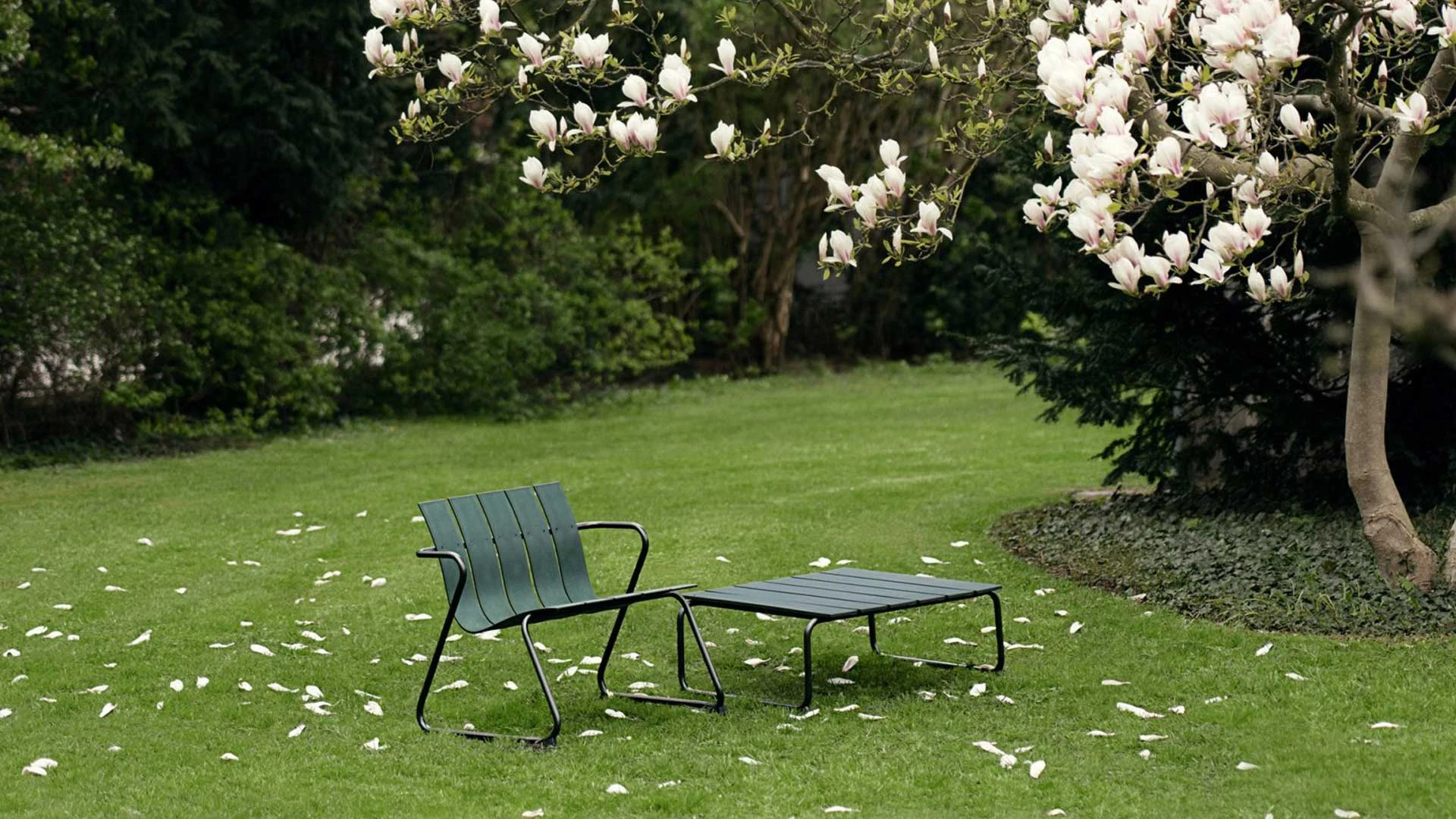 OC2 Chair by Mater, in collaboration with Carlsberg Brewery and a:gain.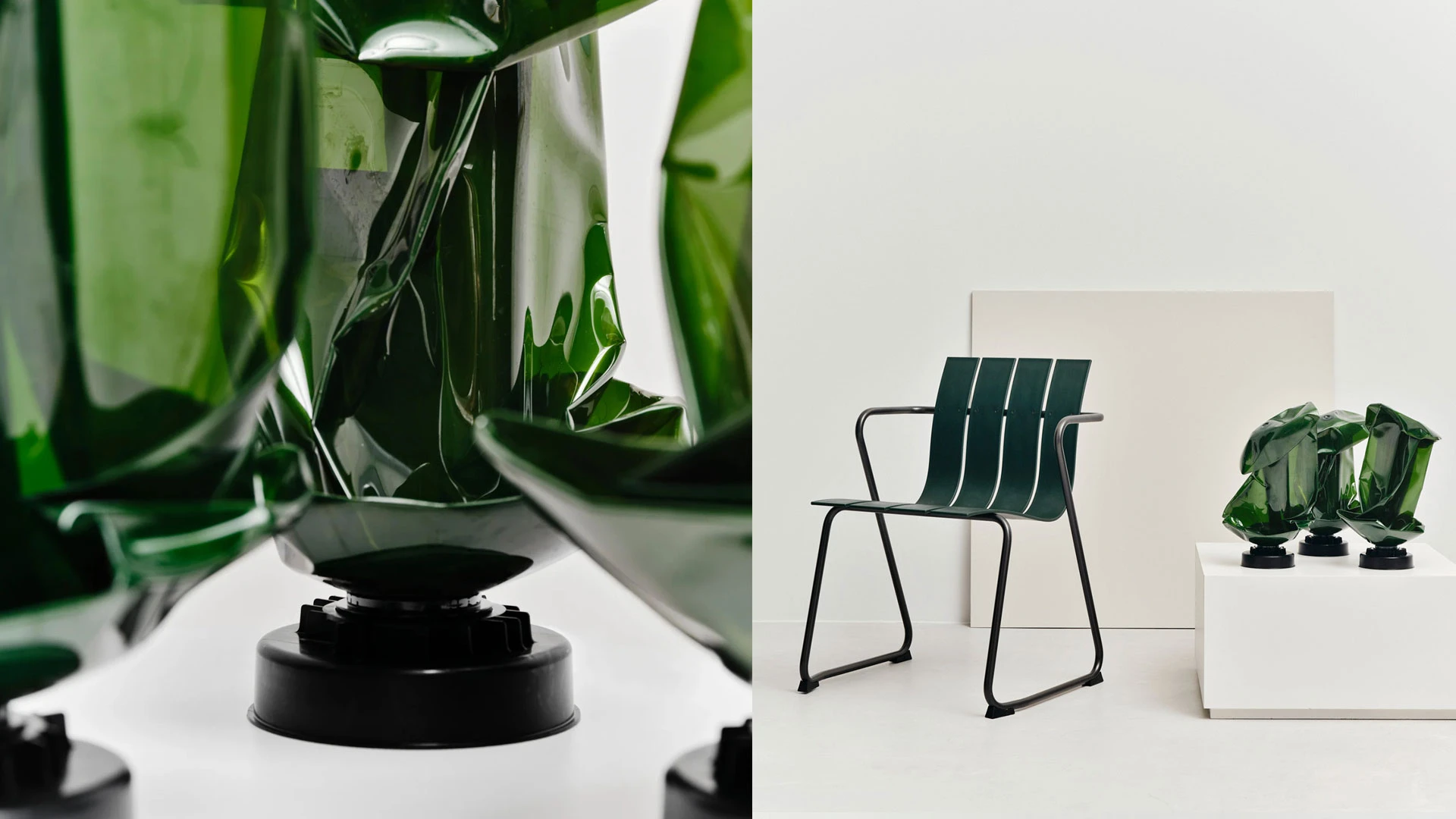 OC2 Chair by Mater, in collaboration with Carlsberg Brewery and a:gain.
In 2022, Italian furniture brand Kartell unveiled Re-Chair, made from coffee capsule waste. Designed by Antonio Citterio, the chair was conceived as an experiment in collaboration with the Italian coffee brand illycaffè.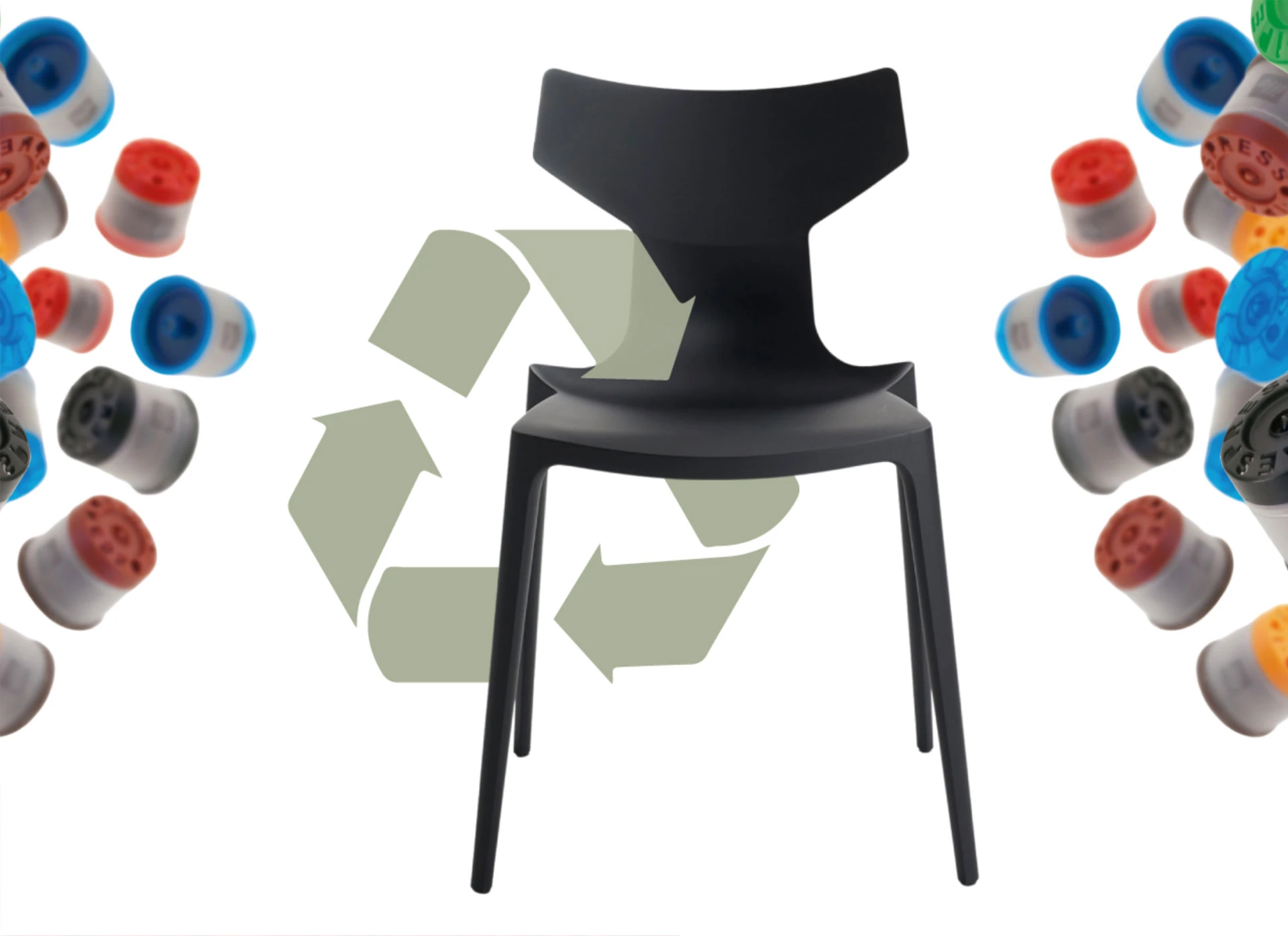 Re-Chair by Kartell, in collaboration with illycaffè.
After the Re-Chair, Kartell launched its Eleganza armchair by French designer Phillip Starck. Eleganza's innovation — new applications, colors, and inventive possibilities — is based on the technology previously implemented for Re-Chair.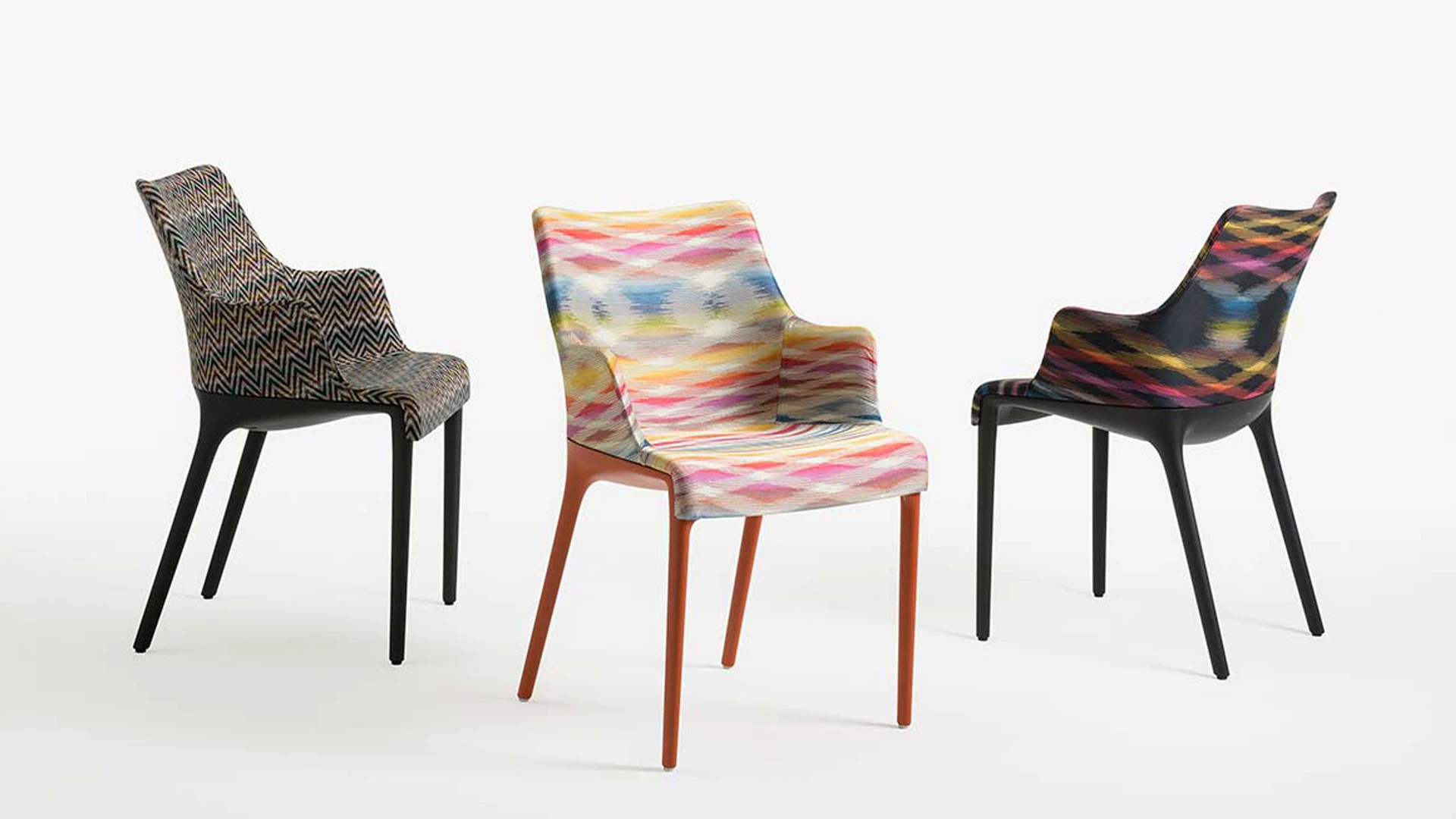 Eleganza Missoni by Kartell, Missoni and Philippe Starck, in collaboration with illycaffè.

Fashion: From old jeans to revamped sofas
In 2019, Ikea and Mud Jeans teamed up for two years to create IKEA's KLIPPAN sofa cover — made from organic cotton and post-consumer recycled cotton from old jeans. According to Mud Jeans, each new IKEA KLIPPAN cover contains 40% post-consumer recycled denim, the equivalent of two pairs of worn-out jeans, and 60% certified organic cotton.
Compared to making a sofa cover to industry-standard denim methods, each cover saves 27,000 liters of water and reduces its carbon footprint by 67%. During production, MUD dyes the fabric using a Cradle2Cradle-certified indigo dye. The factory does not use toxic chemicals and recycles 95% of its water.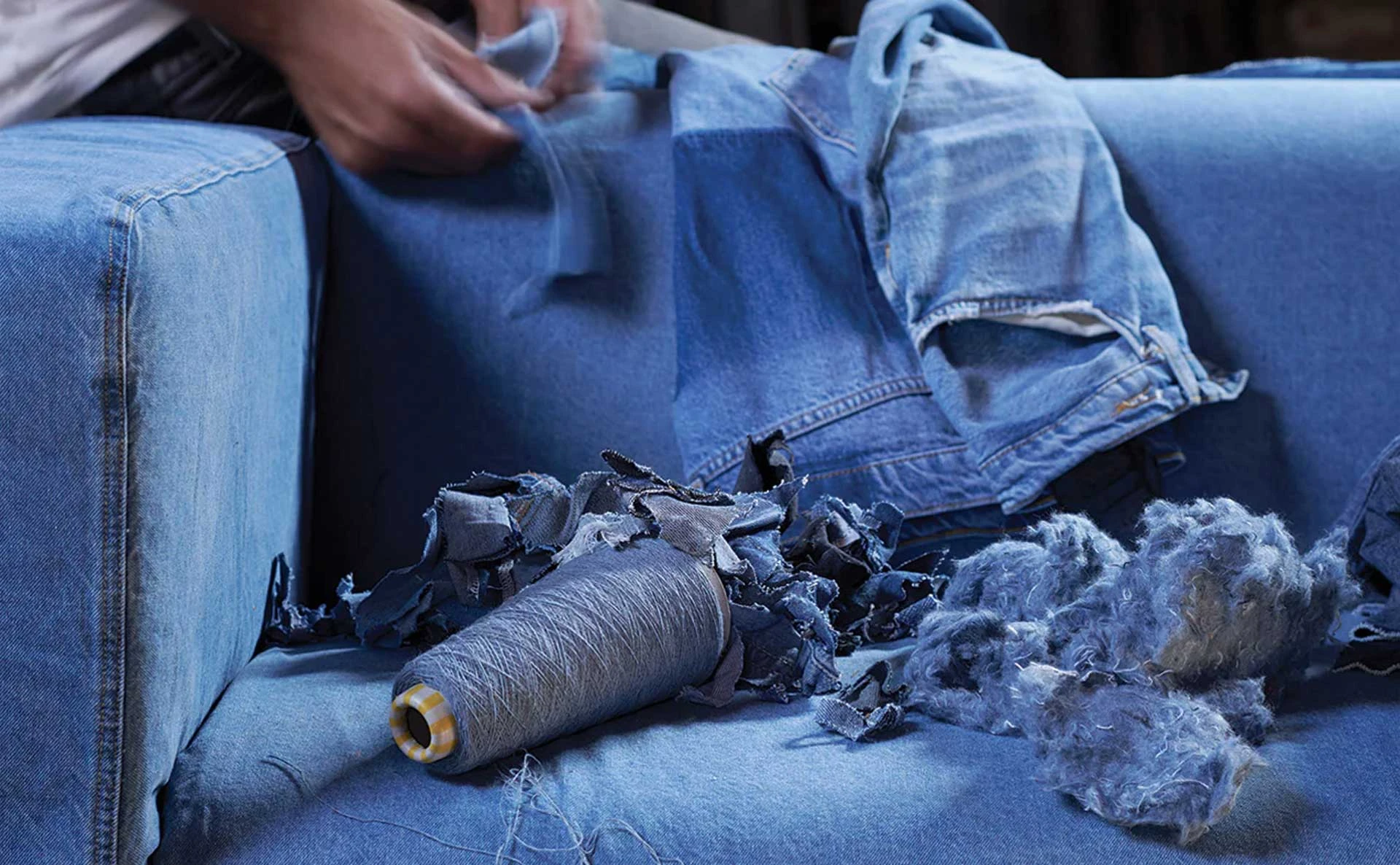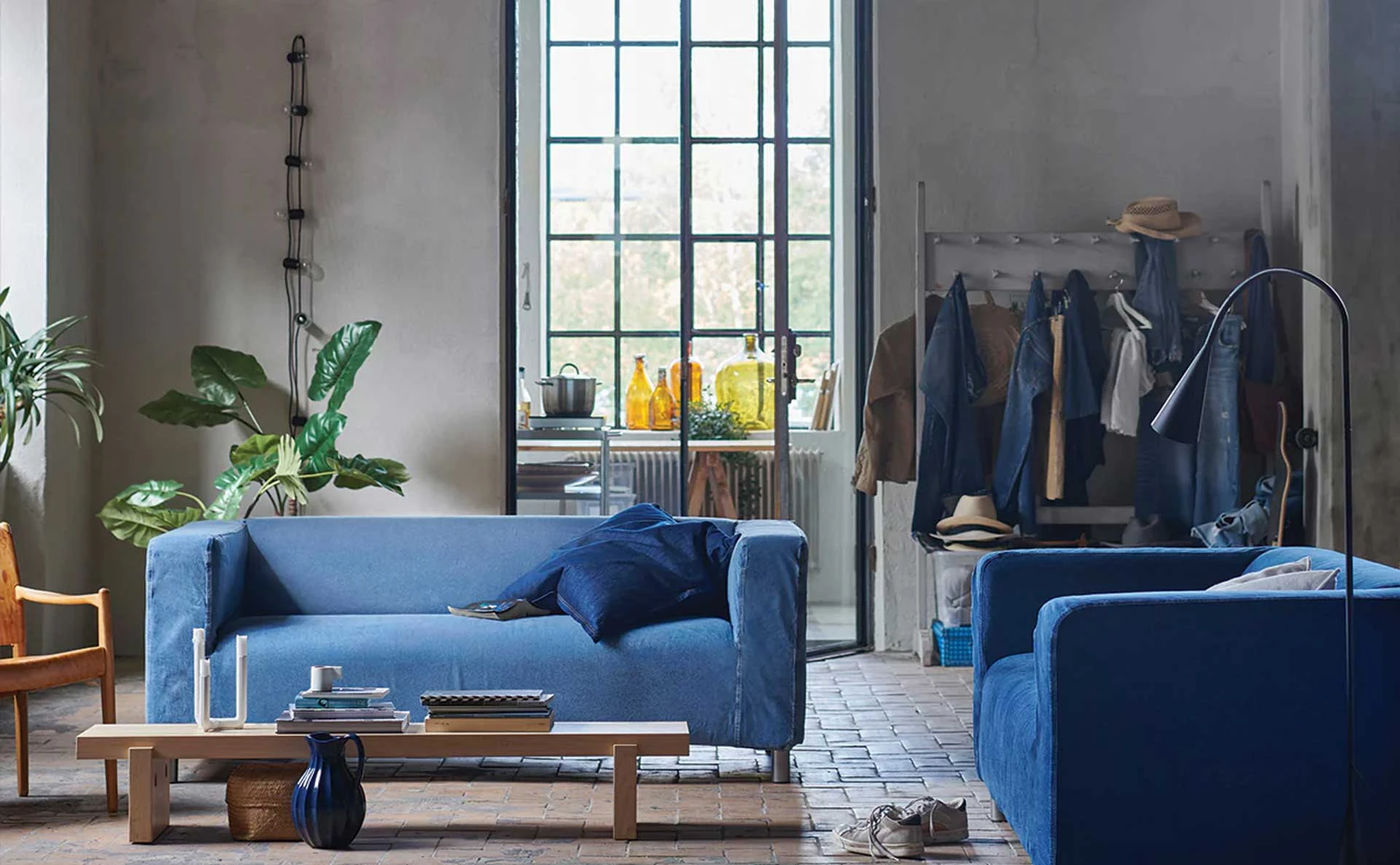 IKEA KLIPPAN denim cover, in collaboration with Mud Jeans.
Beauty: From package waste to inventive designs
In 2022, Trash2Treasure, a platform helping businesses upcycle and remanufacture their waste, unveiled two design pieces in collaboration with design studio LLOT LLOV and beauty brands Cosnova and Catrice Cosmetics. Together, they repurpose packaging waste from the beauty industry — which produces over 120 billion packaging units per year globally — into furniture and furnishings pieces.
Cream Light Cloud, for example, is a lighting installation from 290 reused glass face cream containers. Each glass container retains its industrial numbering on the bottom, reflecting its reuse history. Glacier is a terrazzo made from discarded nail polish bottles used to create tables. Different colored lacquers, quantities, and cuts create different patterns.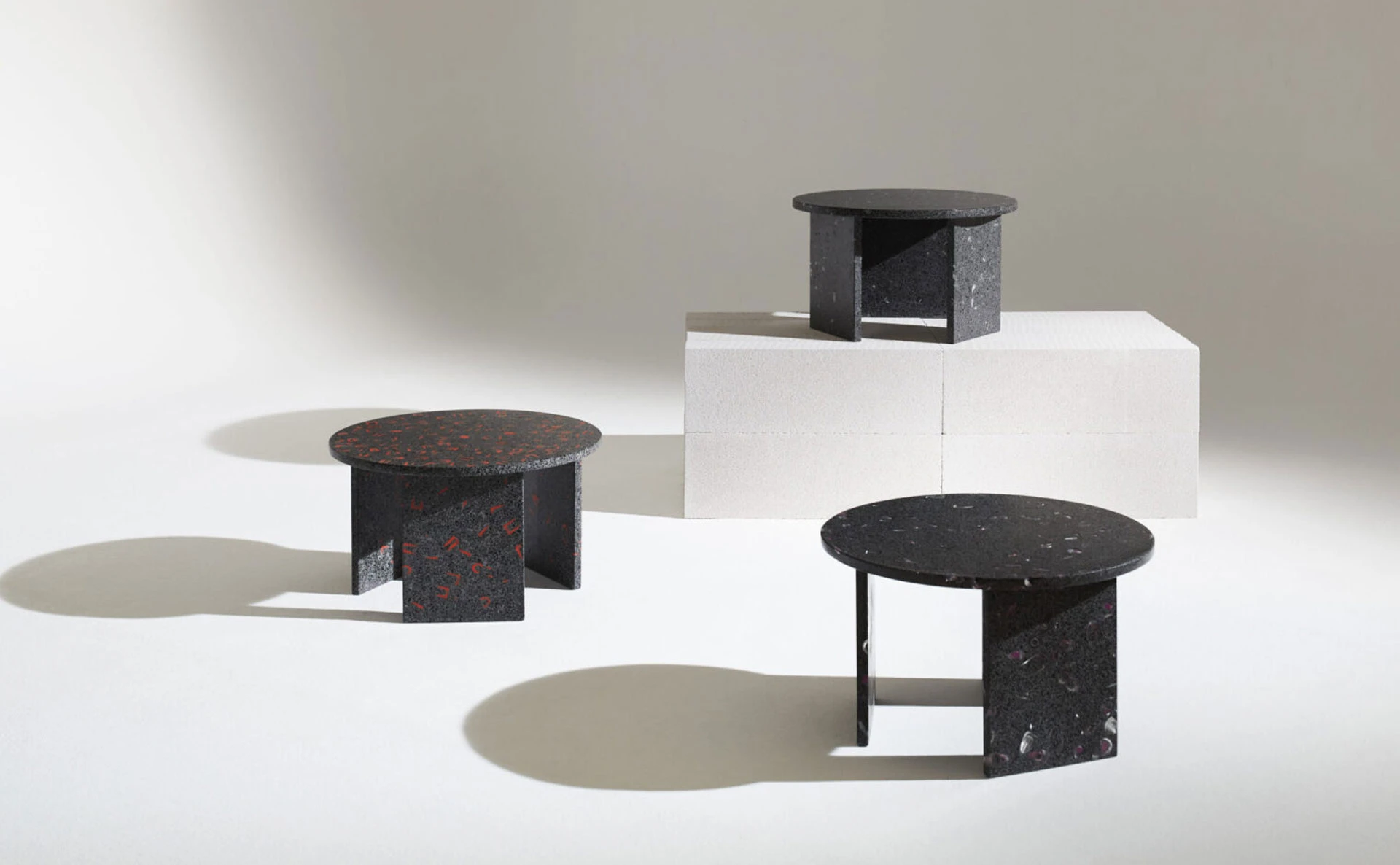 Glacier tables designed by LLOT LLOV studio, in collaboration with Trash2Treasure, Casanova and Catrice Cosmetics.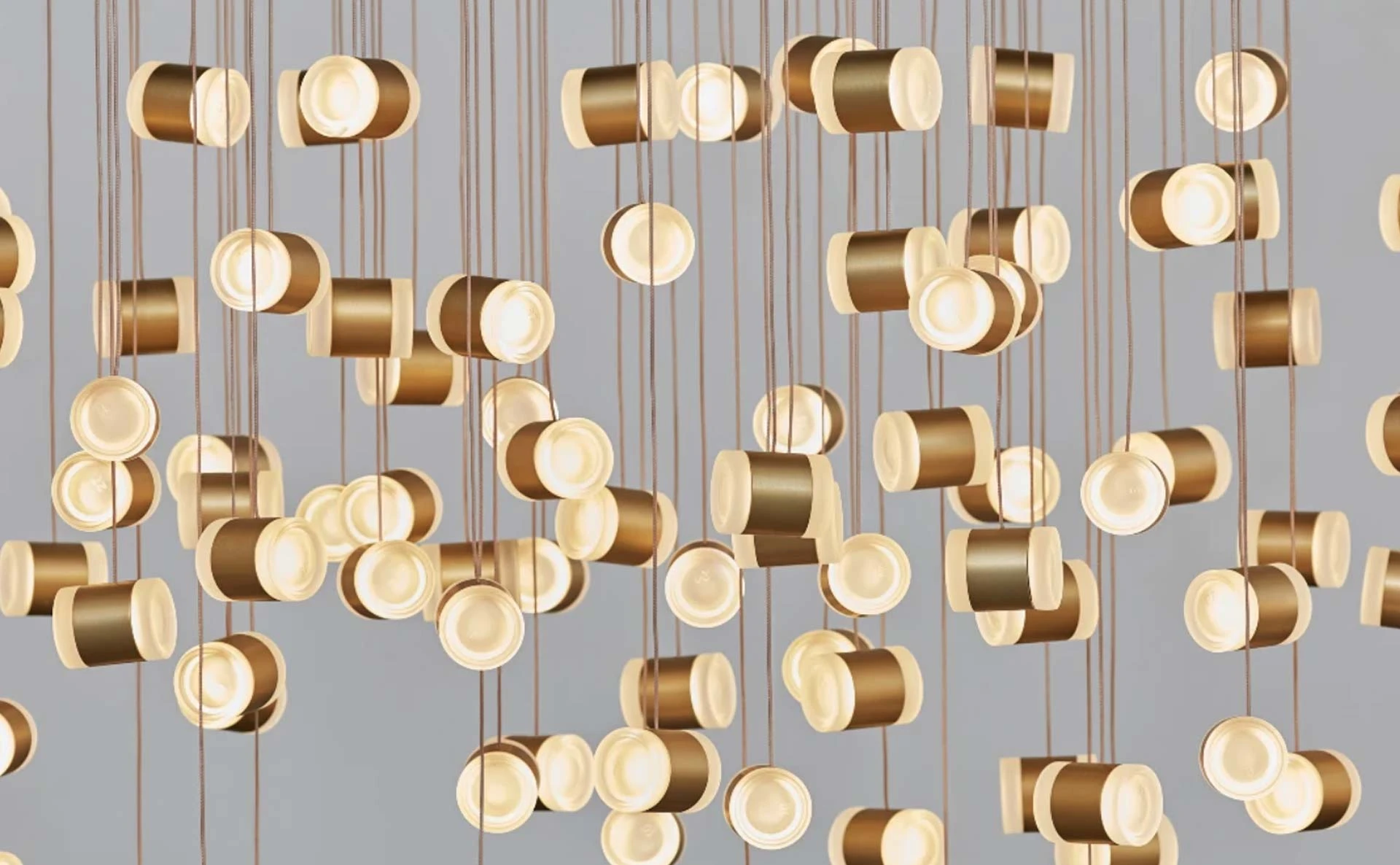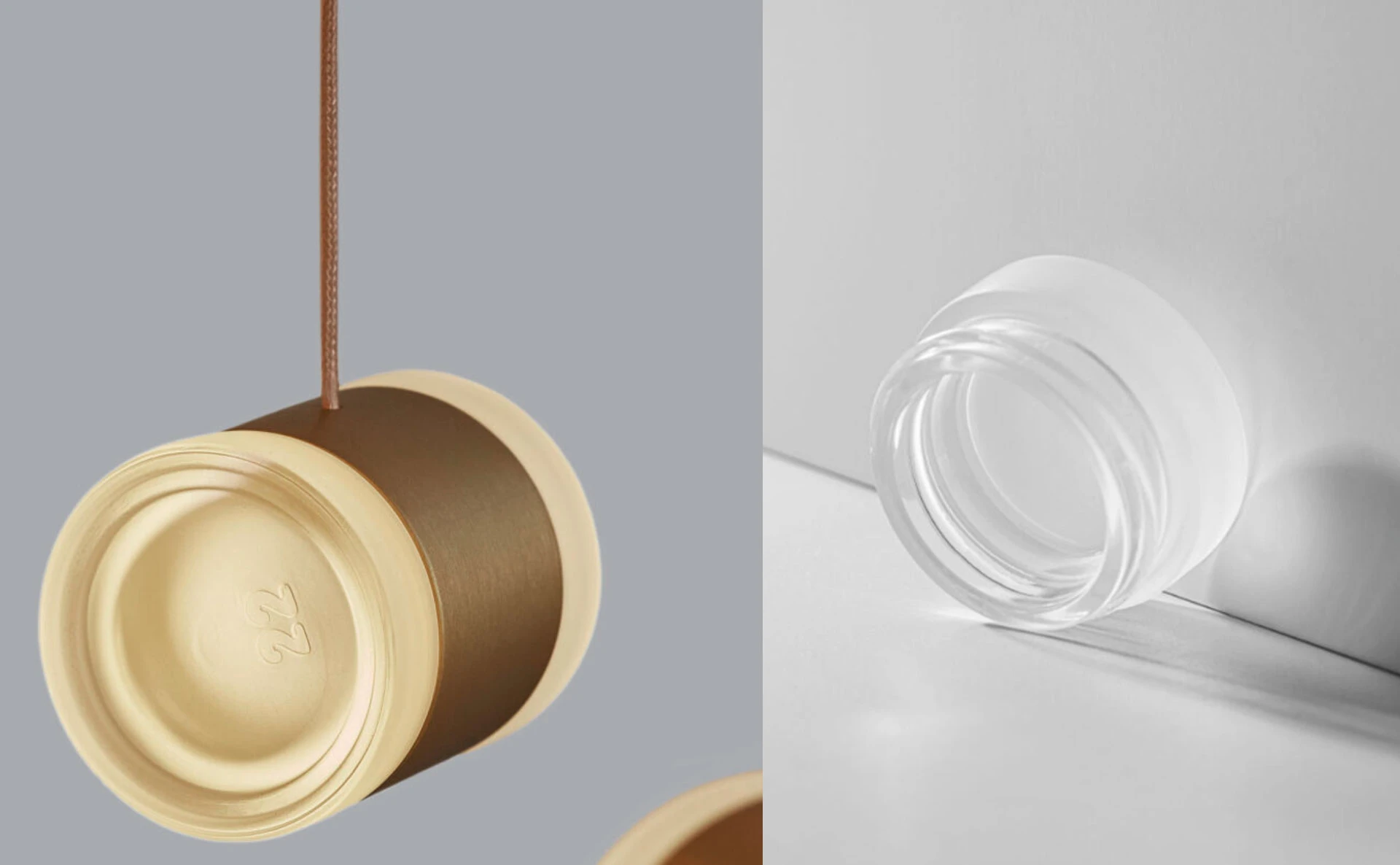 Reused glass face cream.

CHALLENGES & DEMANDS
Alongside the potential for numerous significant benefits, industrial symbiosis — as with most collaborative approaches – also poses challenges:
First, successful implementation of industrial symbiosis relies on high levels of education on context-specific principles and practices in this approach.
Second, companies must find effective ways to share proprietary information without compromising business-sensitive data.

Third, developing collaborations across industries that use different technologies may be challenging. Companies may need to tailor their infrastructure and logistics, which can take time and require more expensive investment.
Fourth, to evaluate progress, partner companies must standardize accurate ways to measure environmental and economic impacts of industrial symbiosis.
Finally, as with recycling and reclaiming, there is always a risk to looking to industrial symbiosis as a 'magic solution' – that lets companies "off the hook" on using non-regenerative materials such as plastic rather than replacing them with healthier materials.
FINAL THOUGHTS
Addressing these challenges requires collaboration between business, government, and organizations focused on sustainability.
Climate change mitigation also requires collaboration at multiple levels. In developing collaborative muscles to shape industrial symbiosis, companies may also employ these same new muscles to develop solutions and share knowledge for unified responses to fight climate change.
Has your furniture business or design studio experimented with industrial symbiosis? Please join the conversation! Email us at [email protected] to share your challenges and achievements. We promise to respond!
Other articles in the FURNITURE in the NEW CLIMATE ECONOMY series:
SOURCES:

- Wu, Alexandra, et al. "Strategic Research and Innovation Agenda on Circular Economy." 2022, https://core.ac.uk/download/528239673.pdf
- Plastic Pollution Coalition. https://www.plasticpollutioncoalition.org/tag/personal-care-products
- Roozbeh Feiz - Linköping University. https://liu.se/en/employee/roofe41