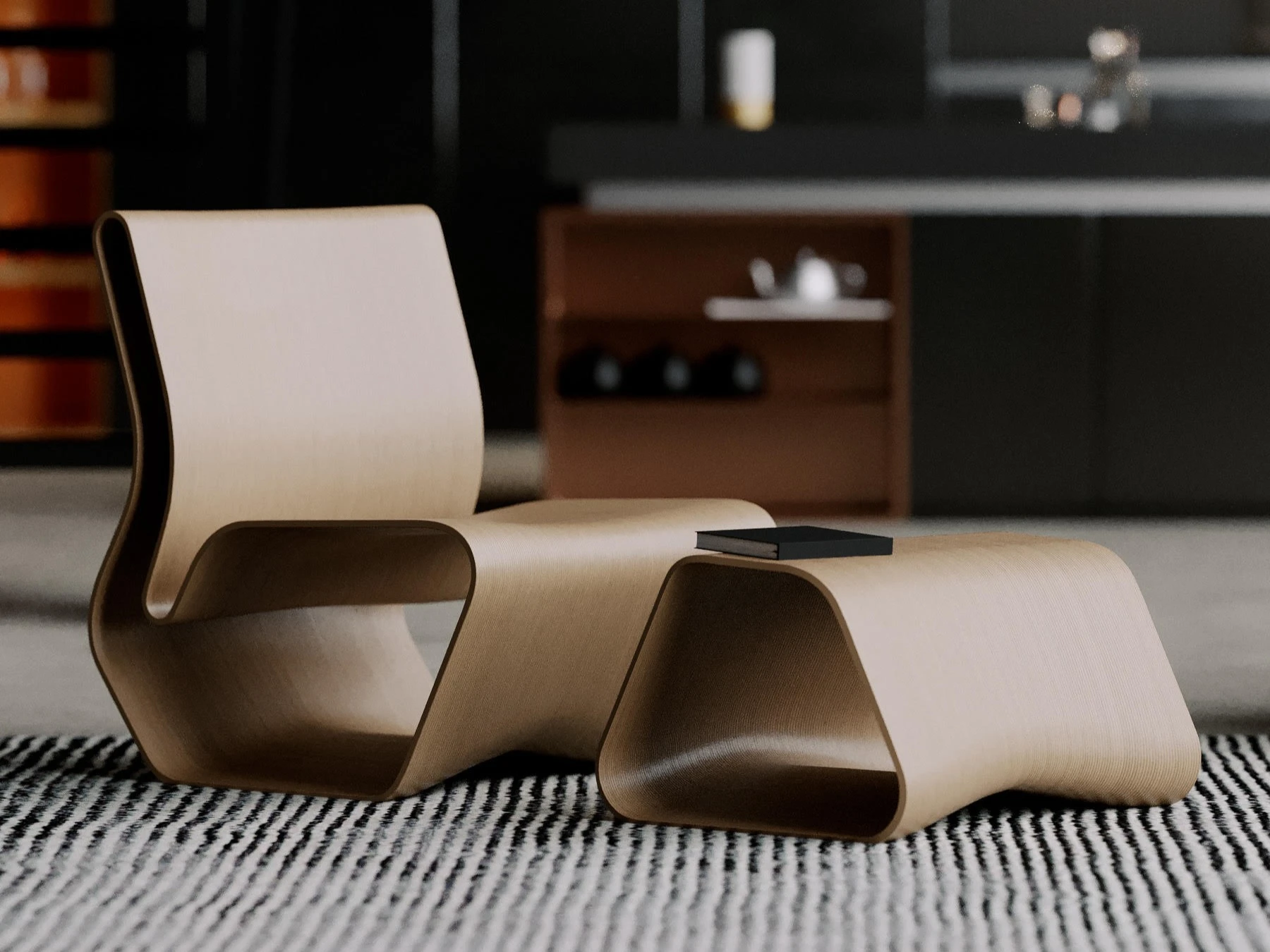 Changemakers: Model No.
21-Jul-2023
The Esker Chair and Ottoman, made in one wasteless 3D printing motion, uses resins upcycled from plant waste.
'We're looking to push boundaries – in design, materials and product longevity'
Model No.'s focus on 3D printing and digital manufacturing


Interview #3 of the Changemakers series
Model No.'s digital manufacturing uses non-toxic, regenerative materials to produce premium furniture. We recently interviewed CEO Philip Raub on this California-based company's aspirations and challenges. Model No. has the potential to guide the industry in creating beautiful and durable products responsibly… and rapidly.
This is the third installment of Changemakers, mebl's interview series with sustainability and circularity leaders in the furniture industry. Through this series, we aim to uncover the nuts and bolts of how each leader is driving change, the potential it holds, and why it matters to the industry.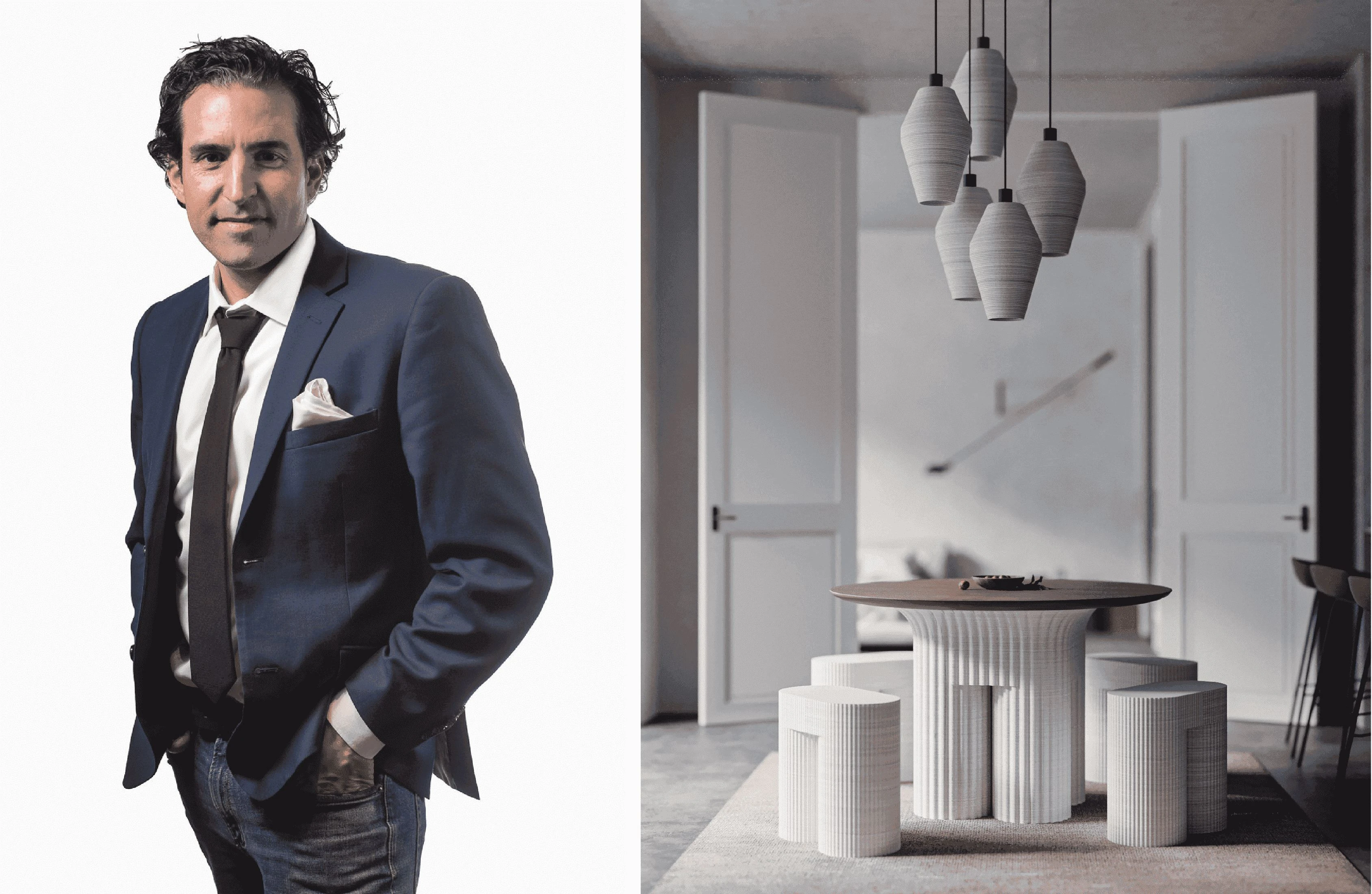 Left: Philip Raub, CEO of Model No. Right: Gather Table, designed by PROWL Studio.
mebl: Tell us the brief but beautiful history of Model No.
Raub: We've been around for almost five years. When I became CEO, in July 2020, we started – as a furniture manufacturer – tinkering with digital fabrication and additive manufacturing which uses 3D printing for high-volume production. We wanted to see if these processes could become central to a viable furniture business.
We started challenging ourselves, pushing boundaries with design, materials, quality and product longevity. Initially, we found that people equated 3D-printed products with flimsy and home-made. We made it our mission to change this perception.
Going forward, our goal is to get our products out to more people and make them more accessible. We'd like to grow our unique offerings, our end-of-life furniture practices, and scale Model No. to really make an impact.
mebl: What is the Model No. sustainability ethos?
Raub: Sustainability is built into our DNA. Our ethos is to leave the planet in a better place. We use responsible, non-toxic materials and manufacturing processes. The timbers we use are either Forest Stewardship Council (FSC) certified, salvaged or reclaimed. To reduce manufacturing waste, we carry no inventory and only produce to order.
To 3D-print our products, we use a plastic polymer called Polylactic Acid (PLA), which is made from food and plant waste. We recently started transitioning to a biodegradable material called Cellulose Acetate (CA) that in its raw form can biodegrade in less than 9 months when submerged underwater.
3D printing is far more economical and ecological than a traditional manufacturing process such as injection molding. A 3D-printed prototype can cost as little as a tenth of an injection-molded prototype – as there's no need for an expensive mold. Likewise, it only takes 1-2 hours to produce a light fixture and 12 hours for a chair. There's also more room for error – if you mess up, you can grind the product into pellets and reuse the material for a new prototype.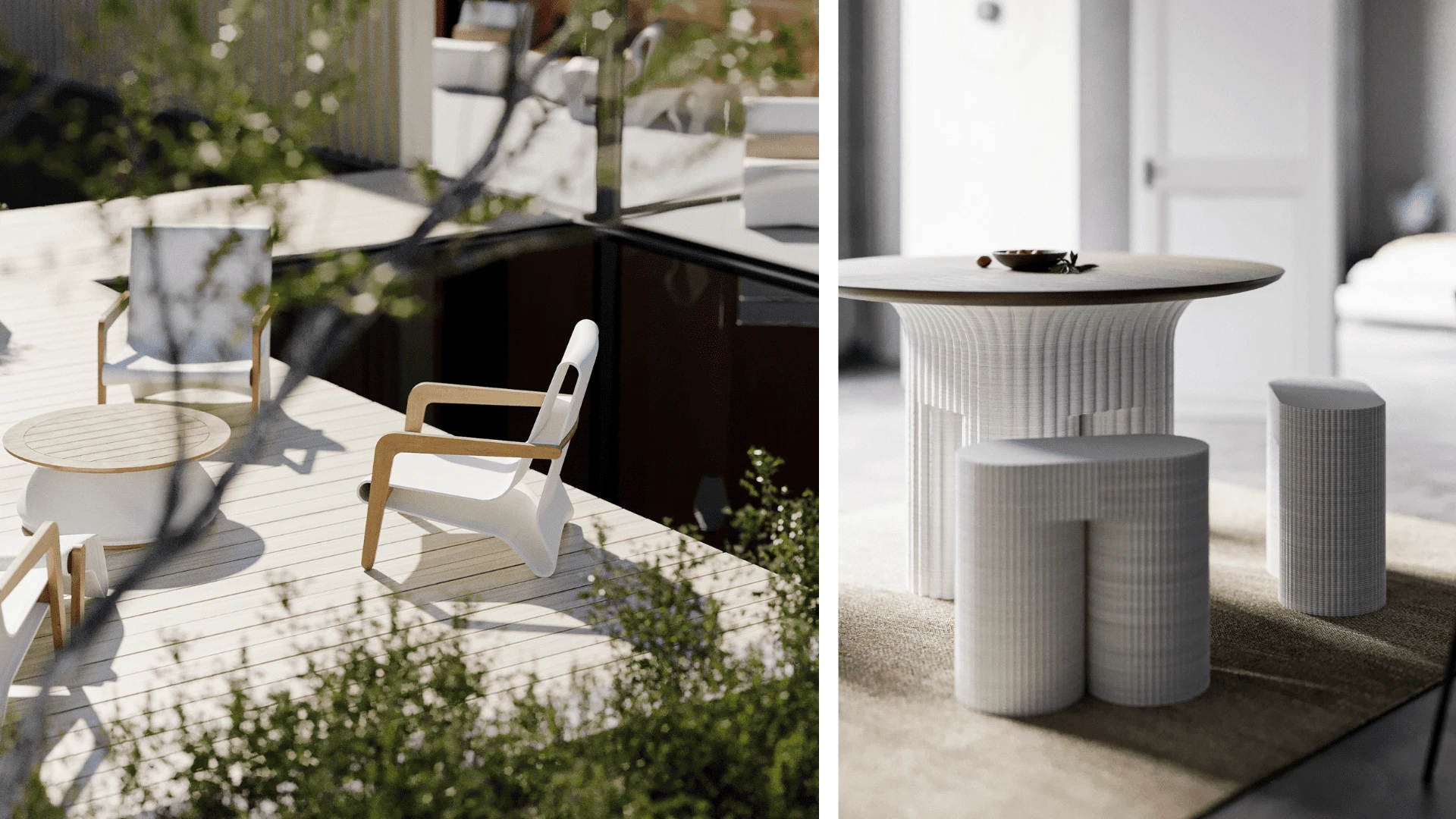 Model No. uses 3D printing to manufacture furnishings with regenerative and biodegradable materials.
mebl: What is your next big quest to make your products and services more circular?
Raub: We're working aggressively to rethink the end-of-life of our products. Our aim is to minimize our impact. We're setting up a take-back program allowing clients to return items with the incentive of a next-purchase discount. We then use the ground material to remanufacture other products.
If a piece of furniture slated for take-back is located out of our region, we'll find partners that can compost or recycle it locally. Rather than transporting it to us, this approach is more effective from the standpoint of economics, environment, and carbon footprint.
mebl: So what is decentralized manufacturing?
Raub: Our long-term goal is micro-factories that produce furniture and lighting in our clients' local region - and eventually globally. We want to reduce the transportation of our products to the end-user by placing our micro-factories in high-demand locations. We will also source materials from suppliers in close proximity to the factories.
mebl: What trade-offs and challenges have you faced by putting sustainability first?
Raub: When putting products on the market, we know it isn't possible to leave no trail or trace. I can give you a dozen examples of times we had to compromise on a material or innovation. We recently found a family-run farm in New Zealand that produces wool that's denser and less expensive to produce than any competitive wool in the United States.
Wool is one of the most regenerative materials – as sheep have to be shaved to survive. But if we need to transport the wool from another continent, the carbon footprint grows exponentially. We'd love to use this top-quality New Zealand wool in our products – but we also need to balance that against the impact of distribution.
And then, our challenges! A client once reported that our product had melted. Our furniture piece was under a black cover on an asphalt floor. This created the perfect greenhouse effect. Although it was highly unlikely that this particular situation would recur, we had to do more tests and then – from a quality control and customer-service perspective – solve the problem.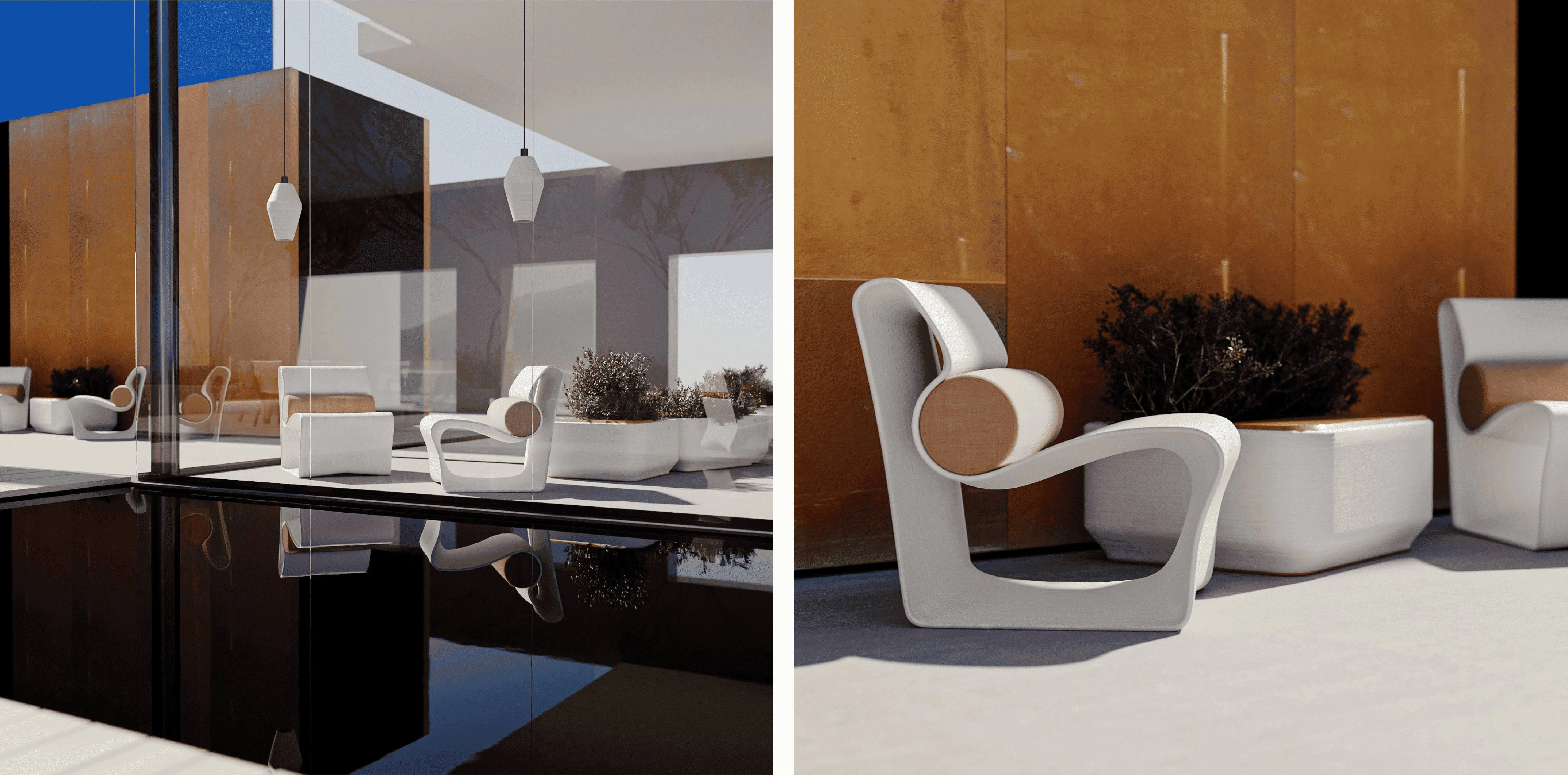 The Bolster Chair uses net-zero manufacturing techniques, merging architecture, sustainable design and circularity.
mebl: How do you view sustainability certifications?
Raub: Some clients ask that we attain certain certificates. If the project is large enough and we want to win it, we'll look into getting the certification. But first, it must be feasible and we have to believe in the certification.
There are so many certifications out there. We have to be selective and approach them on a case-by-case basis. We have acquired some certifications, like FSC-certified timbers, and we're in the process of becoming a B Corp. We're looking at others.
mebl: What is your marketing strategy? How do you attract clients?
Raub: We don't really advertise. Our current team consists of thirteen 'modelers' who create visibility around our brand. We go to conferences and events and show people what we do. We educate people from an industry perspective on our materials and processes.
In Model No.'s early years, the business model was more directed at consumers. We branched out to both the residential and commercial sectors and solidified our network by building relationships with designers and architects.
mebl: And we heard something about a fallen tree?
Raub: We collaborated with a company – PROWL Studio, based in Oakland, California – and an artist, Mike Han in Detroit, Michigan. We made a furniture piece from a single fallen ash tree salvaged in Northern California.
We work with a vendor, Arborica, that has access to fallen, storm-damaged or chopped-down trees. We selected a salvaged tree and turned it into three viable products: a table and set of four chairs, two light sculptures and a monolith. For the chairs and monolith we blended the wood shavings and sawdust to 3D-print the finished product.
Model No.'s collaboration with PROWL Studio and artist Michael Han to transform a fallen tree and sawdust waste into furniture and furnishings.

mebl: What about driving large-scale change across the furniture industry?
Raub: It is industry - more than public policy - that is driving change. Business is inspiring people to adopt new habits - and this is creating a monumental shift. Companies like IKEA, for example, employ circular and regenerative practices like localizing their supply chains.
IKEA is setting up their own forestry division and growing and replanting their own trees, while formalizing take-back programs and second-hand stores. We need to look to these companies for best practices and ideas on leading the change.
At the moment Model No. is not big enough, and doesn't generate enough profit, to be affected by policies and tax incentives. Government can use these tools at the local and federal level to motivate companies to do the right thing.
mebl: How are you tackling sustainability and circularity in your personal life?
Raub: A couple of weeks ago, I was at a conference where a CEO made an excellent argument. He pointed out that we compare traditional fossil fuels with electric-powered cars … but both are fraught with issues. To make monumental shifts, that CEO said, we need less intensive solutions like bicycles. We need to consume less to solve our problems.
In the past five years, I've really started to rethink the way I live. I'm not as focused on possessions as on experiences and spending time with my family. A couple of times a year, my wife takes our kids to a biodynamic farm where they learn where food comes from.
As a household, we eat mostly seasonal and locally-sourced food. I try to walk everywhere I go. Generally, I consume a lot less and commit to reducing in everything I do.
mebl: We're delighted to hear that your family is striving to live more sustainably, AND that you're helping clean up the furniture industry. Thank you very much for taking the time to tell us about Model No.'s journey and how you're leading the change with technology, design, and collaboration.
Other articles in the Changemakers Series: