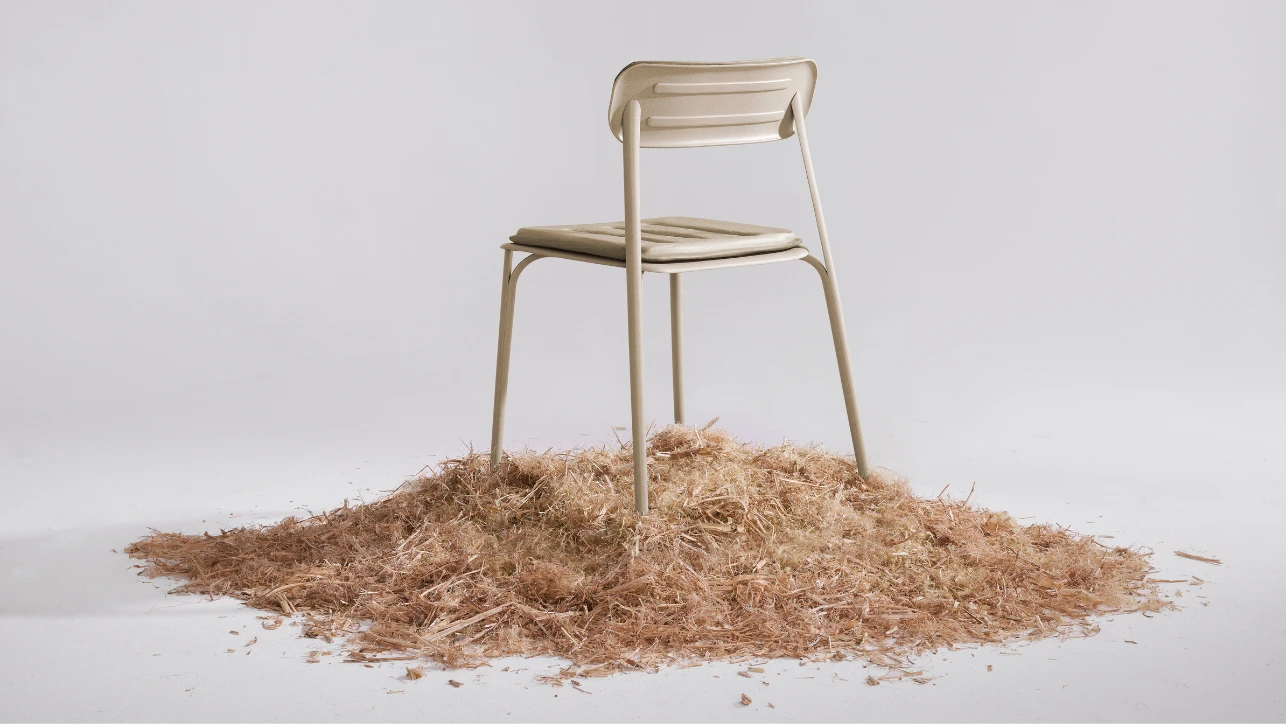 Changemakers: PROWL Studio
29-Aug-2023
PROWL Studio's PEEL Chair features a hemp-based bioplastic that can be industrially composted.
'We use regenerative design to manifest an ideal state.'
PROWL Studio tackles climate with outrage and optimism
Interview #4 of the Changemakers series
PROWL Studio creates design solutions that prioritize the planet as well as people. In this interview, co-founders Lauryn Menard and Baillie Mishler share their provocations, principles and core ethos -- 'we begin with the end' -- which voices their commitment to designing materials, products and spaces that regenerate and heal the earth.
This is the 4th in our Changemakers series -- interviews with leaders in sustainable, circular and regenerative approaches in the furniture industry. Our aim is to uncover the nuts and bolts of how each leader is driving change, the potential it holds, and why it matters to the industry.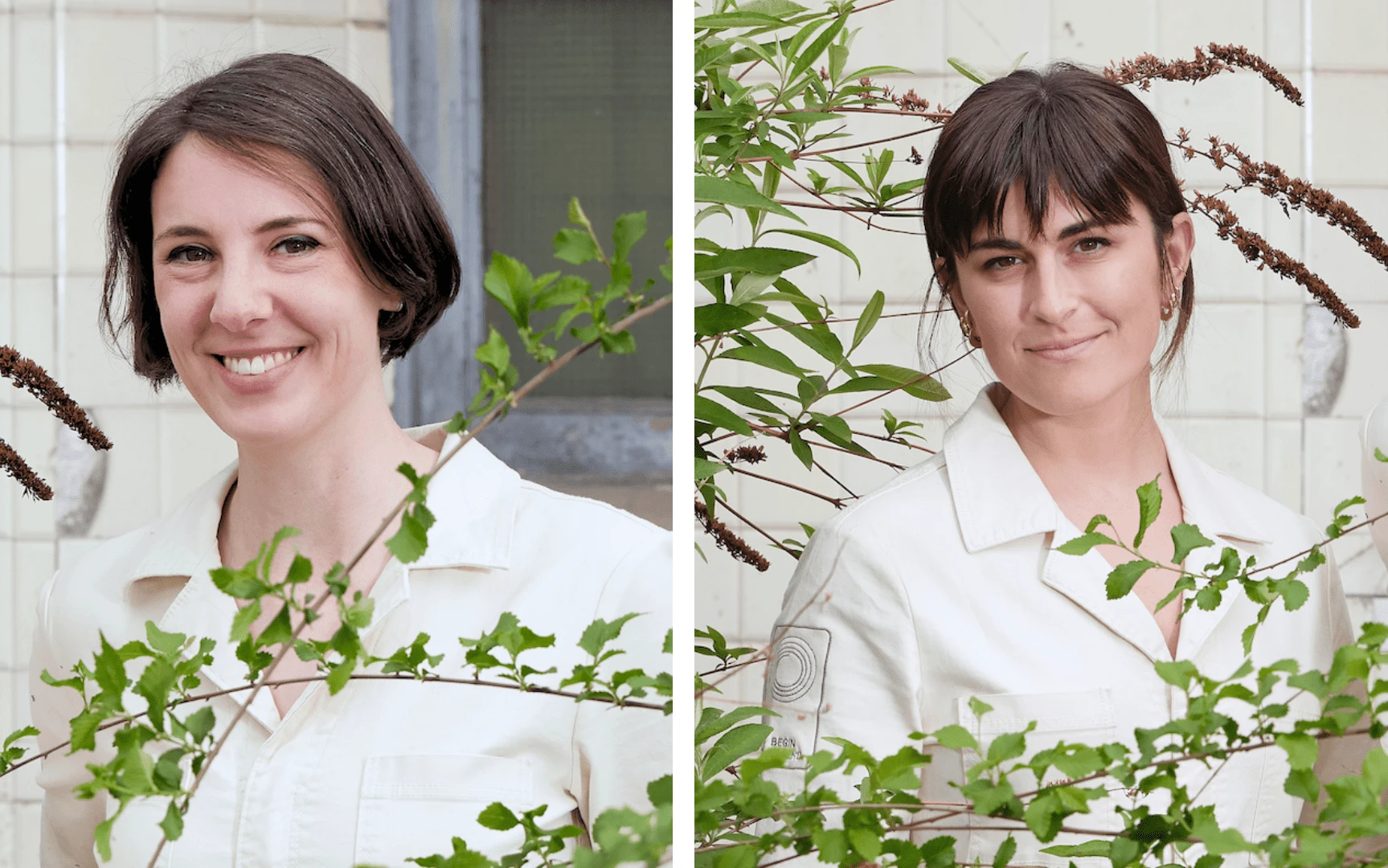 Left: PROWL co-founder Baillie Mishler. Right: PROWL co-founder Lauryn Menard.
mebl: So tell us about PROWL Studio!
Baillie: PROWL is a female-run industrial design studio on a mission -- the pursuit of a regenerative future! 'We begin with the end' -- our ethos -- emphasizes fully understanding the afterlife of everything we design. We're committed to choosing manufacturing processes and materials that are responsible. To us, that means that the end-of-life of every product, material, or space is equally important as its design and regeneration.
Placing materials at the center of development is one of our five principles. Others include practicality, collaboration and sustainable vs. regenerative design. Our studio works primarily on client-driven projects in arenas including furniture, automotive, hardware, climate and body & beauty. We also run a number of self-generated, proactive projects through which we're out to sculpt the future!
Lauryn: Typically, we work with material start-ups, companies and brands that come to us with standard industrial design projects. We help our clients rethink and bring their products to market with minimally half of the embodied carbon of the original product they're now seeking to replace.
At PROWL, we're always searching, researching, hunting ... hence our name PROWL. We offer research as a service, partnering with clients like Biome that want to dive deep into a facet of regenerative design. We were brought in, as an example, to design freestanding solutions for their tech-integrated biophilic wall planters.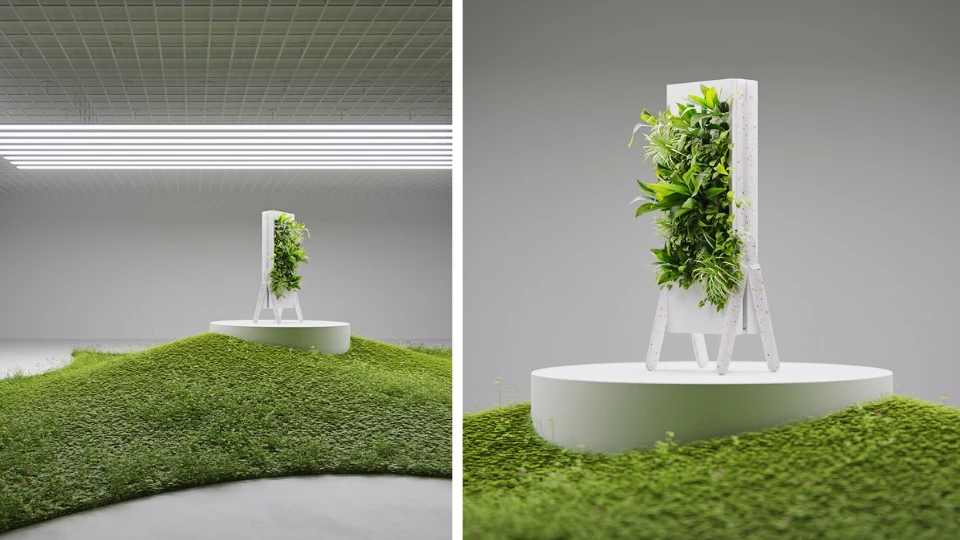 PROWL collaborated with Biome on 'Freestanding Taiga,' a smart, technology-integrated soil-free planter. Rendering by Maxime Roz.
mebl: How did your hunting begin?
Lauryn: PROWL was born out of our surmounting frustration -- we wanted to do more. We wanted a stronger voice -- as we believe that sustainability alone is not enough. We have to shoot higher! Aim for loftier goals!
I'll give you an analogy from human nature. People often tend to arrive late. If you want your friends to arrive for a dinner party at 6pm, you tell them dinner starts at 5pm. The same goes for climate impact. If we shoot for 'regeneration' -- a utopia in which everything created returns to and heals the earth -- we might land at 'sustainable.' Which is better than where we are now.
mebl: What is regenerative design, and how does it relate to human-centered design?
Lauryn: Regenerative design is a new, emerging concept, at least in the modern world -- a holistic, systemic way of thinking about problems and solutions. At PROWL we use regenerative design to manifest an ideal state.
For the past several decades, human-centered design was the prescribed methodology for designers around the globe. This way of thinking -- thinking of the human, only the human -- is outdated. Look at the example of plastics -- created to make life more convenient and comfortable for humans. Now we see the enormous negative impact of plastic on humans and the planet, which we may have caught much earlier if we took a more holistic look at the materials we were employing and their effects on the global ecosystem.
Human-centered design is detrimental to the planet –- and to human health. We believe that regenerative principles will become the new human-centered design.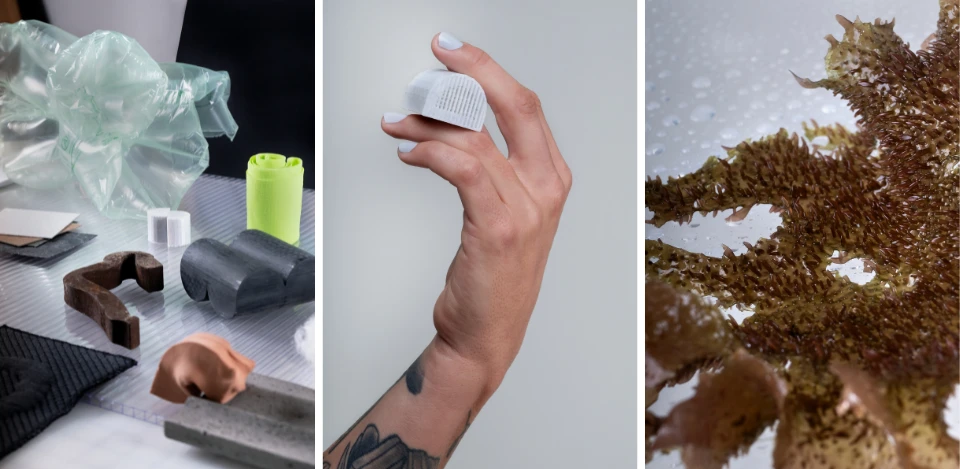 PROWL experiments with new material development and regenerative product design.
mebl: We love your intentionality as a female-run industrial design studio!
Lauryn: There are very few female designers in the industrial design sphere in the United States -- let alone female-run studios. If you think about it, then, almost everything in our everyday lives has been designed by men. All the industries Baillie and I worked in before were male-dominant. The Steelcase brand, Coalesse, where we met and worked 10 years ago, was also male-run.
When we were on the board of Women in Design SF, in San Francisco we discovered, unsurprisingly, that only 19% of the industry was female. It then became our mission to diversify the playing field. It's not that men aren't incredible designers, but women are intuitive and empathetic. Women are starting to lead the world of regenerative design and we love working with them!
mebl: What do PROWL collaborations look like?
Baillie: As one of our five principles, we collaborate in every way possible. We strive to make our collaborators long-term partners, without a hard start and end. We help our partners with exploration, problem-solving, and quantifying their work. Often the projects turn into exhibits, new product lines, or marketing campaigns.
Our collaboration with Model No. -- mebl's previous interviewee! -- is aimed at greatly reducing or eliminating waste in furniture manufacturing. Our approach is to get immersed in a business, investigating how they operate and what resources and capabilities they have on hand.
Visiting Model No.'s micro-factory, we found they had both subtractive -- wood milling -- and additive -- 3D printing -- manufacturing processes. We decided to leverage this to design a closed-loop system that uses sawdust, that's usually thrown out from the milling process, to create a material that's used to 3D print new furniture.
PROWL's collaboration with Model No. using sawdust waste to 3D-print furniture.
mebl: What's a huge change you'd like to see in the furniture industry?
Baillie: Fast furniture... It's been nagging us that over 12 million tons of furniture is being disposed of in the U.S. alone each year with most ending up in a landfill… the majority of it being undervalued, low-quality and toxic. We believe furniture should be one of two things -- either disposable and regenerative, made from responsible materials that can return to the earth. Or utilitarian and last for decades. Most furniture currently being produced is everywhere in between.
At the recent Milan Design Week in April, we were invited to present at Alcova. We decided to dissect the fast-furniture trend and present a solution -- the PEEL Chair -- on the international stage. Alcova showcases international design that's pushing the boundaries. This year's exhibition emphasized material development and innovation.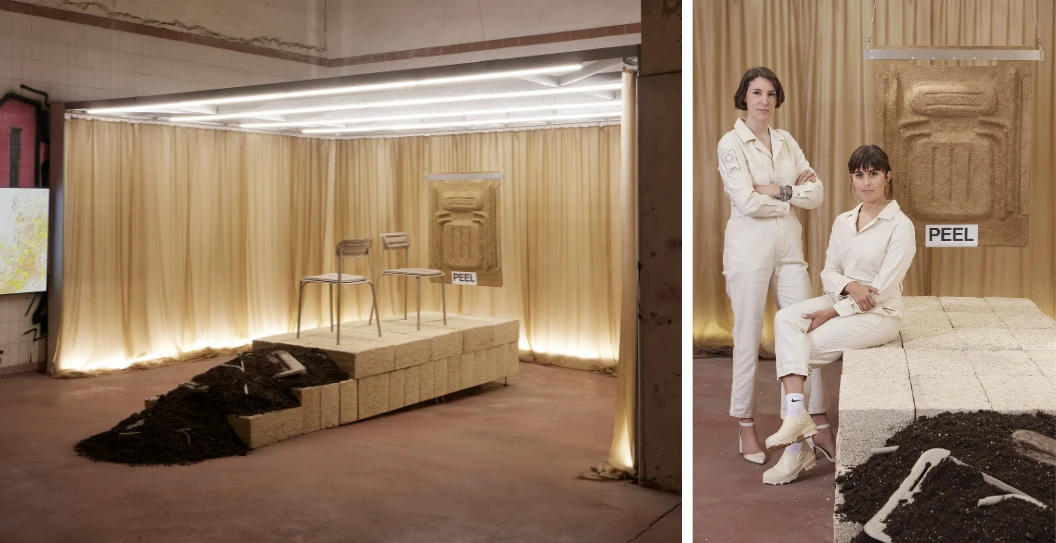 PROWL's "Expect Death" -- showcasing the PEEL Chair at Alcova at Milan Design Week 2023.
mebl: Tell us about the PEEL chair!
Lauryn: This chair grew out of absolute outrage and optimism. We started asking 'What if things lasted only as long as they need to?' We decided to design a chair that completely returns to the earth at the end of its life.
When we started exploring alternative-to-toxic materials that can biodegrade, M4 factory offered us their hemp PLA. We then met Brooklyn-based Studio Veratate, who are experimenting with a bio-based compostable leather made from hemp.
We started exploring two forms of hemp… and arrived at an exciting version of a classic stacking chair. The name PEEL comes from the actual form of the chair, and how it is designed. The legs appear to peel away from the seat, which mirrors the action of harvesting hemp -- peeling the fiber away from the stem. It's the fiber that's used in manufacturing.
The frame is made from hemp PLA, while the chair's cushion is made of hemp-based leather filled with hemp fiber. At the moment our PEEL Chair is a prototype. It needs extensive amounts of research and engineering to become utilitarian. We're in the process of looking for a manufacturer and someone to license it.
mebl: Why hemp?
Baillie: Hemp is a badass crop. Look at these comparisons! On an acre-to-acre basis, hemp yields 4x more paper-producing pulp than trees. It absorbs up to 4x more CO2 from the atmosphere than trees. And hemp yields 250% more fiber than cotton. Nonetheless, it has a rapid harvest cycle of just 120 days.
And, these days, hemp fiber is readily available due to CBD production -- which extracts the hemp oils for medicinal needs, but then typically disposes of the plant waste. So instead we use it!
mebl: What challenges did you face developing the PEEL chair?
Lauryn: The latest craze is working with recycled content, as it's one of the low-hanging fruits in the world of circularity. We wanted to leapfrog that process and shoot for the most aspirational solution: home-compostable. However, we didn't quite manage to make the entire PEEL Chair home compostable. While the frame requires industrial composting, the cushion can biodegrade naturally in 3-6 weeks.
But our biggest challenge was our biggest victory. We discovered a new way of 'making' upholstery or anything soft. Inspired by molded leather that you see in consumer electronics -- like phone covers -- we used a liquid hemp solution, which led to an entirely new way of manufacturing soft goods.
This method allowed for completely seamless cushions that require no cutting or sewing whatsoever. It's opened up a new world of exploration and possibilities for us, and we've discovered many solutions that we will push! For one, making cushions replaceable in furniture, or using bioplastics in a utilitarian way.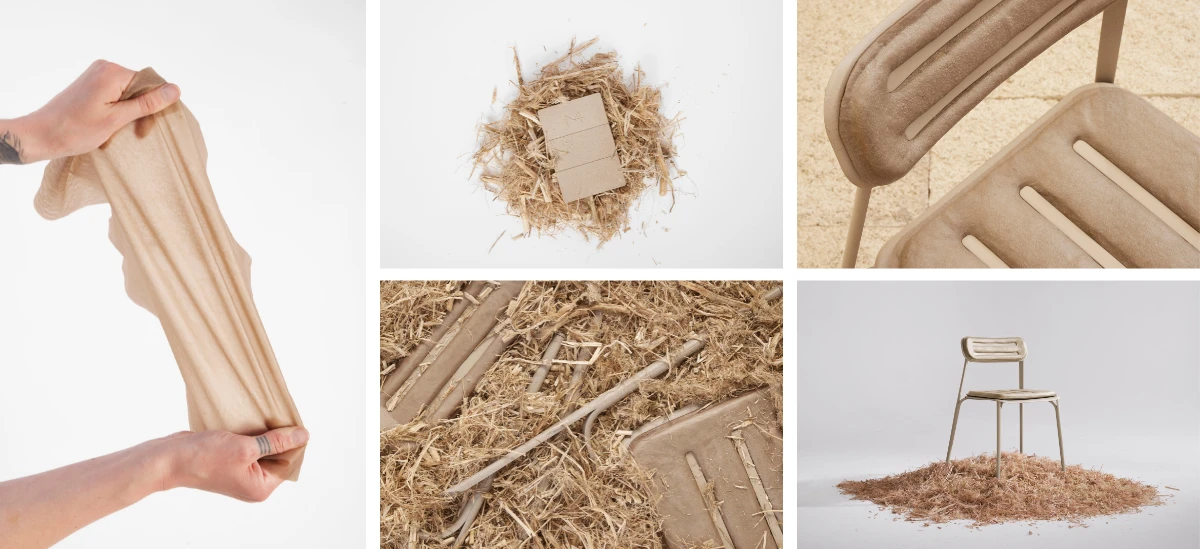 PEEL Chair is a classic stacking chair made from hemp-based materials.
mebl: What regenerative design principles need to be mainstreamed?
Lauryn: We need to begin with the end! What does a world without disgusting polyurethane foam look like? We need to invest in toxic-free alternatives that return to the earth or design furniture for the resale market that can have a fifth or sixth life… without needing to be repaired. And, to be refurbished or repaired, we must design furniture with fewer parts.
Baillie: I agree. Most furniture today can only be disassembled by a 'refab' professional with specialized tools. Furniture is rarely designed to be repaired. There are simpler methods of assembly to achieve the same functionality, comfort and performance as well as better end-of-life options.
mebl: Have regenerative principles begun to enter your personal choices?
Baillie: Running a business like this, that's looking the climate crisis in the eye every day -- has definitely heightened my level of awareness and evolved my lifestyle choices. I try to stay in tune and less often surround myself with things of luxury and convenience.
Lauryn: I spend an ample amount of time outside in nature to reframe. It's a reminder of what we're working to protect. We have to take care of ourselves. We can't burn out -- we have a lot of work to do, and only so much time.
mebl: Words of wisdom for designers or individuals on the regenerative path?
Lauryn: People feel grief, anger, accountability, and many other emotions regarding their fight against climate change. Our mission at PROWL is to identify the psychological barriers to becoming environmental protagonists and see how we can help facilitate that journey.
We've recently released a report on this in collaboration with The Museum of Earth. Our first issue in this collaboration is part of a 3-part series. It focuses on personal barriers. Upcoming issues will focus on organizational and governmental barriers. To get up close and personal with your barriers to entry, take your journey.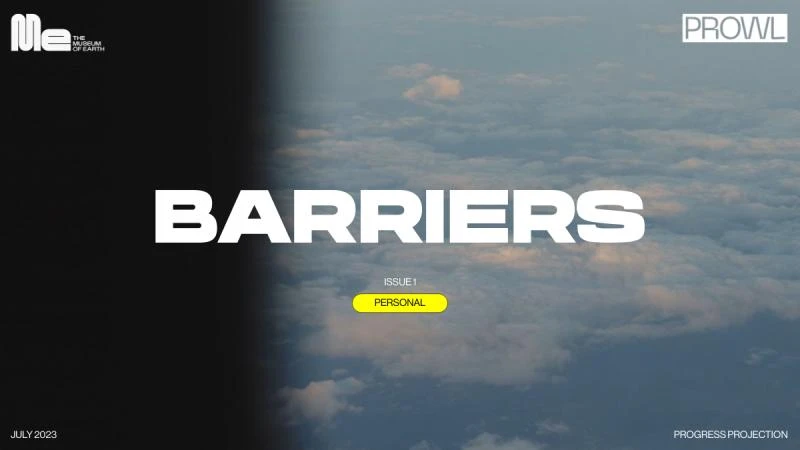 PROWL's Progress Projections - Barriers: Issue 1: Personal.
Other articles in the Changemakers Series: