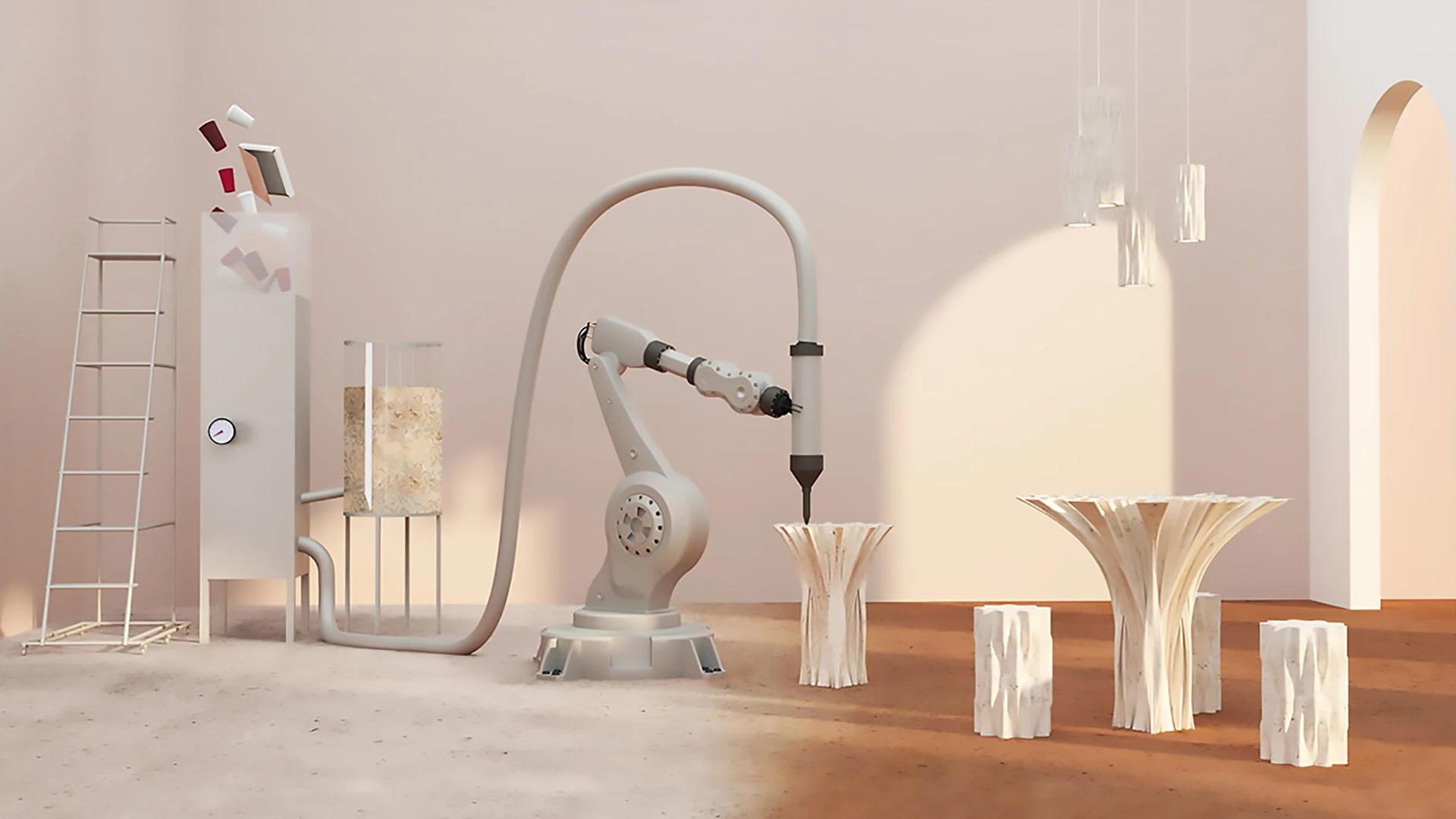 3D Printing: Innovating for Climate
30-Aug-2023
Photo credit: Blast Studio

3D printing has emerged as a groundbreaking digital technology, revolutionizing the world of prototyping and manufacturing across multiple industries. In furniture, a growing number of designers and brands are similarly experimenting with 3D printing. Many are looking to 3D to accelerate the shift to more sustainable and circular business models that more aggressively address climate change.
3D printing brings elaborate geometries to life in a new kind of digital craftsmanship for furniture!
Also known as additive manufacturing, the process begins with the creation of a digital design using 3D modeling software. The software then guides a specialized machine in printing the design, layer by layer, until it becomes a three-dimensional furniture object.
In this fourth article in our FURNITURE in the NEW CLIMATE ECONOMY series, we'll explore three 'windows' into the application of 3D printing to furniture design -- its potential in climate mitigation, what several innovative companies are currently doing, and environmental challenges posed by this digital approach.
3D PRINTING: POTENTIAL FOR CLIMATE MITIGATION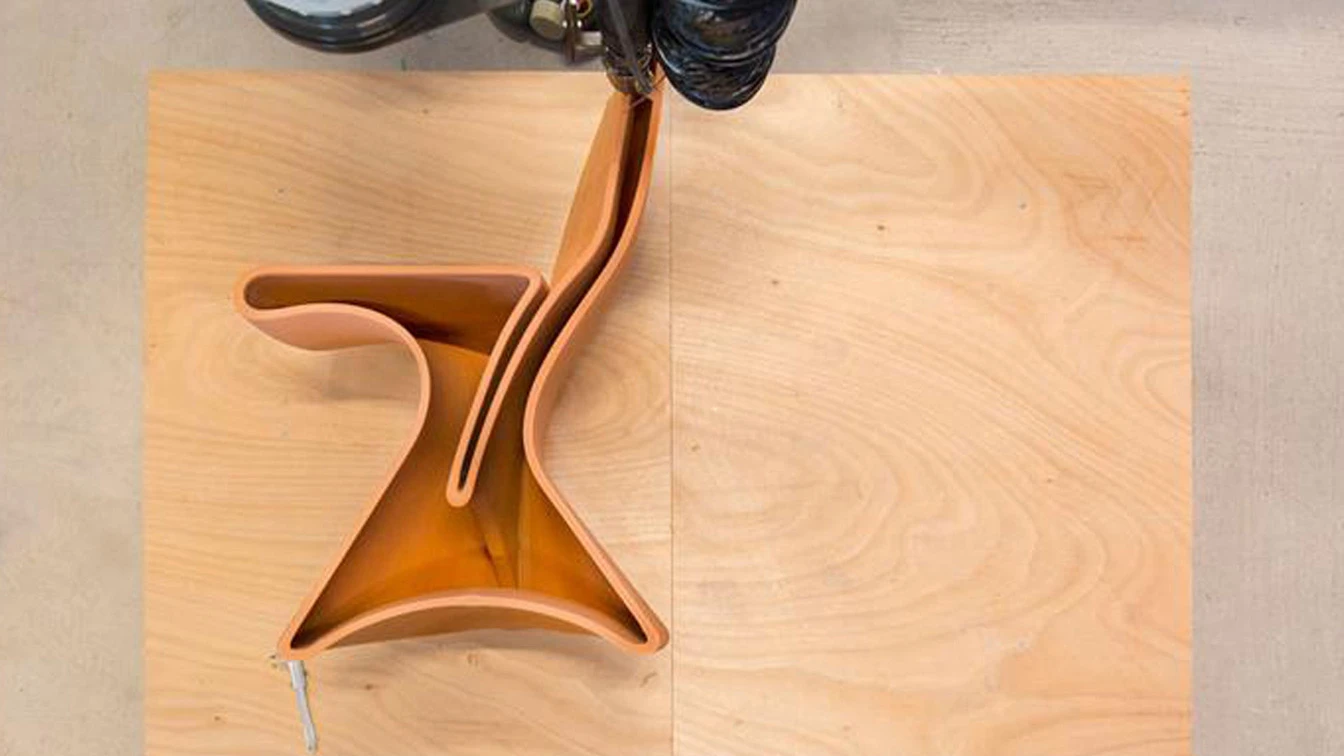 Printing the Second Furniture Collection, by The New Raw.

How can 3D printing's vast potential for innovation, creativity, and problem-solving be deployed as a powerful tool for change across the furniture industry? Let's look at 7 ways - all of which can lead to significant reductions in carbon emissions:
Quickly identify flaws & refine ideas. 3D printing allows for rapid production of physical prototypes from digital designs. This enables furniture designers and engineers to refine ideas, identify flaws and make improvements much faster, thus consuming much less energy and fewer materials.


Recycling of raw materials, and repair parts. Recycled materials from 3D printed prototypes can often be used to create new filaments, reducing the need for raw materials.
Customization for tastes & needs. And for repair parts: 3D printing enables highly customizable and personalized manufacturing such as in colors, sizes and finishes to readily adapt furniture to consumers' needs and tastes. By facilitating on-demand production, 3D printing greatly reduces the need for storage, waste and dead stock. "3D" can also print small furniture parts for replacement and repair, thus extending product lifecycles and reducing waste.
Design freedom without conceding quality. By building furniture layer by layer, 3D printers quickly produce complex shapes, internal structures and elaborate detail that would be difficult or nearly impossible to accomplish using traditional methods. This design freedom can be deployed, for example, to create lightweight yet strong and attractive furniture that optimizes material use. This spells less raw material extraction and reduced need for transportation and storage space.
Supply chain optimization. With 3D printing, designers can create digital files remotely but produce furniture locally. In this way, products can be manufactured on-demand, closer to the point of consumption. This decentralized supply chain reduces the need for extensive inventory and long-distance transportation.
Precision in amounts of material. Traditional furniture manufacturing begins with the removal of excess material to shape the final product. This often generates considerable waste. 3D printing doesn't rely on these conventional "subtractive manufacturing methods." Instead, as an additive process, 3D printing only uses the precise amount of material needed to construct an object.
New material possibilities. Materials used in 3D printing are not limited to traditional options such as raw plastic, metal or wood. Rather, 3D printing allows for use of recyclable materials such as different types of plastics ranging from PLA (polylactic acid) derived from renewable resources such as cornstarch and sugarcane to PC (polycarbonate), nylon filaments and construction waste. 3D printing also allows designers to explore biomaterials such as algae and mycelium, unlocking sustainable and regenerative possibilities that are challenging when using conventional manufacturing methods.
3D PRINTING: REAL-LIFE INNOVATIONS in FURNITURE
We selected a handful of companies and design studios leading the way in this new frontier. Each illustrates a different creative facet of employing 3D printing in furniture-making.

Blast Studio, based in England, "wants to tell a story of nature taking over urban waste and of technology and nature falling in love." Blast collects discarded materials from across London -- including cardboard waste such as coffee cups and pizza boxes, along with sawdust and other wood waste. They transform these reclaimed materials into a fertile biomaterial, which is then used to 3D print furniture that living organisms -- such as mycelium and plants -- can take over.
Mycelium can feed off, and grow on, this biomaterial, resulting in a lightweight piece of furniture with a velvety texture -- as in the Tree table base in the photos below. With 3D printing and its patent-pending innovation, Blast Studio gives life to furniture that invites all living organisms -- from humans to plants to fungi -- to thrive.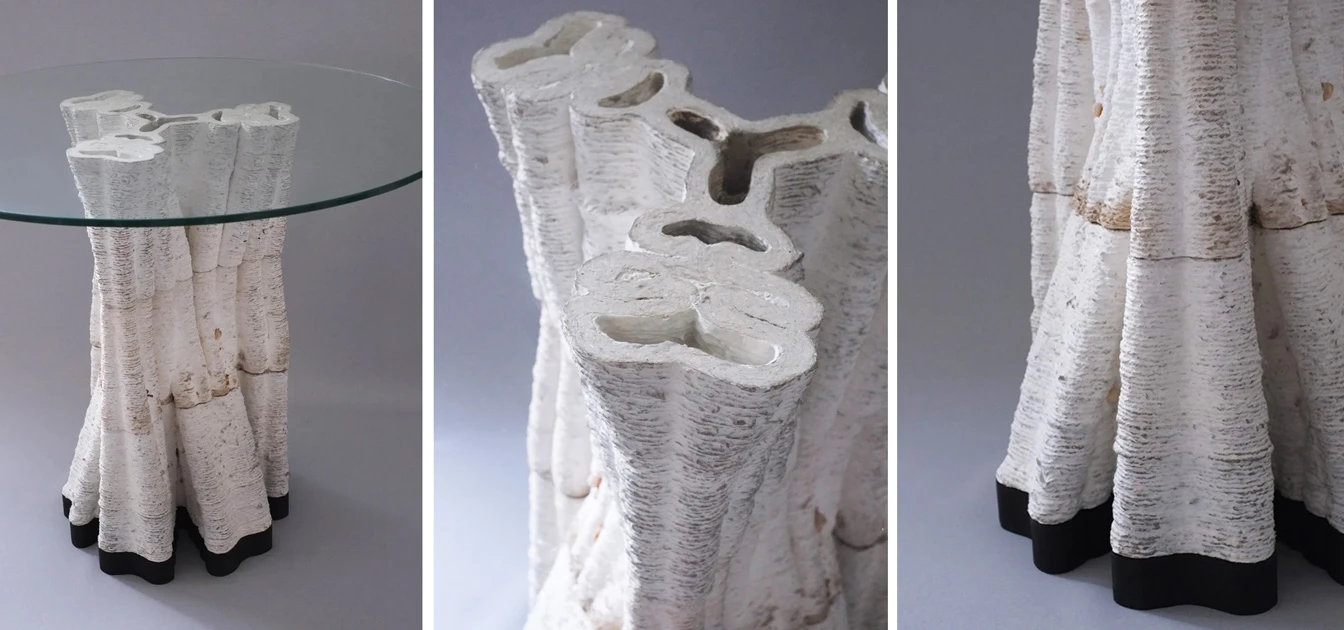 Tree table collection by Blast Studio
Model No., based in California, creates 3D-printed furniture with proprietary plant-based resins along with FSC certified and salvaged hardwoods. The bio-resins are 100% compostable and biodegradable and replace petroleum-based materials.
This bio-resin is formulated from recaptured and sequestered plant waste from agriculture and then upcycled into a form that meets Model No.'s quality standards. The bio-resins produce 80% less greenhouse gas and use 52% less non-renewable energy when compared to petroleum-based materials. These bio-resins also do not mechanically degrade when recycled and reused. They can biodegrade in as fast as one year under the right composting conditions.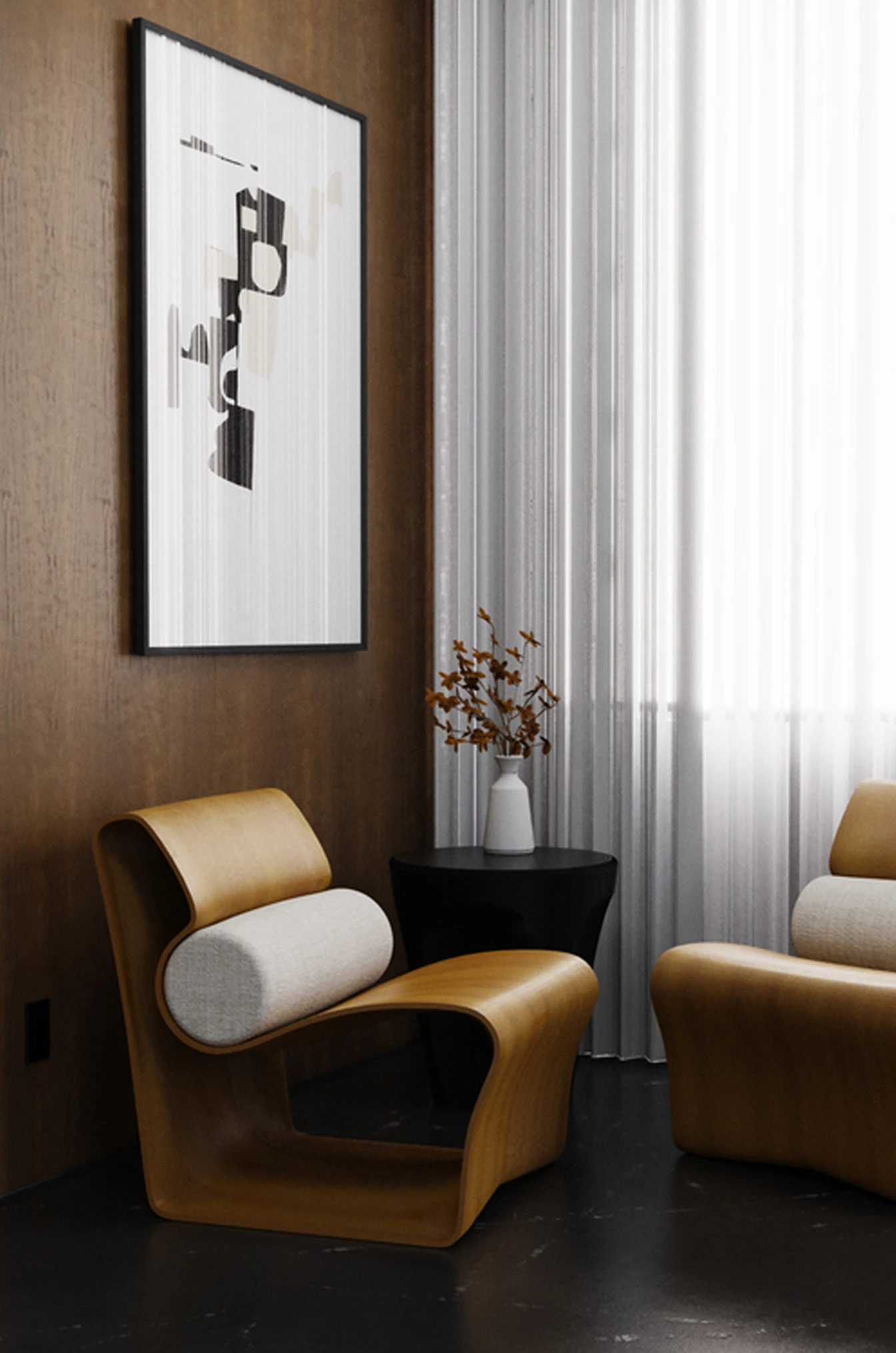 3D-printed furniture by Model No.
Model No. teamed up with PROWL Studio to create a salvaged hardwood table with a 3D printed base and stools. During production, sawdust generated from milling the table, often thrown out, was collected and compounded into the plant-based polymers used to 3D print the stools. This is a case study of a fully circular and waste-free process.
According to Model No., 3D printing is what enables the use of such materials -- reducing waste by 90%, and carbon emissions by over 50% when compared with traditional modes of furniture making. Learn more about Model No. in our recent interview.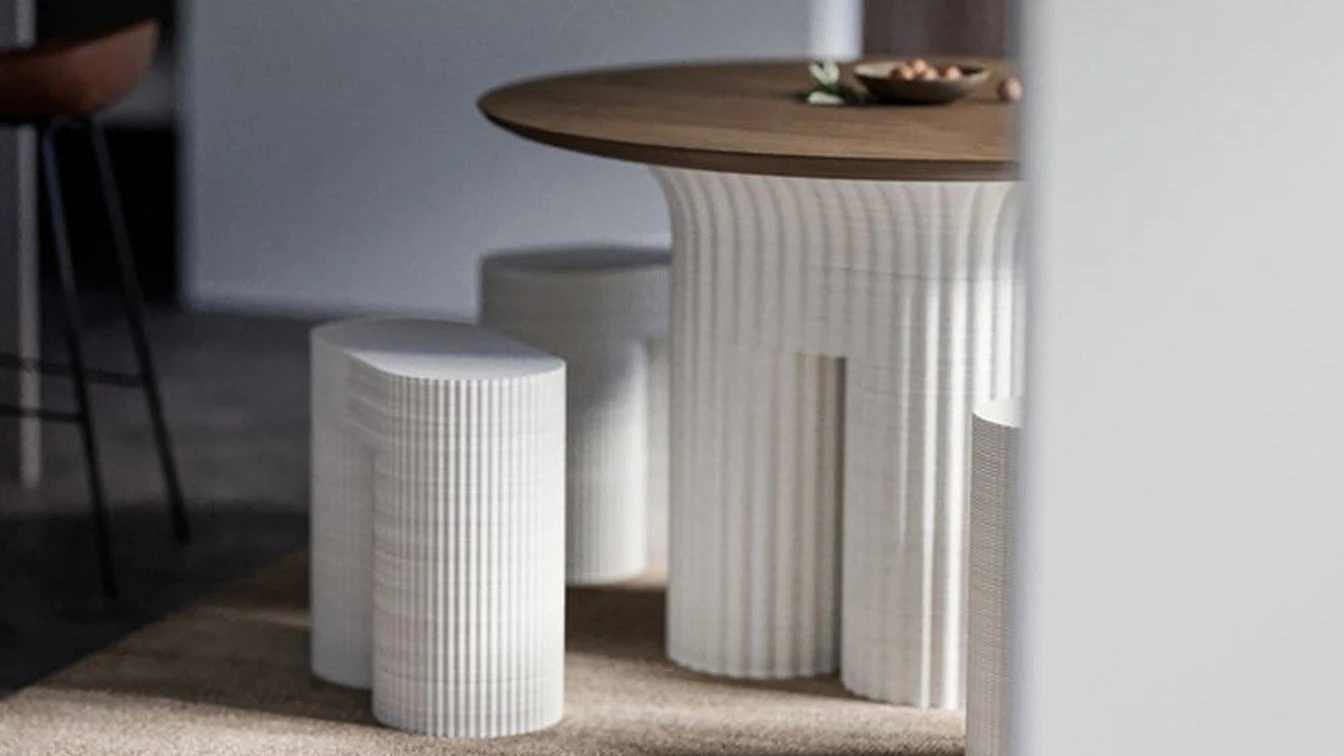 Gather Table and Gather Stool by Model No., in collaboration with PROWL Studio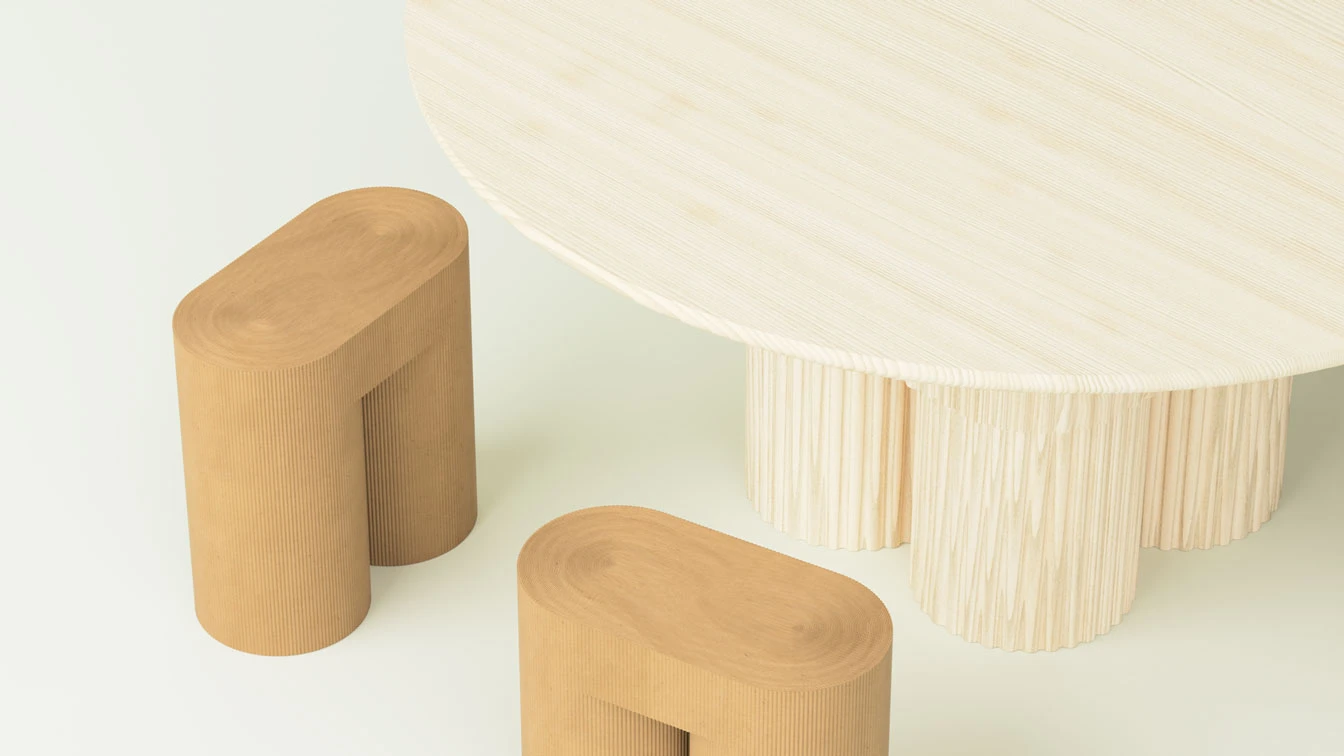 Gather Table and Gather Stool by Model No., in collaboration with PROWL Studio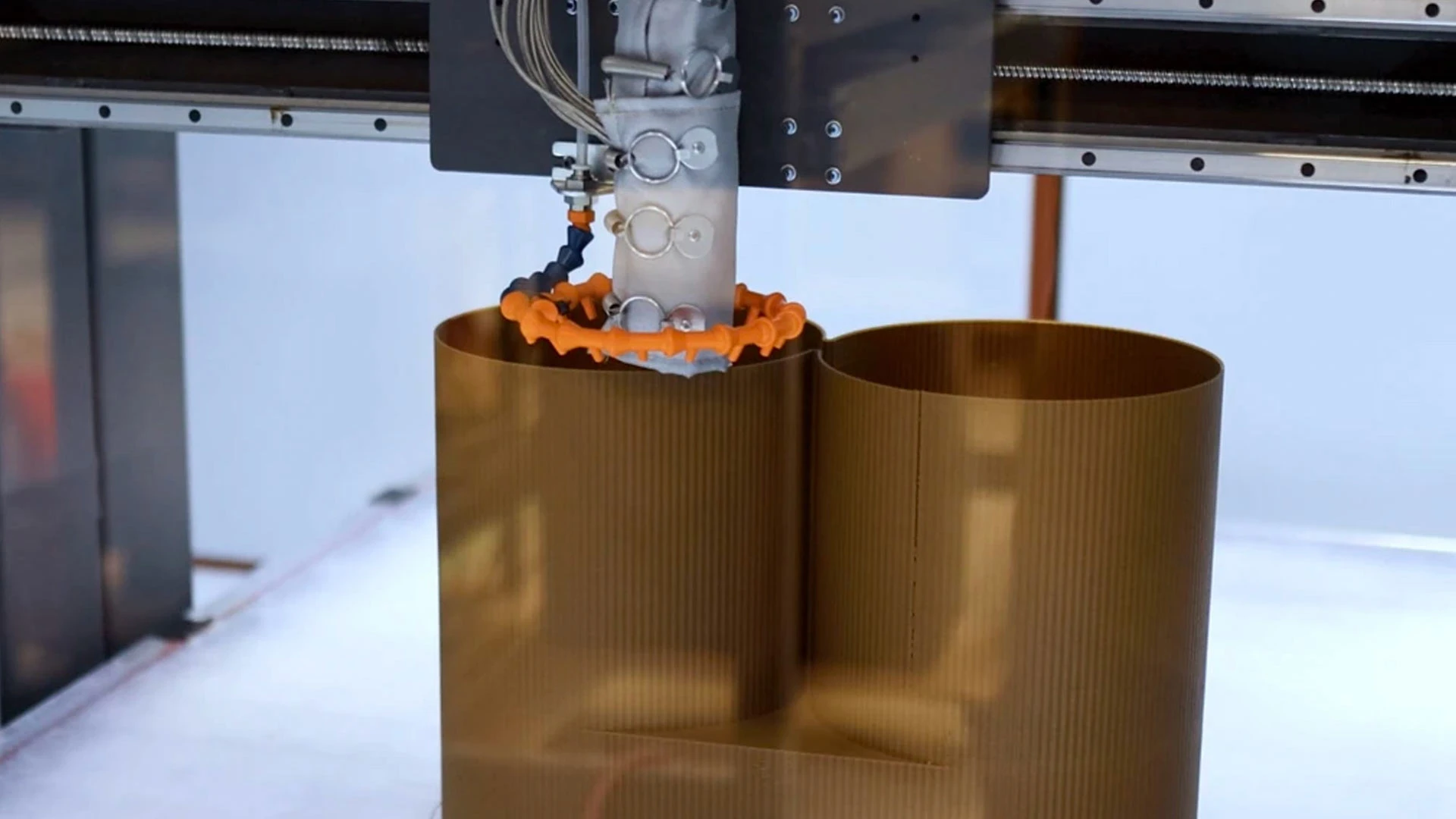 A look at the production process for the Gather Collection by Model No. & Prowl
The New Raw, a Dutch design studio, is all about 3D printing, robots and craftsmanship. At the recent Milan Design Week, this studio unveiled its 3D printed collection "Knotty" -- playful benches with a bold and tactile texture. Inspired by knitting techniques, explains New Raw, "the project treats plastic waste as a continuous thread of material that folds, twists, and loops to create an intriguing tactile surface that resembles textiles and invites users to touch it. "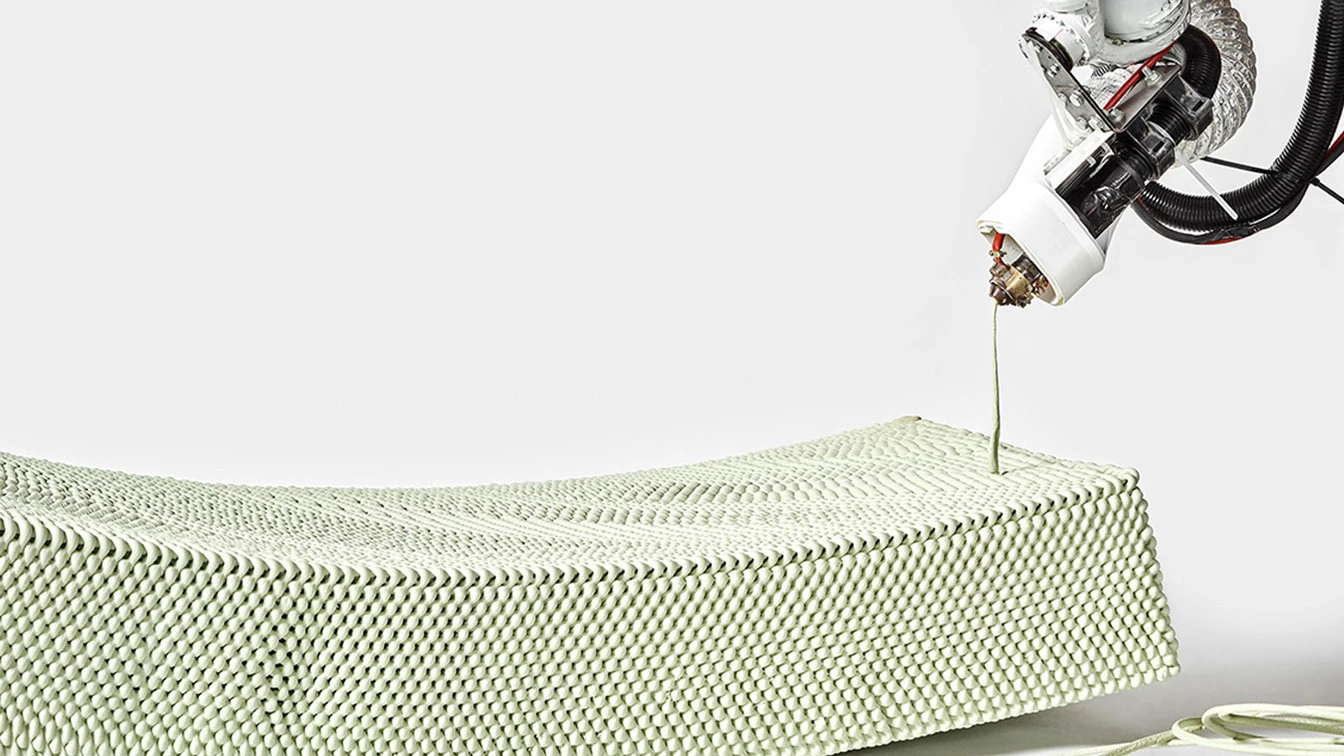 "Knotty," a 3D printed collection by The New Raw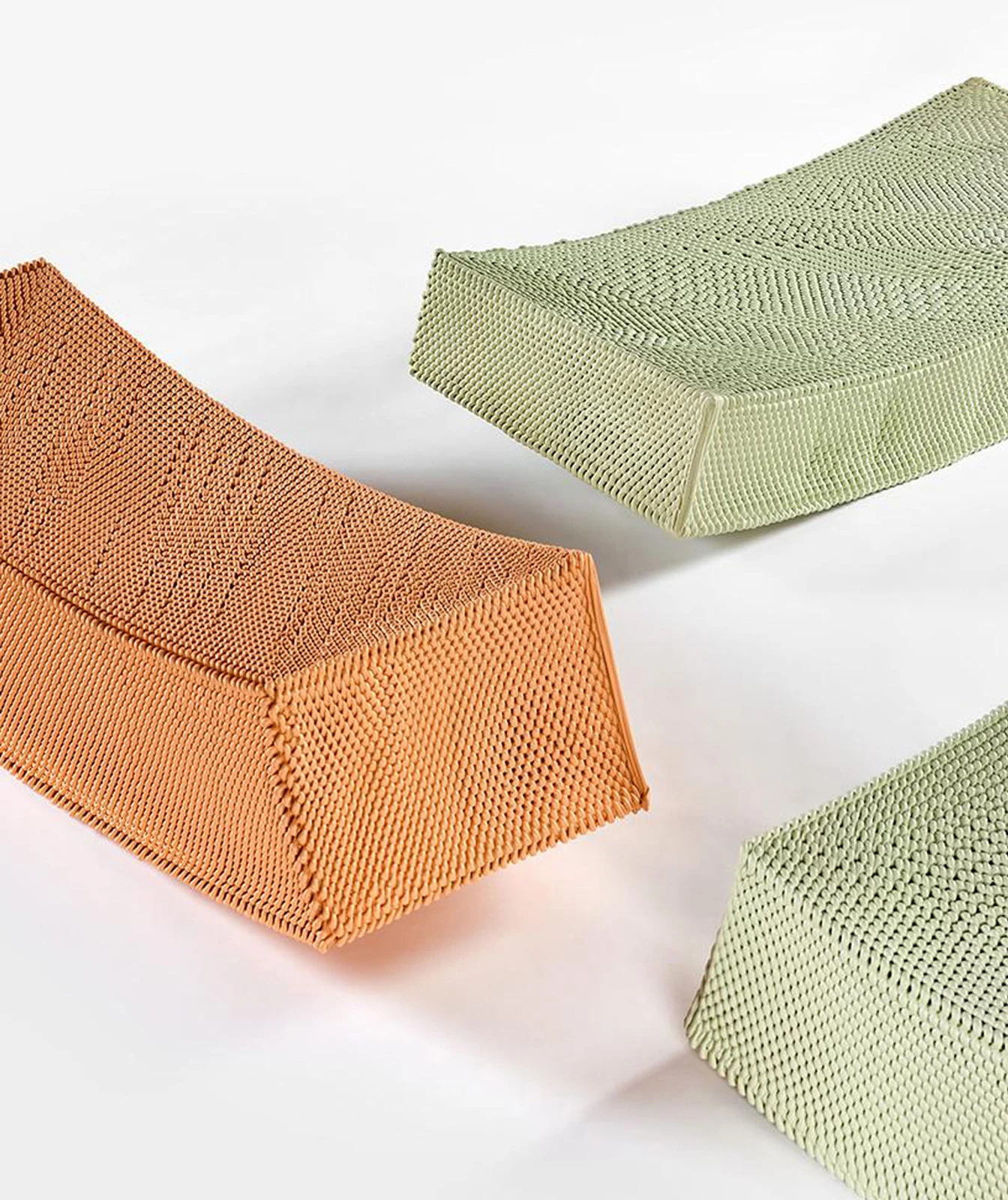 Playful Knotty benches by The New Raw
The New Raw also designed and produced the Second Furniture Series, giving ghost nets from the ocean a second life. Theses 3D-printed designs -- including benches, chairs and vases -- are crafted from 80% recycled plastic and designed to be 100% recyclable -- meaning these objects can once again become raw material for future uses.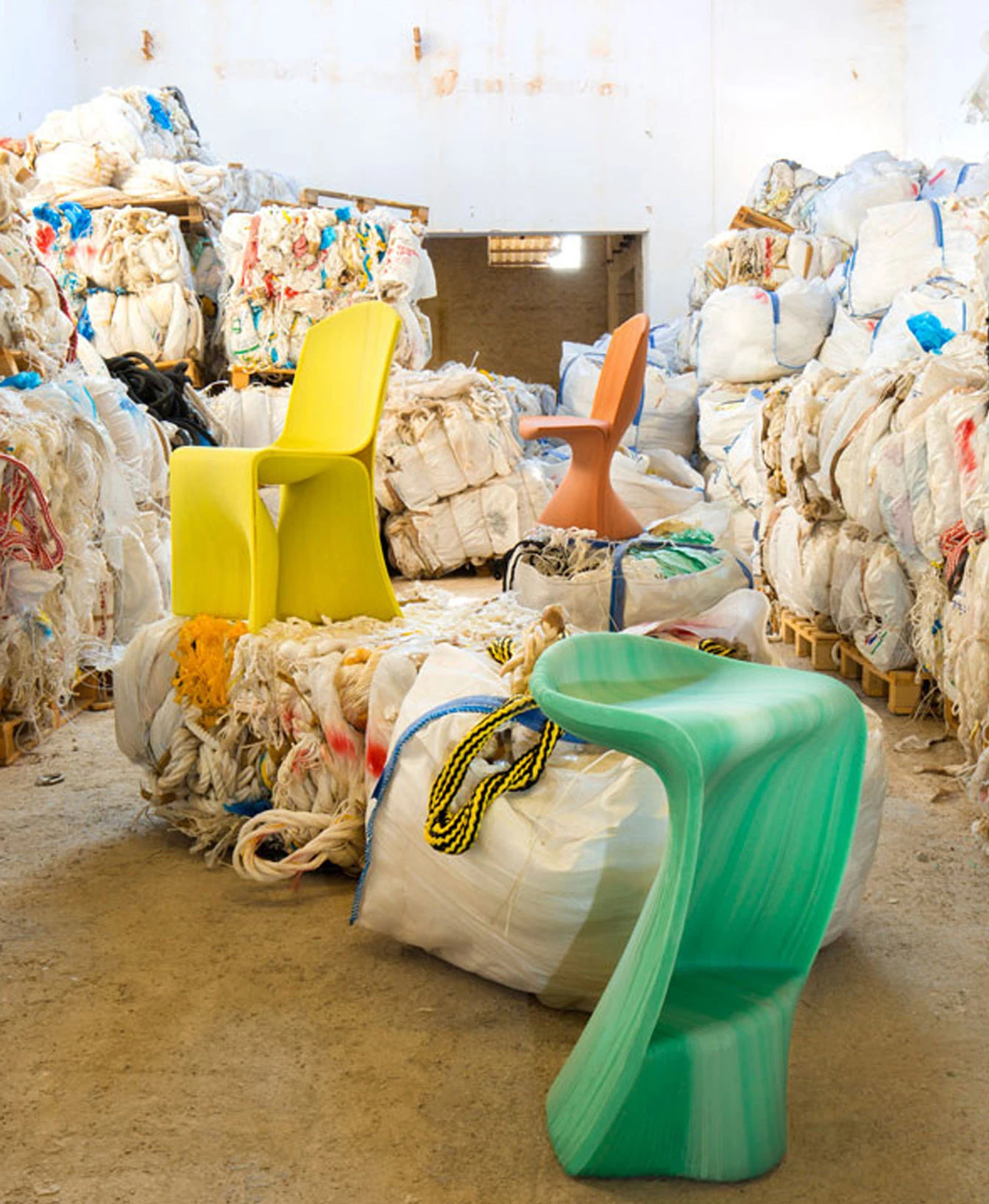 The Second Furniture Series by The New Raw
Coca-Cola's 'Zero Waste Future' program, based in Thessaloniki, Greece, launched and operates the Zero Waste Lab, a recycling facility that employs 3D printing. The Lab invites local citizens to actively participate in recycling. They bring plastic waste and, in conjunction with the New Raw, design custom urban furniture while contributing locally to closing the plastic waste loop.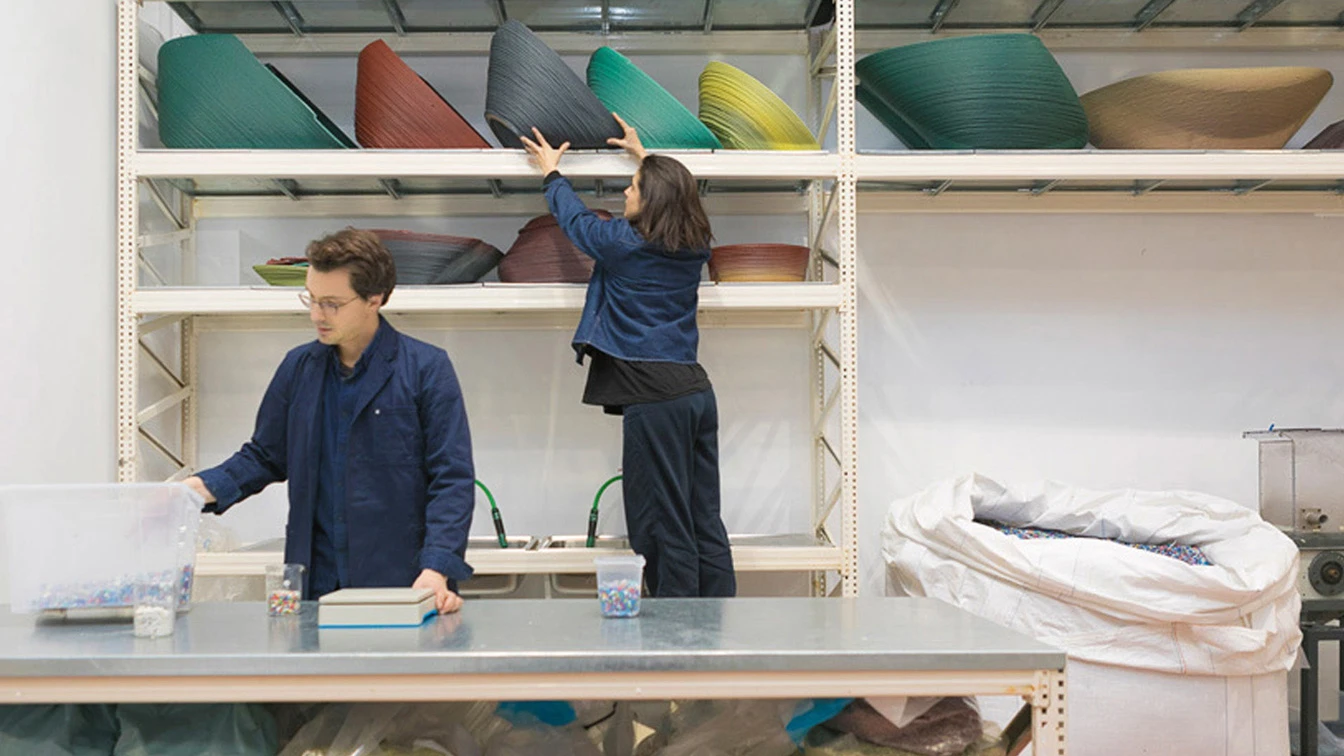 "Zero Waste Future" is Coca-Cola's program in Greece, operated in collaboration with the New Raw.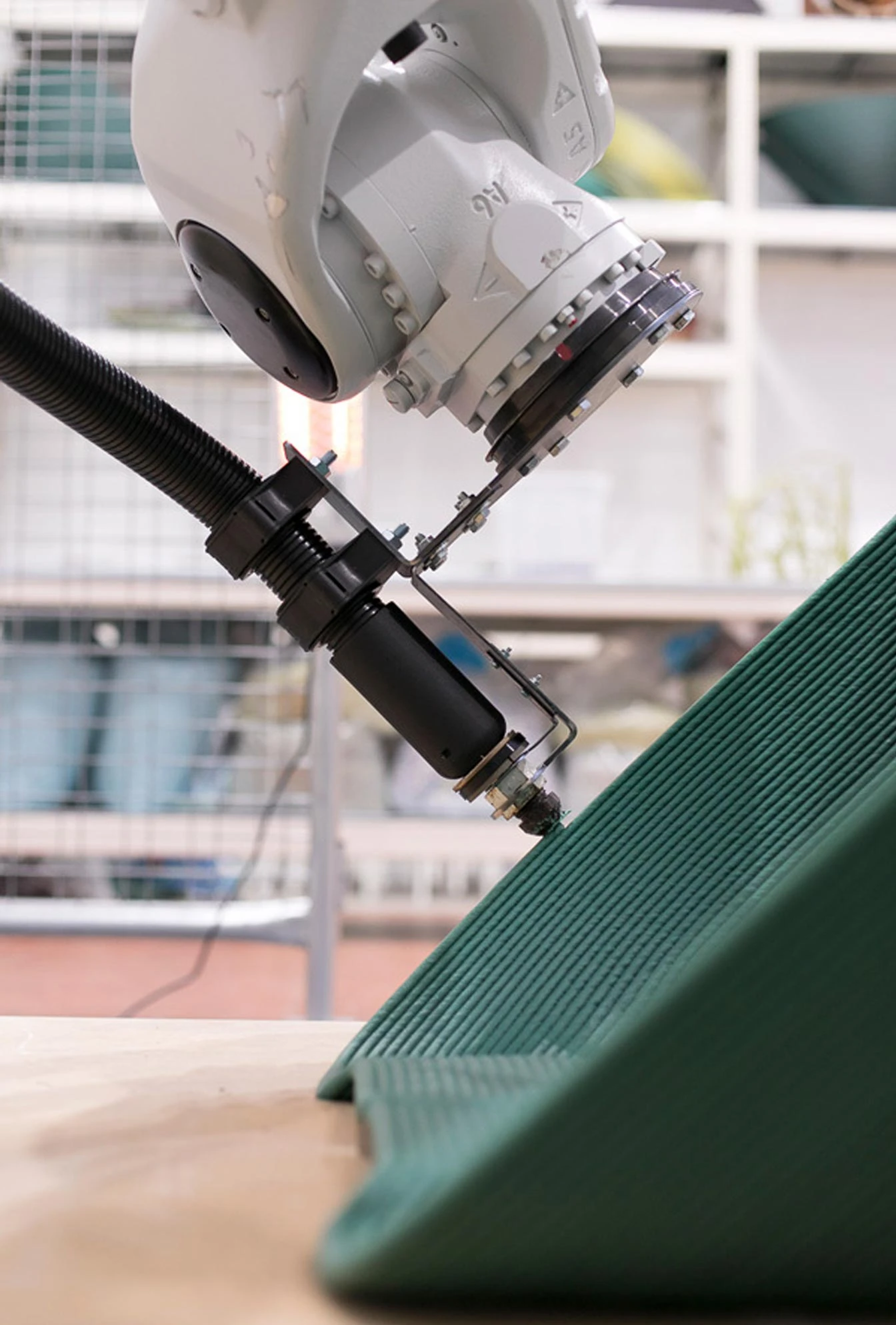 "Zero Waste Future" -- Coca-Cola's program in Greece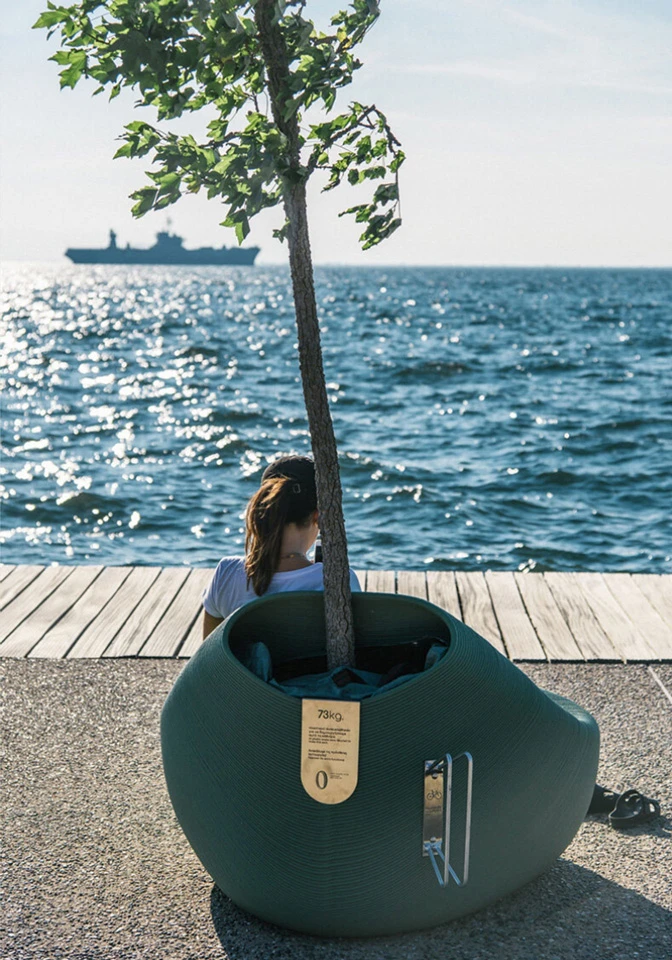 "Zero Waste Future" -- Coca-Cola's program in Greece
Reform Design Lab in Sweden uses large-scale 3D printers and recyclable materials to create the Reform Lounge Chair for indoor and outdoor use. As it is made entirely from wood-based biocomposite materials, this chair is sustainable to produce, use and recycle -- thus promoting sustainability throughout its lifecycle. Among Reform Labs core beliefs is that "fossil-based transportation and long lead times must come to an end." They have built a global network of 3D print labs for local manufacturing.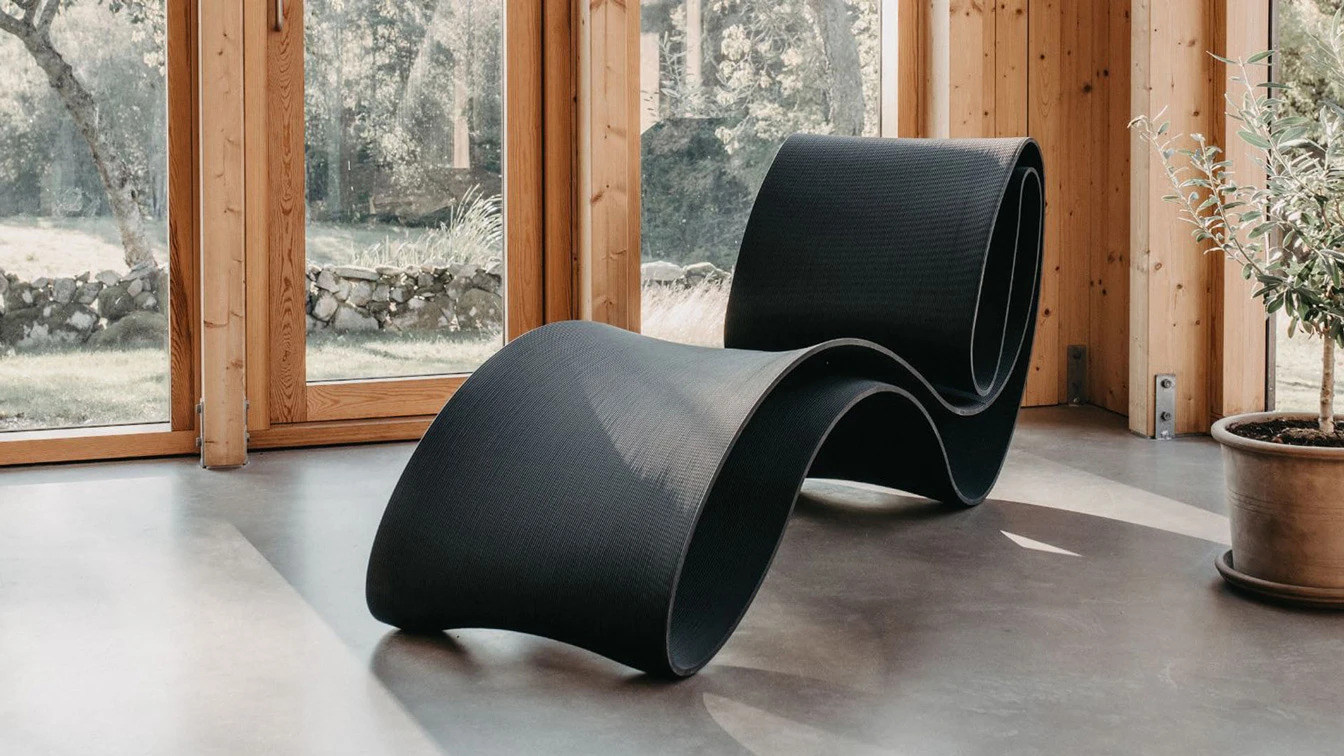 Motif Lounge Chair by Reform Lab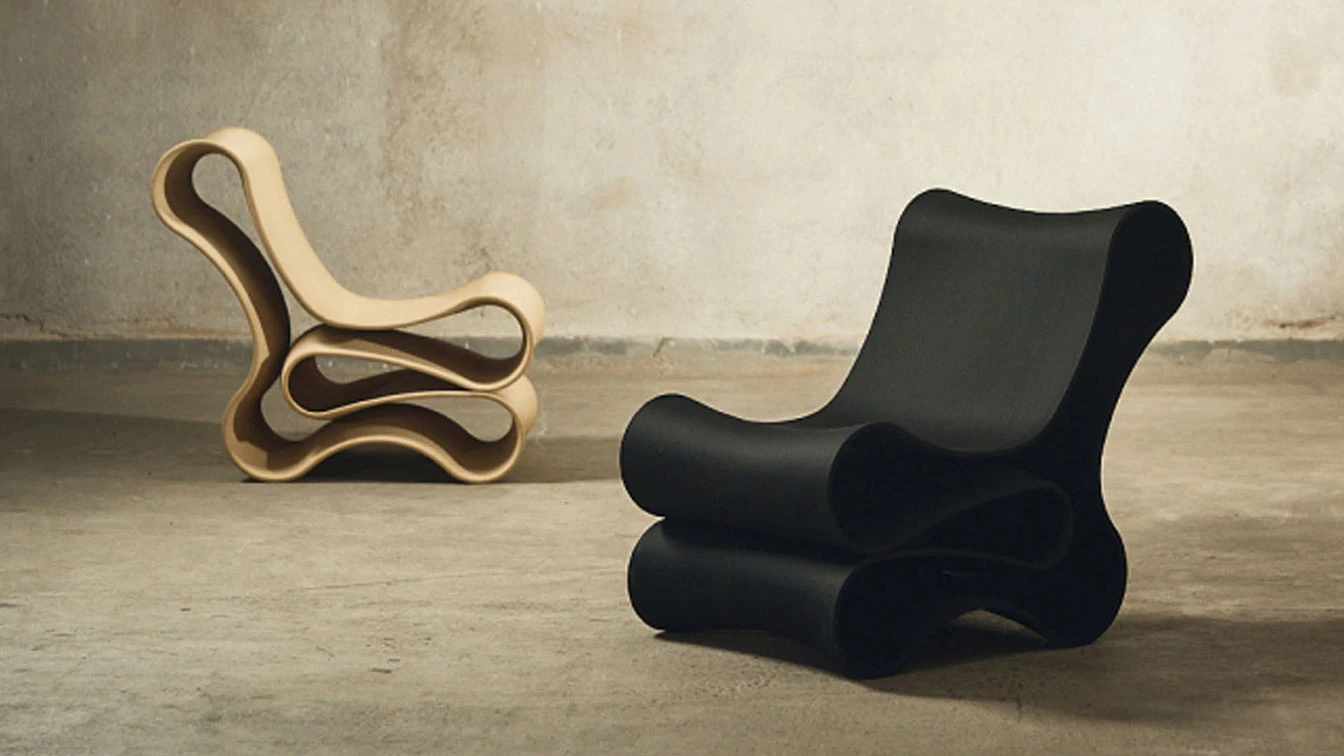 Motif Lounge Chairs by Reform Lab
An innovative Aectual & Tetra Pak collaboration was born of a question. In 2021, Tetra Pak sold more than 192 billion packages worldwide. Aectual, a Dutch company, asked, "What if we turned all those drinking cartons into high-quality architectural material to shape our everyday living spaces, thus needing less new material?"
Aectual recycles polymers and aluminum from Tetra Pak cartons to create 3D-printed furniture and furnishings such as stools, planters and wall panels. Drinking cartons are comprised of approximately 75% cardboard and 25% polymer-aluminum mix, or 'PolyAl'. After recycling, the cardboard is used to make new boxes, and the remaining PolyAl is the raw ingredient for Aectual's 3D-printing material.
Small aluminum pieces give the material depth while ensuring colors absorb well into the mix. All products are digitally customizable, allowing for infinite variations; everything is 3D-printed on demand, which eliminates the need to maintain stock. Tetra Pak has committed to redesigning all its offices worldwide with Aectual's interior solutions.
Watch this video to learn more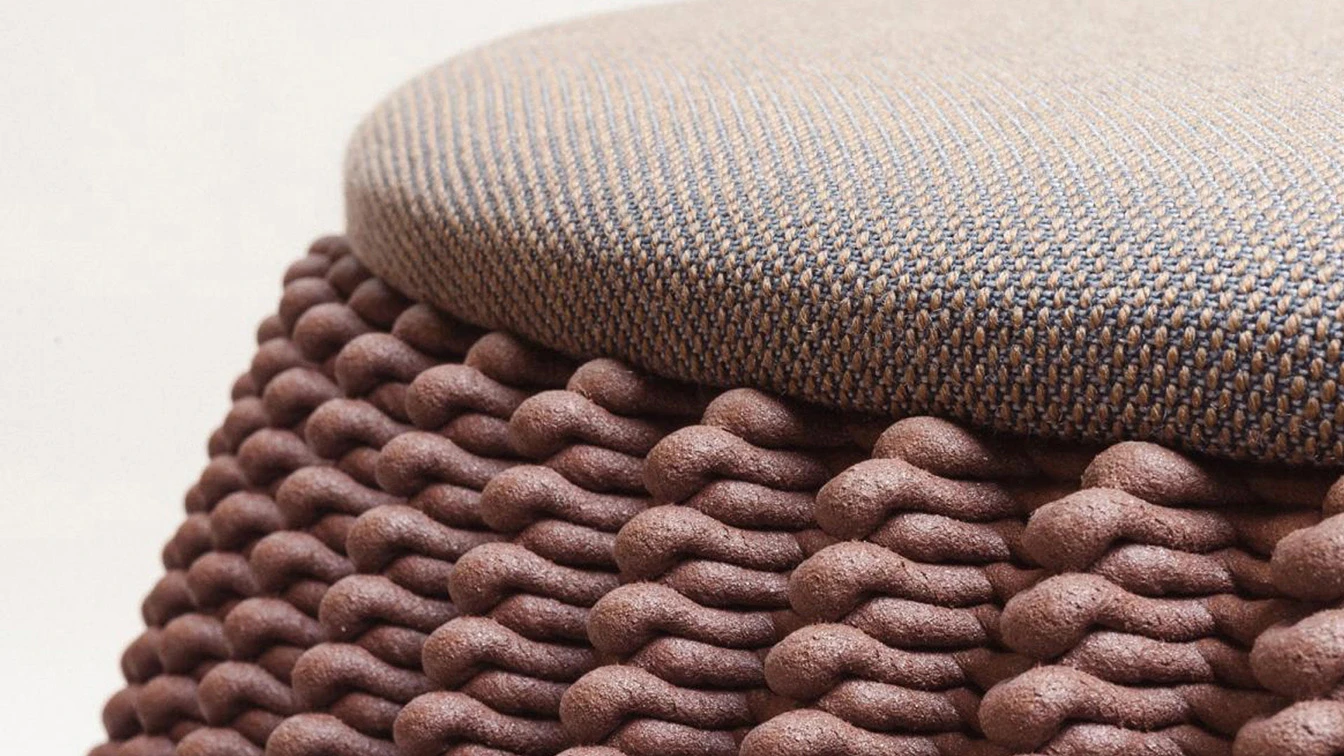 Interior solutions by Aectual & Tetra Pak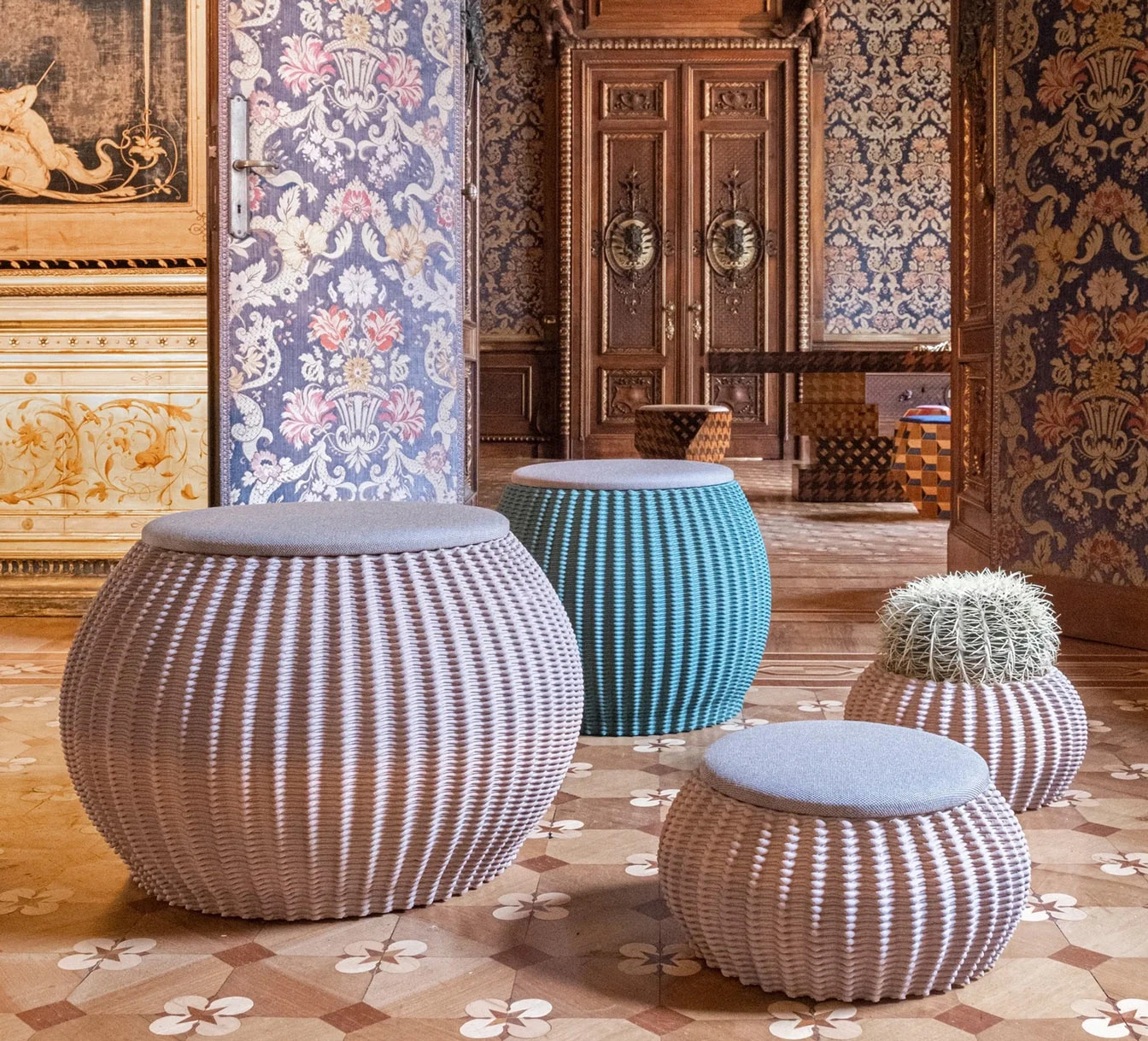 Interior solutions by Aectual & Tetra Pak
3D PRINTING: ENVIRONMENTAL CHALLENGES
3D printing technology facilitates new ways of production that are significantly more circular and environmentally friendly. But all is not yet green and glorious. According to Avi Reichental, CEO of Nexa3D, a pioneer in additive manufacturing, "That doesn't mean there isn't room for progress; the ability to think green is, like 3D printed itself, an exponential thing. " Multiple red flags and challenges lie ahead:

Energy Consumption: Energy required by 3D printers depends on the printer's size, technology and operational settings. Larger printers with intensive heating or light sources tend to consume more energy.
Waste-Related Issues: While 3D printing offers considerable advantages in reducing waste, there are still related issues to address:
Many 3D printing processes require support structures to hold up overhanging parts during printing. These structures are often removed after printing, generating debris.
Furniture pieces will be discarded if a printer fails to meet quality standards due to layer misalignment or poor adhesion; this results in wasted material, time and energy.
Materials such as filaments or sheets that are cut to size before printing might result in offcuts that are not usable for future prints; this also leads to waste.
During the prototyping stage, designers might iterate through several versions of a furniture piece before finalizing the design. Each iteration can result in the generation of waste.
Some 3D-printed furniture pieces might require post-processing steps such as sanding, painting, or coating – processes that can generate waste material like dust, paint residue or unused coatings.
Toxicity Potential: 3D-printed furniture has the potential for toxicity, depending on materials, printing process, and conditions of use. Some 3D printing filaments, resins and certain types of plastic, for example, may contain additives, pigments or fillers that can release VOCs -- harmful volatile organic compounds -- when heated or during printing. In addition, printers that operate at higher temperatures may have greater potential for emitting toxic substances.
Increase in disposable products:
A study from Yale University suggests that rapid, readily available 3D-printing technology leads to an increase in the number of disposable consumer products.
Addressing these challenges, will require that printing items and sharing printing technology be guided by a circular -- not linear -- mindset. And a mindset focused on sustainable and regenerative materials and renewable energy.
As such, when adopting 3D printing for furniture production, keep in mind circular principles such as: weighing energy consumption against the benefits of customization and innovative design; selecting materials such as recyclable or biodegradable filaments; and following Design for Additive Manufacturing (DfAM) protocols to reduce the need for support structures, minimize material usage, and enhance print success rates.
Are you using 3D printing technology to design and/or create furniture ? Please join the conversation! Email us at [email protected] to share your challenges and achievements. We promise to respond!
Other articles in the FURNITURE in the NEW CLIMATE ECONOMY series:
SOURCES: