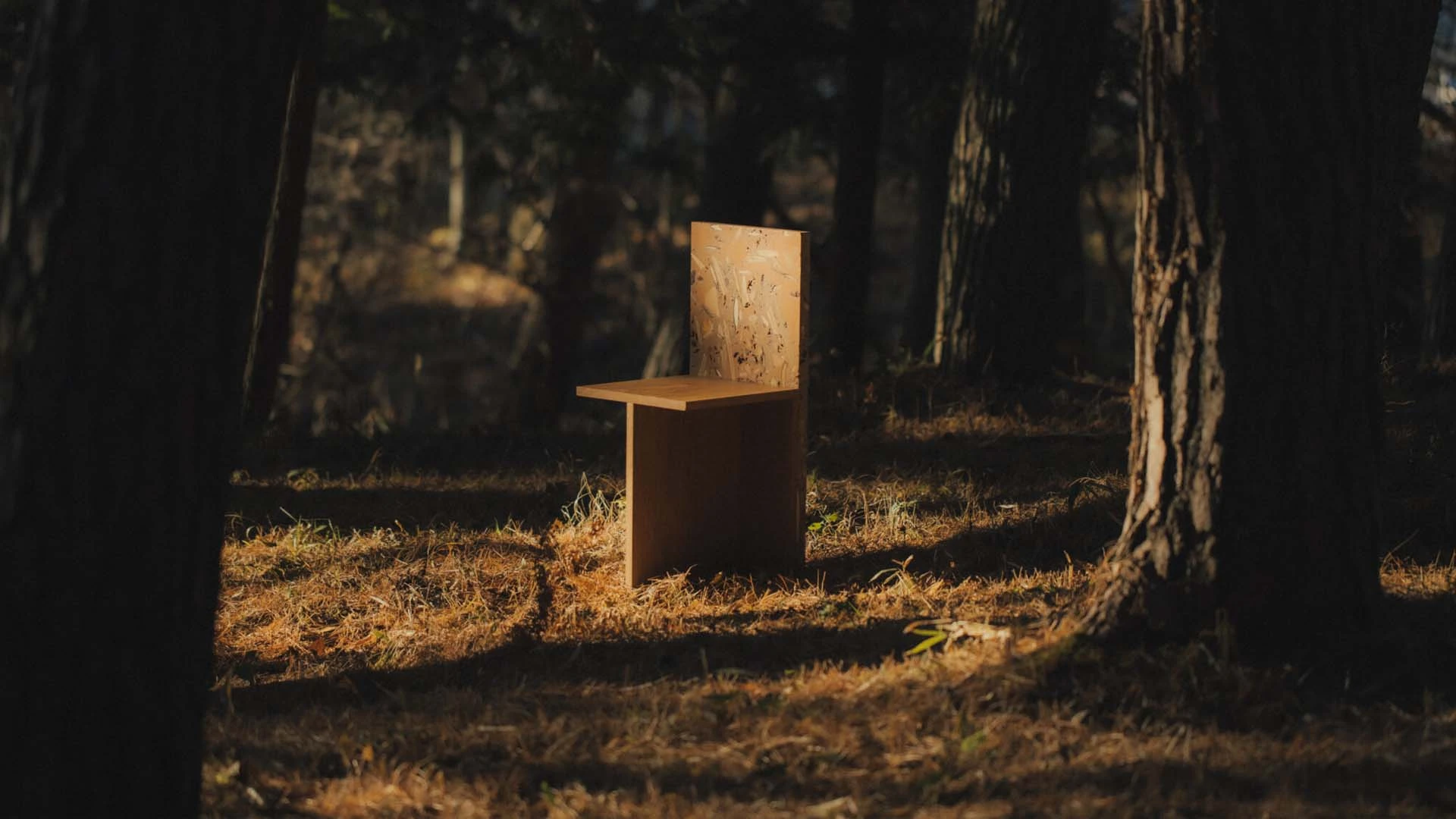 Rethinking Wood: Five Innovations
22-Feb-2023
Welcome to our first article in the series, FURNITURE in the NEW CLIMATE ECONOMY.
In this piece, we focus on wood, and not by accident. The furniture industry is the third largest consumer of wood in the world, after the construction and paper industries. Global wood consumption – which includes primary wood products such as sawn wood, veneer, plywood, particleboard, and pulp – is expected to increase 37% by 2050, according to the latest report from The Food and Agriculture Organization of the United Nations.
Increasing demand for wood has led to severe deforestation, which is a significant contributor to climate change—second only to burning fossil fuels. Deforestation drives biodiversity loss, greater greenhouse gas emissions and threatens the livelihoods of 1.6 billion people, including indigenous communities.
With such high demand for wood, what are alternatives?
First, companies need to commit to sustainable sourcing, such as FSC-certified wood. Initiatives such as The Wood Furniture Scorecard, by the National Wildlife Federation (NWF) and Sustainable Furnishings Council (SFC), offer guidance and tools for retailers to strengthen their wood sourcing policies. In addition, tree planting initiatives and reforestation are seen as effective tools for fighting the climate crisis and restoring biodiversity.
As in addressing any crisis, climate requires a combination of many innovation efforts and solutions. This article focuses on efforts to accelerate the development of new materials, practices and technologies within wood and furniture.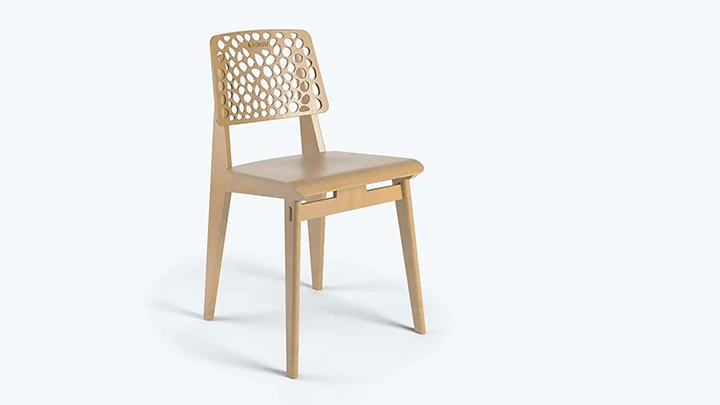 3D Printed Wood Chair by Forust
01/

3D PRINTED WOOD ON DEMAND
by Forust
Forust is a US-based wood-tech company that uses 3D printing to upcycle wood-industry byproducts such as sawdust and lignin. Forust creates digitally rematerialized wood grain that can be sanded and refinished. (For the curious, lignin is an organic aromatic-alcohol substance, naturally produced by, among other sources, woody plants and certain algae.)
Forust's 3D printing can mimic almost any wood grain – from Ash to Zebrano, Ebony to Mahogany – making the final product almost indistinguishable from natural wood. This is especially interesting to furniture designers, allowing them to create complex organic shapes that would be difficult or virtually impossible to fashion with ordinary wood manufacturing.
Forust printing solutions can be used by larger manufacturers or for small on-demand print-runs. "Those looking to match the broken leg or panel of an heirloom could print out a part, and nobody would know the difference, " explains Arjun Aggarwal of Forust. "Our customers now want to print parts in-house and leverage their waste streams."
On Climate
84 million tons of sawdust is generated annually by milling and furniture production. Most is either burned or sits in landfill, generating greenhouse gasses. "On-demand 3D printing of wood using natural waste materials is a game-changer," notes William McDonough, co-author of 'Cradle to Cradle.' "It allows millions of trees to remain in place in their forests…" On-demand printing also helps to optimize use of materials, eliminating inventory and enabling consumers to repair and extend a product's lifecycle. LEARN MORE.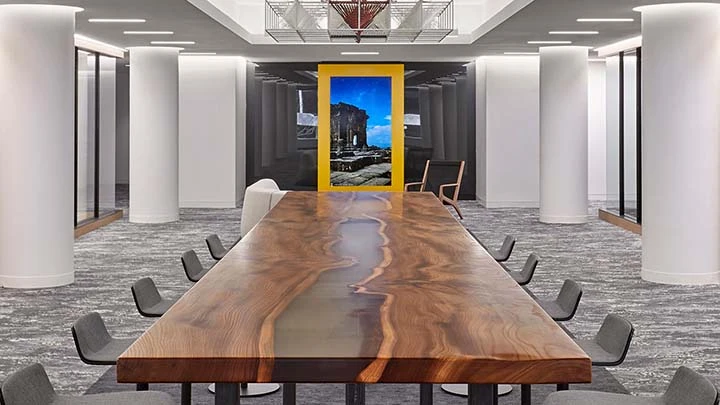 Conference Table with Carbon Smart Wood™, National Geographic - Washington, D.C. headquarters
02/

URBAN WOOD
by Cambium Carbon
In cities, trees are constantly removed due to weather, disease, or development pressures. According to Cambium Carbon, many of these trees are wasted, resulting in 12 million tons of wood waste entering municipal landfills yearly in the U.S.
With "Carbon Smart Wood™", the company saves fallen urban trees from landfill and decomposition, transforming them into valuable products - from made-to-order redwood decking to interior and exterior design elements and finishes.
Carbon Smart Wood™ is locally sourced and locally salvaged, each piece telling the story of the people and trees behind it. Cambium Carbon also reinvests in local tree planting and has built its trace software for supply chain transparency.
On Climate
According to GreenBiz, more than 36 million urban trees come down each year in cities across the U.S., equivalent to all of the salvageable wood in all of the country's National Forests. Wood reuse has the potential to reduce greenhouse gas emissions in the U.S. by 251 million tons CO2e annually. That's more than half of all emissions from automobiles. Carbon Smart Wood™ is salvaged from local waste streams, rather than harvested – thus diverting this waste stream, upcycling it and greatly reducing carbon emissions from decomposition and disposal.
LEARN MORE
.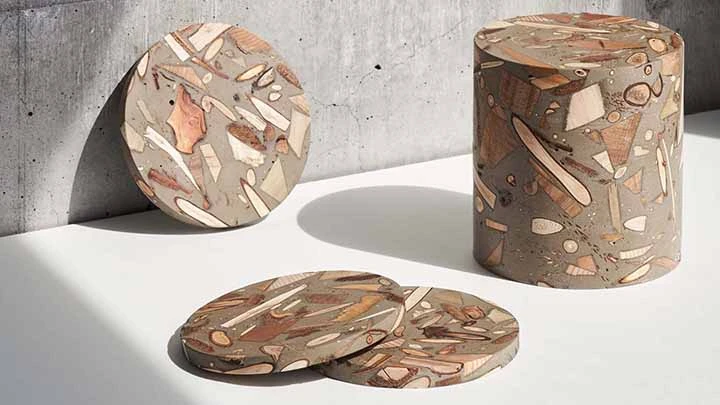 ForestBank™️ By Studio Yumakano
03/

A NEW TYPE OF WOOD
by Studio Yumakano
Studio Yumakano, a Japan-based studio, gives life to ForestBank™️ , a new type of wood made from forest debris usually considered "worthless" by the furniture industry. To create this material, the studio mixes small trees, leaves, bark, seeds, soil, and other items with a mix of a reactive mineral base and a water-based acrylic resin that contains no organic solvents or volatile organic compounds.
The unique patterns that result vary depending on the season and other forest conditions at harvest time. Characteristic yellows and greens capture the actual coloring of the trees, which are dyed by bacteria found in nature. Earth from the forest floor can also be mixed in, adding browns and blacks to the material. It is also possible to see the complex patterns of cross sections of roots and seeds ordinarily hidden in the earth.
ForestBank™ can be shaped with ordinary woodworking methods and used to create furniture, interiors and other applications. This material can be made not only from forest debris but also out of waste pruned from trees lining streets, in parks and gardens, and from wood scrap from woodworking studios.
On Climate
Cutting down trees releases much of the trees' stored carbon into the atmosphere as carbon dioxide (CO2). This is how deforestation and forest degradation contribute to global warming. Studio Yumakano's new material, ForestBank™, on the other hand, uses natural and renewable debris to replace traditional wood without cutting virgin timber, leading to deforestation or degradation.
LEARN MORE
.
Side Tables by SinCa
04/

REGENERATIVE WOOD
by SinCA Design
SinCA is a US-based circular design studio with a range of approaches to designing and producing furniture more sustainably and regeneratively. Their business model stipulates planting ten trees for every piece of furniture produced. Over the past three years, SinCA has planted 250 trees through a partnership with One Tree Planted, a non-profit organization responsible for cultivating more than 40 million trees since 2014.
Whenever possible, SinCA uses slabs of wood sustainably harvested from a local mill near the studio. These slabs are air-dried for 2-3 years before use. Additionally, the company tries to love its waste. Piles of sawdust generated by SinCA's production process is tapped as a compostable material to be used as natural and organic fertilizer in area gardens, thus giving nutrients back to the soil.
On Climate
SinCA design studio works to address climate change on various fronts. Using local wood maintains the company's CO2 transport footprint at very low levels. Favoring air-dried slabs of wood – that take significantly more time than kiln drying – reduces carbon emissions and "honors the time that nature takes to do her work." By using sawdust as fertilizer, SinCA helps reduce greenhouse gasses from sawdust decomposition in a landfill. And by planting trees, the company strives to give back to the Earth what they've taken to make their furniture.
LEARN MORE
.
CRADLE-TO-CRADLE WOOD by Andreu World
05/

CRADLE-TO-CRADLE WOOD
by Andreu World
Andreu World, a Spanish company with showrooms across Europe, the U.S. and Asia, is the first business in the design sector to achieve Cradle to Cradle Certified® for all its furniture collections. That represents a total of 6,830 products - multiplied exponentially if we add finish options.
The C2C Certified® credential attests that products – their materials and finishes – are free of restricted and health-harming substances. Products have been analyzed in four main groups: wooden seating, wooden tables, technical seating and technical tables. Cradle to Cradle Certified® also addresses protection of clean air, water and soil; responsible energy use; environmental stewardship; and possibilities for regeneration.
Andreu World is a carbon-neutral business, the first to launch a 100% FSC® wood range and utilize bioplastics in manufacturing furniture.
On Climate
Andreu World's application of the cradle-to-cradle design approach to all of its furniture holds a range of implications for climate change. This design approach helps to eliminate waste, thus decreasing their products' ecological and carbon footprint. In addition, through use of 100% FSC certified wood, Andreu World prioritizes reforestation and rejuvenation of forests - so crucial to fighting climate change. LEARN MORE.
From all corners of the furniture industry, we invite you to reach out if you are working on an innovation or solution tackling FURNITURE in the NEW CLIMATE ECONOMY. Contact us
here
or via [email protected].
Other articles in the FURNITURE in the NEW CLIMATE ECONOMY series: