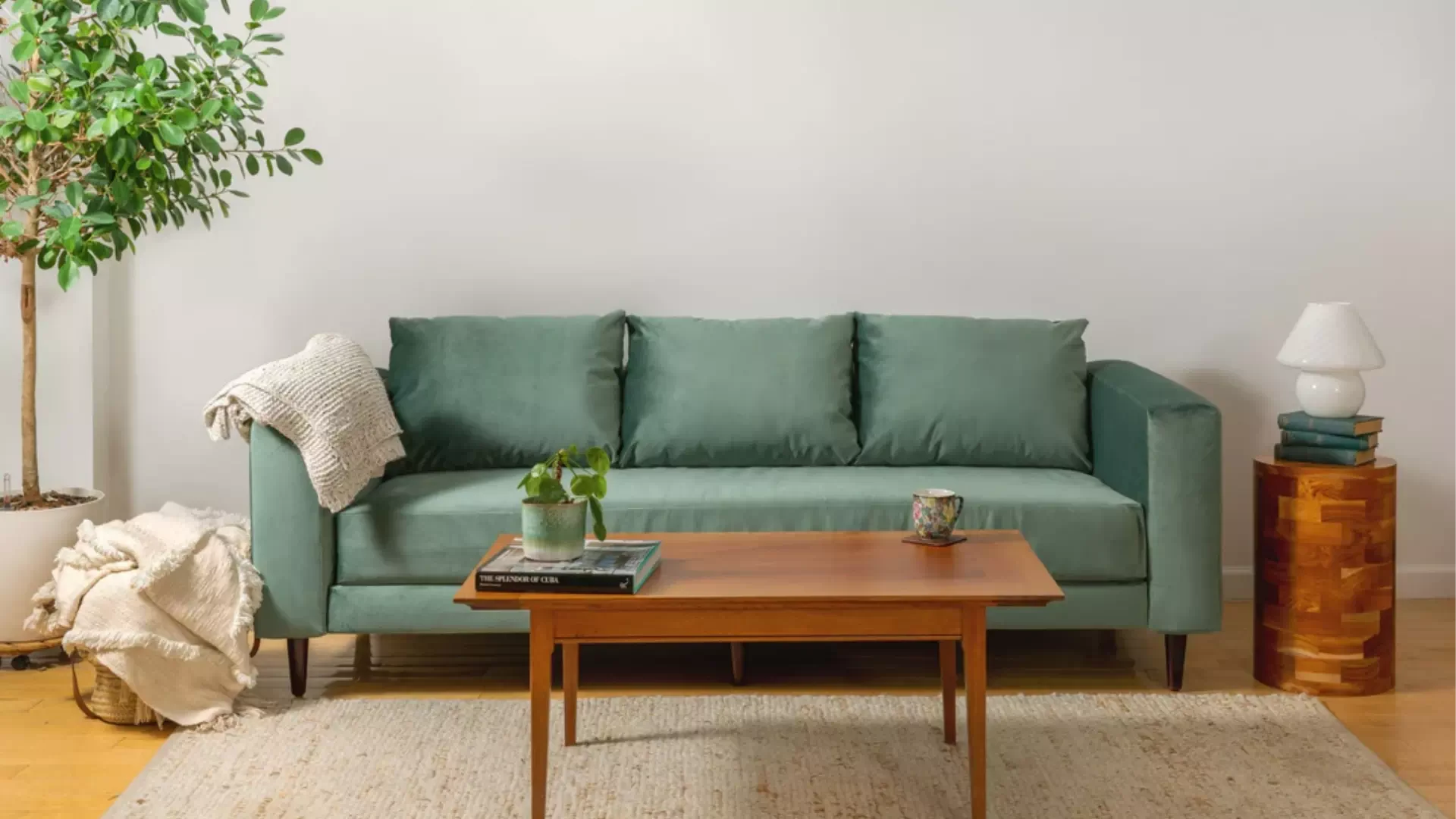 Keep Your Sofa Out of the Landfill
18-Nov-2021
Furniture and Circularity: A Primer
In today's world of abundant options and free delivery, it's easy to save money on a cheap sofa without thinking about its short lifespan. As soon as the fabric rips, you're scouring the internet for a replacement and the barely four-year-old sofa is on its way via the curb to the trash pile.
There, it joins the 12.1 million tons of furniture and furnishing waste created by the United States every year. This familiar cycle is the current linear economy in action: a system of take-make-use-waste that dominates consumption patterns at home and across the globe.
In this new series of articles, we'll present an alternative: the circular economy. It's a simple idea -- stop taking limited resources from, and start restoring, the Earth. We'll explore basic principles of 'circularity' and how even furniture can be climate-positive and restorative. Here, in Part 01, we'll follow the environmental impact of a sofa.
Why the Circular Economy Matters
While the term "circular economy" didn't gain popularity until the 1990s, the concept appeared in ecological research as far back as the 1940s. Its importance has grown rapidly over the past two decades as it becomes clearer that humans are on a path to climate destruction.
Our core economic system has created a mountain of waste and poses serious threats to the health of our planet and its inhabitants. In 2018, the U.S. Environmental Protection Agency (EPA) noted that the average person in the U.S. discarded 4.9 pounds of municipal solid waste per day, totaling 292.4 million tons per year, a whopping 8% increase from the previous year. Only 32.1% of that waste was recycled or composted.
The furniture industry alone fills colossal landfills; just in New York City, residents produce 346,750 tons of furniture waste per year. Meanwhile, manufacturing one sofa produces on average 90 kilograms of carbon dioxide or similar emissions, which is equal to emitting 10.1 gallons of gas.

Amid these grim statistics there is hope. The Ellen MacArthur Foundation (EMF), a leader in today's circular economy movement, reports that if we were to fully transition to the circular economy today, there would be a 48% reduction in carbon dioxide emissions by 2030, and $700 billion in annual material cost savings in the global consumer goods industry, among other improvements.
So What Is the Circular Economy?
According to the EMF, the circular economy is based on three basic principles: (1) designing out waste and pollution, (2) keeping products and materials in use, and (3) regenerating natural systems.
These principles undergird a constant cycle of reuse that touches all levels of a product's life cycle, including design, manufacturing, use, and disposal. Imagine starting with a blank slate and re-envisioning every product. A circular product is made from sustainable materials and is built for longevity. When it is no longer usable in its current state, it can be easily broken down or reformulated into a new product, with no parts going to landfill or polluting the environment. Every product becomes a shape-shifting environmental superhero!
Luckily, current trends are in the circular economy's favor: today, more than ever, customers want to buy from companies that are transparent and act sustainably, while simultaneously advances in technology have paved the way for innovation. Take a look at this video to see how consumers and companies can "exercise [their] circular brains" --
Ellen MacArthur Foundation and IDEO
Let's explore the three principles of the circular economy, following the life-path of a sofa.
Principle #1: Designing Out Waste and Pollution / Designing a Circular Sofa
"Design is never done" aphorizes the EMF. A critical component of the circular economy is thoughtful design -- that reduces or, ideally, eliminates waste and pollution. Indeed, 80% of a product's life cycle costs and environmental footprint are decided in the design phase. This leads to products that are adaptable, durable, and recyclable, while using environmentally-friendly materials and production processes.
In the design phase, "designing out waste" is one priority. Waste is produced in every stage of a product's life cycle, from the extraction and refining of raw materials to production, shipping and ultimately disposal. "Designing out waste" could mean manufacturing with precision, in order to maximize usage of 'leftover' materials. Or it could simply mean making products that are built to last. When a sofa's fabric and legs are durable and easily repairable, for example, this considerably extends its life and could even make it an heirloom (multi-generational) piece.
"Designing out pollution" is another key principle. Like waste, pollution is created throughout a product's life cycle -- from production fumes at wood mills and upholstery factories to carbon emissions from sofas in the landfill. Eliminating toxic glues and fire retardants from sofas, for example, not only keeps off-gassing chemicals out of our homes, but also allows for safer recycling -- and, if need be, disposal -- of materials.
By employing circular principles in designing a sofa, waste is eradicated at the extraction, production, and end-of-life stages. In doing so, designers set the foundation for transitioning to the circular economy, ensuring that a sofa and its parts never go to the trash, not in four years, twenty years or one hundred years.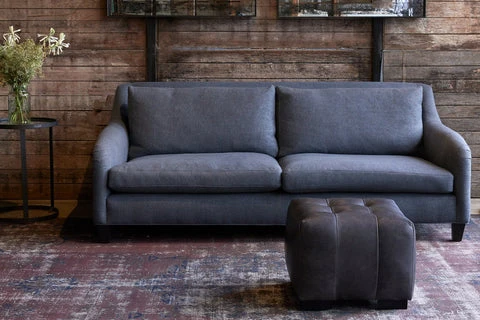 Willard Sofa by Cisco Homes. Made of organic cotton and latex, all-natural wool, FSC-certified wood, low VOC satin, and jute webbing
Principle #2: Keeping Products & Materials in Use / Sofa Becomes Superhero
The principle of 'keeping products & materials in use' tackles two interrelated subjects: finished products and the materials that go into them. We're aiming for sofas that don't live just one life in one person's apartment. Similarly, the materials and parts that make up the sofa must also have future purposes. This is called a "closed loop" cycle, in which everything stays in a productive loop, ultimately vastly reducing the need to extract new resources or fill landfills.
When it comes to materials, the furniture industry is the world's third largest consumer of wood. Deforestation is a major contributor to climate change -- second only to the burning of fossil fuels. Deforestation also drives biodiversity loss and threatens the livelihoods of 1.6 billion people, including many indigenous communities.
Wood is prized as a durable biomaterial, but rather than clear-cutting forests, the circular alternative would be responsibly-sourced, recycled or salvaged supply. Wood salvaged today from a 150 year old house can be turned into a bookcase, for example, and in another 100 years, may be turned into wood pellets used in sofa legs, and in another 50 years could be processed into paper … and on and on if we're creative. And, as a biomaterial, it could at its latest stage go back into the Earth, as long as it was kept free of toxic glues or finishes in its useful life.
Circularity looks to keep products in the usage loop as long as possible. How many times is a sofa left on the curb because it is too big, too small, too scratchy, too old-looking or … cheaper to dump than to move? The U.S. Census Bureau calculates that typical Americans move 11.7 times in their lives. Making a sofa repairable, modular, and easy to disassemble or reupholster allows users to adapt their sofas to their changing needs, tastes and homes.
If a sofa leg is scratched up by the cat, a replacement leg can be ordered. What if it were as easy to enlarge a sectional sofa when a family grows as it were to send back that extension when the kids move out? What if sofa upholstery were designed to be swapped out, upgraded, or repaired with no fuss?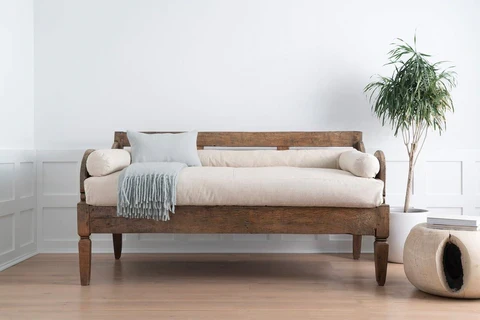 ZZ Driggs rents couches and other furniture
Reuse, repair and refurbishment practices have allowed furniture to be donated, thrifted or passed down generation-to-generation for, well, generations. Today, to keep furniture in use, a growing number of on-line services and other circular businesses are tapping longstanding practices in new-fangled ways:
online sharing sites and free-cycling communities keep sofas off the curb;

online secondhand stores sell high-quality used furniture;
furniture rental companies offer pieces on lease; when a customer's contract ends, the furniture is returned, cleaned, and rented again. And,
company take-back programs allow customers to bring their used sofa back to the store in exchange for in-store credit for a new product.
With company take-back, a sofa is then refurbished and resold by the company, or -- enter the shape-shifting superhero sofa! -- if originally designed with longevity in mind, the sofa can be broken down and the parts reused or recycled into something else entirely.
Principle #3: Regenerating Natural Systems / Superhero Sofa 2.0
The third principle, regenerating natural systems, looks to go way beyond minimizing harm to actually benefiting the planet. This means returning used natural resources to biodegrade into the ground and nourish the Earth. That favorite sofa will be fully circular when it is made completely from compostable materials; then at the end of its life, it can be disassembled and turned into nutrients for soil where trees are grown.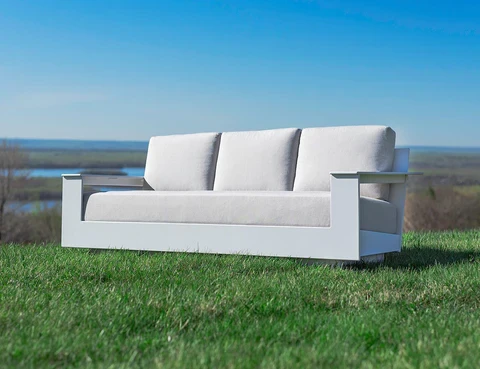 Loll Design sofa made of recycled plastic and durable Sunbrella fabric
Regenerating natural systems also applies to people and communities. This means valuing and nourishing the health and well-being of everyone engaged in, or living near, production of the sofa. While still nascent, some furniture companies are regenerating the human systems around them. These businesses focus on returning company profits to the people who surround their business, whether it be factory workers or neighbors, through fair and safe labor practices, welfare and benefits, and equitable and inclusive hiring. A company that invests in the people who produce their wares returns its wealth to the community to build a stronger and more sustainable workforce.
Regenerating natural systems is arguably the most complex principle to put into practice, but necessary for a full transition to the circular economy. Materials and products must ultimately return to the natural systems that created them and honor the people who produce them.
What's Next?
While the emergence of the circular economy in the furniture industry is increasingly promising, there's still a lot to learn and a lot of work to be done! Such a transition, of course, is riddled with huge challenges. Overcoming these will require innovation, systems and behavioral change, strong leadership, enlightened public policy, financial incentives, global collaboration, and inclusivity.
Fortunately, the growth of the modern circular economy has accelerated over the past twenty years. Once marginalized concepts are now taking center stage, as circular economy principles provide a powerful framework for ever-evolving ideas and creativity. A sofa could represent the pinnacle of regenerative, circular design rather than one of the most environmentally degrading furniture pieces.
Next up in this series, we've invited SOMA_studiomilano, a communicator and industrial designer duo, to share their perspectives on the role of design in circularity and furniture. You can also explore the lessons that the sustainable furniture movement can draw from the fashion industry, presented by guest contributor L. Christina Cobb.
By Mona Chun and Danya Rubenstein-Markiewicz, mebl | Transforming Furniture
References:
Top photo credit: Sabai. Photograph. 2020. https://gbdmagazine.com/sabai/
Ekins, Paul, Teresa Domenech, Paul Drummond, Raimund Bleischwitz, Nick Hughes, and Lorenzo Lotti. The Circular Economy: What, Why, How and Where. OECD. 2019.
https://www.oecd.org/cfe/regionaldevelopment/Ekins-2019-Circular-Economy-What-Why-How-Where.pdf
Ellen MacArthur Foundation and IDEO. "The Circular Design Guide." 2018. https://www.circulardesignguide.com/
Ellen MacArthur Foundation and IDEO. "Finding a circular opportunity - Circular Design Guide." Video. 2016. https://www.youtube.com/watch?v=mUe10dvm1ZE
McGinty, David. "5 Opportunities of a Circular Economy." World Resources Institute. 2021. https://www.wri.org/insights/5-opportunities-circular-economy
Stanislaus, Mathy. "Barriers to a Circular Economy: 5 Reasons the World Wastes So Much Stuff (and Why It's Not Just the Consumer's Fault)." World Resources Institute. 2018. https://www.wri.org/insights/barriers-circular-economy-5-reasons-world-wastes-so-much-stuff-and-why-its-not-just
Whelan, Tensie and Carly Fink. "The Comprehensive Business Case for Sustainability." Harvard Business Review. 2016. https://hbr.org/2016/10/the-comprehensive-business-case-for-sustainability
Benchmarking Carbon Footprints of Furniture Products. Furniture Industry Research Association. 2011. http://www.healthyworkstations.com/resources/Environment/FIRA.CarbonFootprint.pdf
"Climate Change Series Part 2 -- Rainforest Destruction is a Major Contributor to Global CO2 Emissions." Rainforest Alliance. 2017. https://www.rainforesttrust.org/climate-change-series-part-2-rainforest-destruction-major-contributor-global-co2-emissions/
Ellen MacArthur Foundation. https://ellenmacarthurfoundation.org/
"Intact Forests" Wildlife Conservation Society. 2030. https://www.wcs.org/our-work/solutions/climate-change/intact-forests
"National Overview: Facts and Figures on Materials, Wastes and Recycling." Environmental Protection Agency. 2018. https://www.epa.gov/facts-and-figures-about-materials-waste-and-recycling/national-overview-facts-and-figures-materials
"Nisswa Sofa." Loll Designs. Photograph. 2021. https://lolldesigns.com/products/nisswa-sofa?variant=32931022405772
"Overview of Greenhouse Gases." Environmental Protection Agency. 2019. https://www.epa.gov/ghgemissions/overview-greenhouse-gases#carbon-dioxide
"Willard Sofa." Cisco Homes. Photograph. 2021. https://ciscohome.net/collections/all-sofas/products/willard-sofa

"Winged-Arm Hand Carved Teak Daybed." ZZ Driggs. Photograph. 2021. https://zzdriggs.com/products/winged-arm-hand-carved-teak-daybed-rent?variant=29215105482867