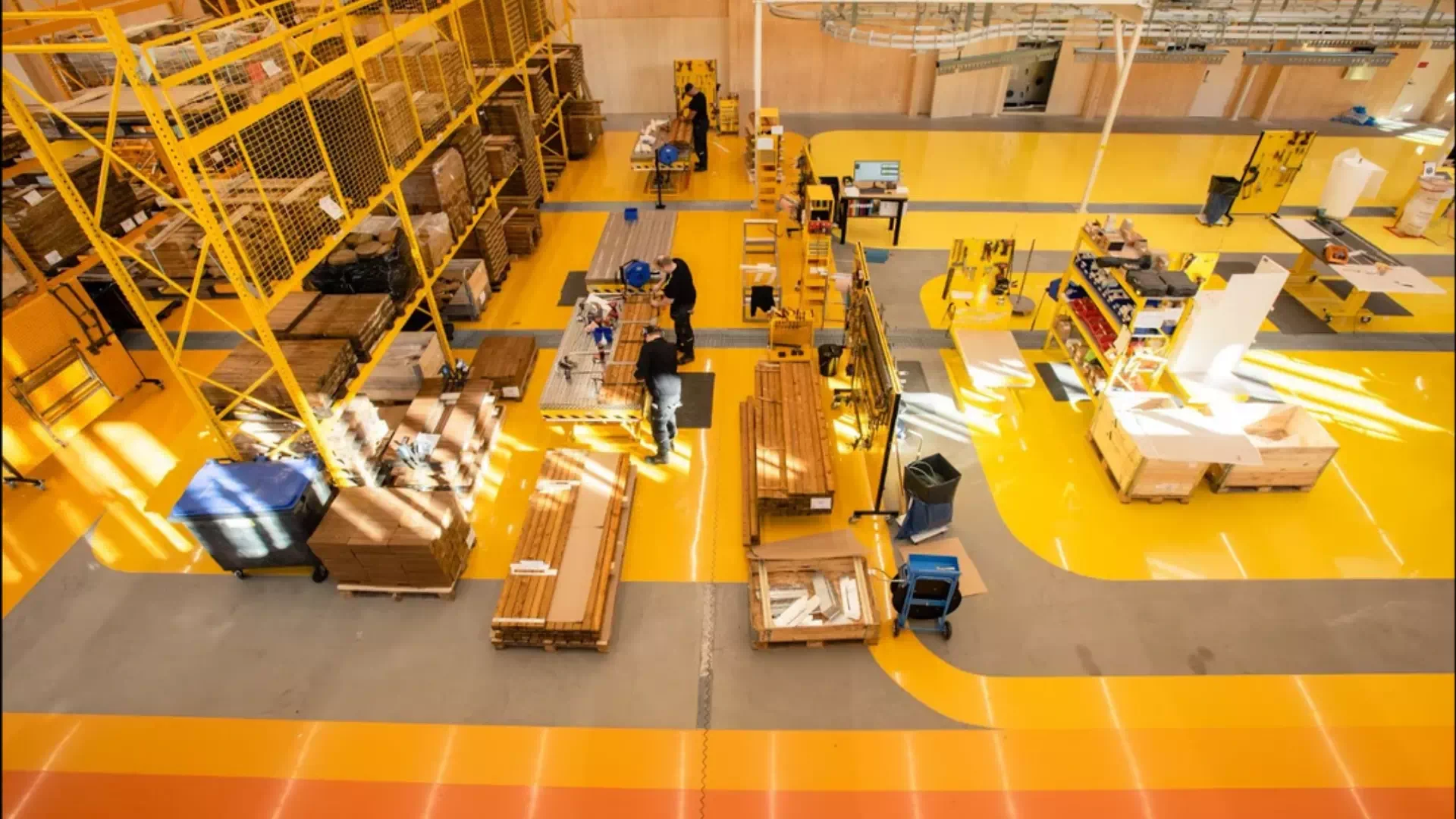 Changemakers: Vestre
19-Oct-2022
The Plus, Vestre's new furniture factory in Magnor, Norway
Vestre: World's Most Environmental Furniture Factory
Interview #1 in our Changemakers series
By Mona Chun, mebl | Transforming Furniture
Just weeks before my visit to Norway this summer, Vestre, a Norwegian manufacturer of urban furniture, opened The Plus, "the world's most environmentally friendly furniture factory." Intrigued, I shot over an email – and was honored, a few weeks later, to get the chance to sit down with Øyvind Bjørnstad, Chief Sustainability Officer.
Vestre is committed to the motto, "Everyone can save the world. A little." With Øyvind, I explored how the company has been leading with sustainability for over 75 years. Read on for our discussion!
This is the first installment in mebl's interview series, Changemakers, featuring sustainability and circularity leaders in the furniture industry, uncovering the nuts and bolts of how they're driving change and why it matters.
mebl: Great to meet you! What is one thing you've learned that you'd like other business leaders to know?
Øyvind: Start with quality. If I had one piece of advice, it would be to start with quality as a prerequisite for whatever you're going to make. This is especially true going forward, but it's actually more like going backward. As a society, we used to value quality, fixing things when they broke and using them until they were completely broken. If it was a good product, that took a long time!
Over Vestre's 75 years, it's been a journey. We've always had a foundation in quality, which is a major part of sustainability. What's changed in the last decade or two is the emergence in society of language to really start communicating about sustainability.
Øyvind Bjørnstad, Chief Sustainability Officer; Vestre's urban furniture on the Oslo waterfront
mebl: You recently served as interim Chief Financial Officer. How does that link to your role as Chief Sustainability Officer?
Øyvind: For any company wanting to do something about sustainability, I think it is paramount to marry the sustainability side with the strategy, sourcing and financial functions. And all of these need to be integrated into the management team.
When Vestre did that, it allowed us to experiment with a couple of rental pilots. We were able to make the case for adding several recurring revenue streams instead of deriving all revenue from one-offs, from sales alone. We're definitely not there yet – where revenue and sustainability go hand-in-hand – but it's where we need to go.
Ultimately, how we define corporate growth is key. We need business models that prioritize the reduction of total resources used. And we need to align that with the path towards more revenue and profits. In many companies, it still can be really hard to convince someone who works in sales to forgo profits or revenue right now, because they still have traditional revenue goals, right?
Parking spaces become parks with Vestre's Parklet 2.0; Vestre's long tables create 'caring meeting places'
mebl: You've been testing out rental models! How's that going?
Øyvind: In life, I think there are a lot of things we don't really need to own. But the shift from a purchase model to a rental model is a lot easier for some things than for others.
As you know, we make urban furniture – largely for use outdoors and in public places. Urban furniture that is cemented into the ground is obviously a lot harder to move and therefore a much tougher challenge to shift to a rental model.
By contrast, we've had better rental luck with our products that are in nature temporarily. Our Parklets 2.0 series, for example, is modular and sized to fit into an under-utilized parking space. Transforming parking into parks! Another opportunity is in renting out long tables to the events industry. Long tables bring people together and encourage discourse amongst strangers, something Vestre values.
But we are still struggling with the business side of it. If the rental model became big, for example, we would have an awful lot of furniture on the balance sheet that might be difficult to rent out again. So we will have to continue to use our imagination!
mebl: Speaking of imagination -- Vestre teamed up with architecture firm BIG to create 'The Plus,' which Vestre calls "the world's most environmentally friendly furniture factory." What was the inspiration?
Øyvind: Our vision was to showcase that industry can be clean, inviting and accessible – AND an extremely efficient factory at the same time. With this facility, we hoped to create a bridge between the Greta Thunberg-generation and hardcore industrialists! We want to show that green growth is possible, maximizing the alignment of investing in industry and working to cut greenhouse gasses and ensure biodiversity. The Plus will generate 55 percent less greenhouse gas emissions than a conventional factory.
Vestre's new factory incorporates an open-air central courtyard and staircase, providing "360" views of the entire production process
I'm actually amazed that it's already up and open. The Plus is a beacon of transparency, a factory with 360-degree views of the entire production process. It is set in a forest, with a "poetry trail," a "forest camp," and family-oriented activities. Ultimately, we created this new factory for three reasons: we needed more space; we were seeking more sustainable production; and we believed we could do a lot of things a lot more efficiently ourselves using industry 4.0 solutions in production.
As far as we know, it will be the most environmentally friendly furniture factory in the world. We hope The Plus can help catalyze a new wave of factories. We wanted to show that it is possible to compete globally AND sustainably, even from Norway, a high-cost Scandinavian country. We want to help move industry beyond dirty and polluting, turning factories into showcases for the future. We've gotten a lot of interest from many sectors into how we built a manufacturing facility that meets outstanding environmental standards.
mebl: What is one policy change related to sustainability and circularity that the furniture industry should focus on, in the US or other countries?
Øyvind: Probably the first policy change to target would be incentivizing solar and other clean energy production. Solar is becoming really cheap. But, when you're putting up a factory, it's still not a given that you're going to 'go solar.'
Our aim is to become fully energy self-sufficient by 2025, and also produce back to the grid.
Government can legislate or incentivize many of these changes. Let's look holistically at a production facility. Government can encourage a 'passive house' approach, like well-insulating a building and recapturing as much heat as possible, such as that generated by heavy machinery. Powder coating, for example, is a function that is quite heat intensive and we recapture all that. We recycle over 90 percent of the water used in production.
To finance The Plus – it's largely been the owners, alongside very strong local support and some government funding. The owners bet on a willingness by customers to pay, and on a belief in some sort of position gain for the company by becoming the world's most sustainable furniture brand. I believe we are seeing proceeds of that through our growth in both Europe and the US.
The Plus furniture factory showcases the opportunity to use solar energy
mebl: Has mapping each product's environmental impact through Environmental Product Declarations (EPDs) led to any surprises?
Øyvind: Yes, we got a major wake-up call, not only from the EPDs, but also by mapping the carbon footprint of the entire company.
We came to this realization – transportation has quite a negligible environmental impact, thanks to our localized value chain. Meantime, the raw materials going into each of our products have a major impact. Extraction and processing of raw materials make up the brunt of our carbon footprint. This wake-up call helped us see the need to keep materials in use as long as possible, and then … reuse them!
Eventually, we want to get to a 'closed loop' in which we are only using recycled materials. This presents us with a great challenge .. that has led to a great opportunity. Steel is the primary contributor to our carbon footprint. Yet steel is a very specific alloy. We need steel to achieve the adhesiveness of galvanization and we need powder coating that stays – to abide by our 15 year warranty and our lifetime warranty on rust. So we cannot use just any recycled steel, such as post-consumer scrap metal. We don't want obsolescence.
This helped us see the huge opportunity in 'take-back' as a solution. We know the steel used in our furniture. We could re-galvanize and re-paint a 20-30 year old bench and it would be good as new. We might have made improvements on construction or design in the meantime but, save that, we should be able to utilize the old bench.
There is obviously a huge business case in take-back. And for most customers, it's great just to get the furniture taken away when they don't need it anymore. The equation may require buying our products back, but we're tracking the extent to which most customers would readily give it back for free in exchange for our removal services.
Vestre sources local materials, including Scandinavian pine and Nordic steel, to reduce its carbon footprint
mebl: What's a success and a challenge that could help other furniture companies in their transition to greater circularity?
Øyvind: Let's start with success, and then go into challenge.
We have now certified more than 80% of the products in our revenue base with the Nordic Swan Eco-label. Nordic Swan is one of the world's toughest environmental certifications – it looks at the entire life cycle of products, like Cradle to Cradle. We've had a lot of success with that – we are now seeing actual 'pull' from the market, as clients ask 'Can you certify this?' or 'Do you have documentation for this?'
The eco label is based on criteria for a solid, healthy product; this pairs nicely with our Environmental Product Declarations, which go a step further. EPDs tell you what a specific product emits, the energy required to produce it, the amount of recycled material in it, and so forth. So if you have the eco label, that's a start, but EPDs help consumers differentiate among products on climate impact.
You also asked about a challenge -- I'd say some facets of the whole rental thing. We haven't really been able to shift to offering a lot of products on a rental basis yet; we have done a few. From the company point of view, making that shift quickly becomes a different kind of beast – quite a challenge to actually implement, much more than I thought. Challenges like the potential for a renter to destroy the furniture; or how do you record it in accounting; and who is responsible? At present, regulation and accounting principles are not really set up for a rental kind of world … at least not for urban public furniture!
That's one of the key reasons we have moved more towards a 'take-back' approach – it's a clean purchase, clear transfer of responsibility, and then a deposit and 'take back' program.
I like that you asked me to highlight a challenge. You have to be able to take risks and try new things - and sometimes fail. In the sustainability space, that's something to recognize - that we are going to fail a lot, but we have to keep pushing.
mebl: Let's end with you - what is your favorite sustainability habit at home?
Øyvind: For me – sometimes to my girlfriend's annoyance! – I use stuff until it's completely broken. The value and emotional attachment we give to shoes or clothes is much stronger than the idea that something new is the greatest. That emotional aspect is key to the transition to circularity. As I pointed out earlier, we want to go back to how it was before. It used to be that having your grandmother's or grandfather's coat was priceless. Embedding history and stories into the things we buy and use is part of the solution.
At Vestre we're doing some pilots in this area, including making some digital twins to track materials, where furniture goes and where it has been before. There's definite potential in this area.
Just on a final note – I'm really trying to reduce food waste at home. In the U.S. there is no scarcity of food, and that should be the case everywhere. Yet food waste is a massive problem in the West. We should all be conscious about that.
mebl: Thank you!
Straight off a red-eye from JFK to Oslo, excited to discover - and rest on - a Vestre bench! (Not so excited for mom's photos!)
Other articles in the Changemakers Series: